Zen Pinball 2 Star Wars Tables On Sale For May 4th Celebration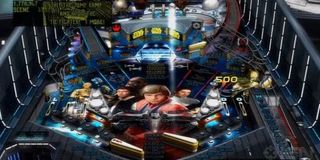 May the 4th be with you. Zen Studios has announced that, in celebration of the upcoming Star Wars Day, it will be discounting the Star Wars tables for Zen Pinball 2 across all platforms.
Zen Studios has built up a name for itself in the virtual pinball community over the past several years with its unique, hand-crafted tables for the original Zen Pinball and Zen Pinball 2. These range from original works, like the Tesla and V12 tables, to licensed affairs, like the Street Fighter 2 and Plants vs. Zombies tables.
Released
[[ ahref http games star-wars-tables-added-zen-pinball-2-today-53029.html www.cinemablend.com ]] earlier this year, however, the first collection of Star Wars tables likely takes the cake for the vast majority of sci-fi nerds in the audience. With tables based on Boba Fett, Episode V and The Clone Wars, the Star Wars pack for Zen Pinball 2 mark some of the studios greatest achievements, with full stories, loads of voice work and special effects, interactive components and evolving playfields.
Now, with May 4th just a few days away, Zen has decided to discount its Star Wars tables by a big 50 percent. These special prices begin today and will run through 12:01 a.m. PST on May 8. That's a whole four days to figure out whether or not you want to spend some chump change on some of the best virtual pinball tables going.
In case you have a Kindle Fire HD and were out of the loop, you'll be happy to know that Zen Pinball 2 is now available on that platform and, yes, it will be included in the big 50 percent off sale. Other discounted platforms include Xbox Live Arcade, the PlayStation Network in Europe, the App Store, Google Play and the Mac App store. No word, however, on a Wii U sale.
Your Daily Blend of Entertainment News
Staff Writer for CinemaBlend.
Your Daily Blend of Entertainment News
Thank you for signing up to CinemaBlend. You will receive a verification email shortly.
There was a problem. Please refresh the page and try again.