Better Call Saul's Patrick Fabian On Jimmy's Role In Howard's Death And The Character Finding 'Redemption' During The Series Finale
Anyone else still reeling from Howard's death?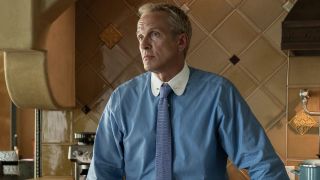 (Image credit: AMC)
Better Call Saul – the acclaimed spinoff of AMC's Breaking Bad – featured some truly surprising and heartbreaking moments over the course of its six-season run. Very few, however, were able to match the level of shock that was evoked by the death of Howard Hamlin during the final season. Fans like myself were certainly horrified when Patrick Fabian's not-so-villanious lawyer was murdered in cold blood. Of course, you have to wonder how Fabian himself feels about that development, specifically the role that Bob Odenkirk's Jimmy McGill/Saul Goodman played in it. Well, the actor addressed that and revealed how he feels about Walter White's former attorney finding "redemption" in the series finale.
Howard Hamlin was killed by Lalo Salamanca (played by Tony Dalton) in the closing moments of Season 6's midseason finale, "Plan and Execution." Patrick Fabian's character was mercilessly executed after he confronted Jimmy and Kim Wexler in their apartment about the ways in which they'd been undermining him professionally and personally. Fabian recently spoke with CinemaBlend in anticipation of Batman: The Doom That Came to Gotham, in which he voices Harvey Dent but, during the chat, he didn't mind talking about Better Call Saul either. When asked for his take on Jimmy facing justice for his crimes, including his inadvertent role in Howard's death, the actor shared some mixed thoughts:
While many love both Jimmy and Kim, it's hard to disagree with the 58-year-old actor's assessment that they were wrong. I mean, let's be honest, they made Howard's life hell for months. Ultimately, his death served as a chilling reminder to both of them that their actions have serious consequences – and in some cases, deadly ones. Kim couldn't even bear the guilt and ultimately opted to divorce Jimmy, who wasn't quite as remorseful at the time.
More from Patrick Fabian
Better Call Saul's Patrick Fabian Reacts To His One Piece Video Going Viral
But as Patrick Fabian also pointed out, Jimmy McGill did indeed find redemption by the conclusion of Better Call Saul. It was honestly very moving to watch Jimmy – now disowning the Saul Goodman alter ego – take responsibility for his escapades with Walter White, his role in his brother Chuck's death and more. This "redemption" (which involves an 86-year prison sentence) is something that not even White could achieve before taking his last breaths in the Breaking Bad finale. And honestly, Jimmy's come-to-Jesus moment arguably makes the conclusion of his story somewhat more satisfying than that of Bryan Cranston's character.
Of course, redemption or not, the image of Howard Hamlin being shot by Lalo Salamanca will still be forever ingrained in my memory. The same is also true of the sight of the tied-up Jimmy falling and lying next to Howard's corpse. I'd say that the only death in this franchise that's felt so visceral to me is that of Dean Norris' Hank Schrader in the crime drama's parent series.
You have to wonder if Patrick Fabian's view of Howard's murder and Jimmy's ultimate fate will change over time. I honestly doubt it, given how strong and thoughtful his sentiments on the matter are at this point. But if Better Call Saul and Breaking Bad have taught us anything, it's that people can evolve – for better and for worse.
If you're looking to get more from Patrick Fabian, check out Batman: The Doom That Came to Gotham, which releases on Digital HD, Blu ray and 4K Ultra HD on March 28. You can also stream the first five seasons of Better Call Saul now using a Netflix subscription.
Your Daily Blend of Entertainment News
Covering superheroes, sci-fi, comedy, and almost anything else in film and TV. I eat more pizza than the Teenage Mutant Ninja Turtles.