Marisa Duran Explains The Importance Of Sagiri's Story In Hell's Paradise
Sagiri is unlike any other character out there.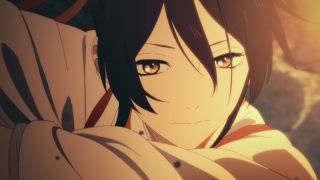 (Image credit: Crunchyroll)
When it comes to female characters in the world of anime, sometimes, it can be a little hard to find someone who is both written well and is given a compelling story. That's not to say they aren't enjoyable, but occasionally, you want a character that truly stands out amongst the rest – and Sagiri from Hell's Paradise is one of those characters.
The VA behind the English dub of Hell's Paradise, Marisa Duran, spoke to CinemaBlend about Sagiri and her importance to not only the story of the show, but for the opportunity they were given to voice such an "fiercely independent character," so much that it was like a "dream role" for them.
Sagiri is a young woman and the deuteragonist in Hell's Paradise, an anime that tells the story of Gabimaru, a ninja criminal, and Sagiri in their journey to a legendary island that seems to be beautiful on the outside, but is consumed by demonic and murderous creatures on the inside. It began airing on Crunchyroll in April 2023.
Known as a swordswoman from the Yamada Asaemon family, she is the only female executioner, and has had to earn her way to the top in order to accompany Gabimaru on this risky journey. And while she's been one to follow rules for some time, Duran says this adventure she is embarking on is going to change her life.
There are plenty of fun female characters in anime I could name that have left an impact on fans, like Mikasa Ackerman from Attack on Titan, or Nezuko Kamado from Demon Slayer, even the titular Sailor Moon from the legendary Sailor Moon franchise.
The 10 Best Anime Of 2022 And How To Watch
I could even point out Anya from Spy x Family as an entertaining female character, even if she is just a child and loves her peanuts and spy shows.
But Sagiri in Hell's Paradise is a fresh take on many female characters in anime, as her story is more of self-acceptance, discovery, and learning how to bend the rules in a world that never truly respected her as a woman, according to Duran.
The journey has only just started between Sagiri and Gabimaru, and only time will tell how much she is going to grow. But Duran is sure of one thing – Sagiri is going to change and learn to accept herself more and more.
If you haven't had the chance to check out Hell's Paradise on Crunchyroll, new episodes air every Saturday. And if you're craving more anime, check out some of the best ones to watch for beginners – all of which (except One Piece) you could probably watch in a week.
Your Daily Blend of Entertainment News
Big nerd and lover of Game of Thrones/A Song of Ice and Fire. Will forever hate season eight. Superhero and horror geek. And please don't debate me on The Last of Us 2, it was amazing!