Netflix Is Somehow Turning Beloved Manga One Piece Into A Live-Action TV Show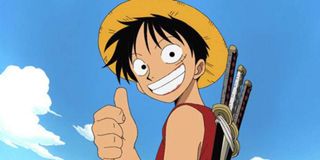 Manga fans, rejoice! Netflix is turning One Piece into a live-action TV show. The streaming service is continuing its streak of adapting beloved manga series to live-action and One Piece is just the latest addition following Netflix's take on Death Note. The series is being produced by the team behind the streamer's upcoming Cowboy Bebop TV show, which cast John Cho as the spikey-haired bounty hunter Spike Spiegel.
A live-action adaptation of One Piece was initially announced back in 2017 and Netflix is now partnering with Tomorrow Studios and One Piece publisher Shueisha to bring the serialized Japanese manga to life. The original manga series was created by writer and illustrator Eiichiro Oda and has appeared in Shueisha's weekly manga magazine since 1997.
One Piece is essentially a pirate adventure story. The series follows Monkey D. Luffy as he sets off across the East Blue Sea in search of the "One Piece" treasure and his goal is to become king of the pirates. He's joined on his adventure by swordsman Roronoa Zoro, a navigator named Nami, and the chef Vinsmoke Sanji, who are just a few among several other characters to come aboard Luffy's ship.
This isn't the first adaptation of One Piece, as the manga series has birthed a media franchise that includes an anime television series, several video games, animated films, and novels. If you can't already tell, One Piece is quite popular and the live-action series will already have a fanbase by the time it's released on Netflix.
Per Deadline, Eiichiro Oda will executive produce the series alongside Marty Adelstein and Becky Clements, with Stephen Maeda serving as showrunner. One Piece will consist of ten episodes. Over on Twitter, the official One Piece account shared a message from Oda. The creator seems very happy about the Netflix partnership. Here's what he had to say about the live-action adaptation:
The news is exciting, though it's unclear what to expect from the series in such early stages of development. While this isn't the first One Piece adaptation, it is the first time the manga will be made into a live-action and it'll be interesting to see what the final product will look like.
Netflix has not set a release date for One Piece, but stay tuned to CinemaBlend for more information about the live-action adaptation. In the meantime, be sure to check out our 2020 midseason schedule for updated premiere dates and times.
Your Daily Blend of Entertainment News
Thank you for signing up to CinemaBlend. You will receive a verification email shortly.
There was a problem. Please refresh the page and try again.