Ant-Man And The Wasp: Quantumania Survives Rough Reviews With Strong Opening Weekend At The Box Office
Audiences are definitely curious about Kang The Conqueror.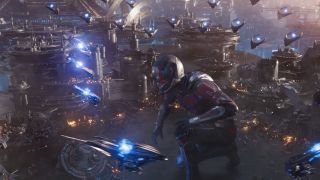 (Image credit: Marvel Studios)
Peyton Reed's Ant-Man And The Wasp: Quantumania most definitely did not get the kind of buzz that most Marvel Studios features get prior to release. Jonathan Majors has earned positive marks for his first big screen turn as Kang The Conqueror – the new big bad of the Marvel Cinematic Universe – but critics didn't much like everything else the blockbuster had to offer. It's only the second movie in the franchise to earn a "Rotten" designation from Rotten Tomatoes, the other being Chloé Zhao's Eternals.
As it turns out, however, audiences' curiosity about the launch of the MCU's Phase 5 was more powerful than the negative word of mouth: Ant-Man And The Wasp: Quantumania has become the first film in 2023 to have a $100 million opening weekend. Check out the results of the Top 10 from the past three days below, and join me after for analysis.
Swipe to scroll horizontally
| TITLE | WEEKEND GROSS | DOMESTIC GROSS | LW | THTRS |
| --- | --- | --- | --- | --- |
| 1. Ant-Man And The Wasp: Quantumania* | $104,000,000 | $104,000,000 | N/A | 4,345 |
| 2. Avatar: The Way Of Water | $6,118,000 | $657,075,991 | 2 | 2,675 |
| 3. Magic Mike's Last Dance | $5,525,000 | $18,115,454 | 1 | 3,034 |
| 4. Puss In Boots: The Last Wish | $5,260,000 | $166,076,100 | 5 | 3,012 |
| 5. Knock At The Cabin | $3,900,000 | $30,372,270 | 6 | 2,601 |
| 6. 80 For Brady | $3,600,000 | $32,248,000 | 4 | 3,119 |
| 7. Titanic (25th Anniversary) | $2,290,000 | $671,776,000 | 3 | 2,132 |
| 8. Marlowe* | $1,910,000 | $2,670,000 | N/A | 2,281 |
| 9. Missing | $1,725,000 | $29,667,645 | 8 | 1,516 |
| 10. A Man Called Otto | $1,600,000 | $60,622,204 | 7 | 1,725 |
Ant-Man And The Wasp: Quantumania Has The Ant-Man Series' Biggest Opening Weekend
Looking at the full box office history of the Marvel Cinematic Universe, the Ant-Man movies have never stuck out as being especially popular. When the series launched in 2015, the first film only brought in $57.2 million in its opening weekend, which remains the smallest total earned since the Walt Disney Company purchased the franchise, and its sequel, Peyton Reed's Ant-Man And The Wasp, only did moderately better in 2018 with a $75.8 million debut.
Those movies, however, did not feature the titular heroes going up against the MCU's biggest new threat, and it seems that aspect of Ant-Man And The Wasp: Quantumania is what has propelled it to massive success in its first Friday-to-Sunday.
The latest Marvel Cinematic Universe feature earned a reported $104 million in its first three days (according to The Numbers), which ranks as the 17th biggest domestic opening weekend in the franchise. It is the 31st consecutive film from the MCU to open at number one at the box office, and it's doing quite well overseas as well. The $121.3 million made from foreign markets brings the film's worldwide total up to $225.3 million, which already makes it the third biggest release of the young year (it presently sits behind Yimou Zhang's Full River Red and Frant Gwo's The Wandering Earth II, both of which have been blockbuster hits in China).
In the broader context of the Ant-Man movies, the latest sequel has already earned over 43 percent of what Peyton Reed's Ant-Man made globally and over 36 percent of what Ant-Man and The Wasp brought in. As far as box office is concerned, Phase 5 of the Marvel Cinematic Universe is off to a strong start.
What we don't presently know is whether or not the film will be able to have long term success or if its box office numbers will end up being viewed as front-loaded. This is primarily due to the aforementioned negative buzz surrounding the film, but also because of a pattern that we've seen develop with the franchise ever since the release of Cate Shortland's Black Widow in 2021.
The trouble on the word of mouth front is about more than just the lackluster response from critics. Surveys distributed by CinemaScore have also suggested that fans haven't been wowed by Ant-Man And The Wasp: Quantumania. While Ant-Man and Ant-Man And The Wasp earned "A" and "A-" grades respectively during their first few days in theaters, the latest sequel has only earned a "B" – which is the same grade that Eternals received and notably lower than other recent MCU titles. (Looking at 2022 titles, Sam Raimi's Doctor Strange In The Multiverse of Madness and Taika Waititi's Thor: Love And Thunder both got "B+" results, and Ryan Coogler's Black Panther: Wakanda Forever got an "A.")
Sophomore weekends have also given Marvel titles some trouble since the end of the Infinity Saga in 2019. The seven films that have come out in that time have averaged a 64 percent weekend-to-weekend drop following their debuts. That's not great when you consider that the average drop for blockbusters in Marvel's Phase 3 was only 55 percent.
Needless to say, there will be a lot of eyes on Ant-Man And The Wasp: Quantumania as it faces off against Elizabeth Banks' Cocaine Bear and Michael B. Jordan's Creed III in the coming weeks.
Following Its Underwhelming Opening Weekend, Magic Mike's Last Dance Expands And Stays In The Top 3
The approximately $100 million disparity between the first and second place films in this weekend's Top 10 clearly demonstrates that movie-goers' attention was almost wholly arrested by Ant-Man And The Wasp: Quantumania, but the performance by Steven Soderbergh's Magic Mike's Last Dance is interesting nonetheless. The Channing Tatum-led sequel didn't have much of a debut when it came out on February 10 – the movie only making $8.3 million when the accounting was concluded – but it had a strong second weekend in part thanks to Warner Bros. doubling the number of theaters where it played.
Obviously the per location average for Magic Mike's Last Dance is down from last week, but the $5.5 million it made over the last three days is just a 33 percent drop. This is very good news for the film, which, according to Variety, was produced with a budget in the "high $40 million range" and had a marketing budget of about half of that. To date, the movie has made $37.7 million worldwide, which means that it still isn't considered profitable on paper, but it's possible that it could be deemed a success in the long run provided that it sticks around in the weekend box office's Top 5 for a few more weeks.
How will things change when Cocaine Bear arrives this Friday? The film has certainly been getting plenty of social media love since the first trailer debuted last November, and there's a lot of curiosity about how that will translate to ticket sales. There will be a lot to discuss come next Sunday when the numbers roll in, so be sure to head back here to CinemaBlend for our box office report. In the meantime, you can learn about all of the features heading to theaters in the coming weeks and months with our 2023 Movie Release Calendar.
Your Daily Blend of Entertainment News
Assistant Managing Editor
NJ native who calls LA home and lives in a Dreamatorium. A decade-plus CinemaBlend veteran who is endlessly enthusiastic about the career he's dreamt of since seventh grade.