Magic Mike's Last Dance Wins The Weekend Box Office, But The Numbers Are Rough
Box office results for Super Bowl weekend 2023 are not good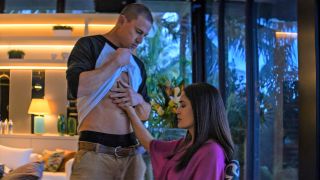 (Image credit: Warner Bros.)
When Steven Soderbergh's Magic Mike's Last Dance was announced in late 2021, it was revealed that the film was going to be an HBO Max exclusive... but that plan got upended last September. At that time, it was revealed that Warner Bros. had enough confidence in the release to not just give it a streaming debut, but instead let it go to theaters. It was a logical move when one looks at the history of the franchise... but now the numbers are in, and they're not exactly (if you'll pardon the wordplay) magical.
Magic Mike's Last Dance debuted this past Friday in cinemas, and it is now the number one movie in America, but calling it a success would be getting ahead of ourselves, as it nor any other film playing on the big screen this past weekend managed to earn more than $10 million. Check out the full Top 10 below and join me after for analysis.
Swipe to scroll horizontally
| TITLE | WEEKEND GROSS | DOMESTIC GROSS | LW | THTRS |
| --- | --- | --- | --- | --- |
| 1. Magic Mike's Last Dance* | $8,200,000 | $8,200,000 | N/A | 1,500 |
| 2. Avatar: The Way Of Water | $6,884,000 | $646,919,731 | 3 | 3,065 |
| 3. Titanic (25th Anniversary) | $6,400,000 | $665,763,000 | N/A | 2,464 |
| 4. 80 For Brady | $6,000,000 | $24,970,000 | 2 | 3,939 |
| 5. Knock At The Cabin | $5,500,000 | $23,445,995 | 1 | 3,657 |
| 6. Puss In Boots: The Last Wish | $5,500,000 | $158,495,205 | 4 | 3,227 |
| 7. A Man Called Otto | $2,625,000 | $57,405,474 | 6 | 2,824 |
| 8. Missing | $2,600,000 | $26,626,121 | 8 | 2,315 |
| 9. M3GAN | $2,370,000 | $90,927,550 | 7 | 2,508 |
| 10. Plane | $1,185,000 | $30,769,868 | 11 | 1,679 |
Magic Mike's Last Dance Underperforms Compared To Magic Mike And Magic Mike XXL
The reason why the decision to move Magic Mike's Last Dance from HBO Max to theaters seemed logical was because of the franchise's history. When Steven Soderberg's Magic Mike first hit theaters in 2012, it didn't win a box office crown in its opening weekend (it got beat by Seth MacFarlane's Ted), but it did make a strong second place showing by earning $39.1 million in its first three days. About three years later, Gregory Jacobs' Magic Mike XXL also didn't claim the top spot, but its fourth place finish still saw it make $12.3 million. Worldwide, both films ended up making over $100 million – but its unclear now if the trilogy capstone will be able to reach similar heights.
Making only $8.2 million this past weekend, Magic Mike's Last Dance earned enough to steal the top spot at the box office from last week's big winner, M. Night Shyamalan's Knock At The Cabin, and it prevented James Cameron's Avatar: The Way Of Water from reclaiming the #1 spot, but those are definitely the most positive angles from which to look at the results. Otherwise, there isn't much to rave about here.
Unfortunately, this is the second time in 2023 that we've seen underwhelming results for a Warner Bros. film that was originally going to be an HBO Max exclusive. Calmatic's House Party was also planned to be a streaming original prior a change in distribution that saw the movie start playing in cinemas last month. That release also notably underperformed – though that feature's opening weekend saw it make less than half of what Magic Mike's Last Dance earned in the last few days.
What makes these results particularly tough is that Magic Mike's Last Dance was not a particularly inexpensive production. Variety reports that it was made with a budget in the $40 million range, and that total was matched with a $20 million marketing campaign. It's never a good sign when a film makes less than 15 percent of its costs back in its opening weekend, and the new release starring Channing Tatum is now in a position where, to be considered successful, it will have to demonstrate some strong legs and put up some big overseas numbers.
According to The Numbers, Magic Mike 3 has already made $10.4 million outside of the United States and Canada, putting its global earnings at $18.6 million, but making money in the coming weeks is going to be tough. For starters, upcoming competition is going to spell trouble, as we are now just days away from the release of the next Marvel Cinematic Universe blockbuster – namely Peyton Reed's Ant-Man & The Wasp: Quantumania – and it looks like that film is going to steal a lot of attention in its opening weekend.
Also, the buzz for the film isn't nearly as strong as the word of mouth for its predecessors. The critical response to Magic Mike's Last Dance has resulted in a 46 percent on Rotten Tomatoes, compared to a 78 percent for Magic Mike and a 65 percent for Magic Mike XXL. We'll have to wait and see if Channing Tatum's abs can end up giving the movie some legs.
Titanic's Re-Release Stops Avatar: The Way Of Water From Surpassing It On The All-Time Worldwide Box Office Charts
Other than Magic Mike's Last Dance, the only other new title playing in wide release this weekend was James Cameron's Titanic – celebrating its 25th anniversary – and while the film performed solidly, the most significant thing about the results is the fact that it stopped Cameron's Avatar: The Way Of Water from climbing further up the All-Time Worldwide box office rankings. The 1997 hit made less than the Avatar sequel in the last three days, but the ticket sales were enough to keep the epic disaster movie in front of the sci-fi blockbuster and let it hold on to third place.
With all of its re-releases from the past two-and-a-half decades counting toward its box office numbers, Titanic still sits in front of Avatar: The Way Of Water, but less than $1 million presently separate the features. As such, the box office results from this weekend will end up being seen as merely a delay for Avatar 2's ascension into the list of the top three highest grossing films ever made
In Round 2, 80 For Brady Proves More Popular Than Knock At The Cabin
Depressing as this weekend's box office results are, one interesting development worth pointing out is the title flip-flopping in the rankings compared to last weekend. When the early numbers came in last Sunday, Knock At The Cabin had managed to outgross Kyle Marvin's 80 For Brady by about $2 million, but now, one week later, the former is sitting in fifth place, and the latter is right above it in fourth place.
Neither movie had particularly impressive showings in their sophomore weekends, but 80 For Brady did have a better weekend-to-weekend percentage drop: 53 percent compared to 61 percent. One has to wonder if perhaps Super Bowl fever may have had some kind of an impact, giving the football-themed comedy a leg up over the home invasion thriller in the days leading up to the big game. As things stand, both films have made nearly the same amount of money domestically, though the M. Night Shyamalan release has also earned $13.3 million overseas to pad its domestic total.
As mentioned, things will be shaken up at the box office in a big way this coming weekend, as Ant-Man & The Wasp: Quantumania will be arriving in theaters and hoping to continue Marvel Studios' streak of #1 films. Be sure to head back here to CinemaBlend next Sunday to see how the blockbuster shakes things up, and check out our 2023 Movie Release Calendar to discover all of the titles scheduled to be released in the coming weeks and months.
Your Daily Blend of Entertainment News
Assistant Managing Editor
NJ native who calls LA home and lives in a Dreamatorium. A decade-plus CinemaBlend veteran who is endlessly enthusiastic about the career he's dreamt of since seventh grade.