Supported
How Michael B. Jordan Went From Child Actor To Director
From Hardball to Creed III.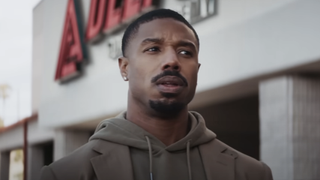 (Image credit: United Artists)
Michael B. Jordan has come a long way over the course of the past couple of decades, going from a talented child actor to one of the biggest, and most accomplished, names in Hollywood. And with the upcoming release of Creed III (opens in new tab) in March 2023, Jordan is about to kick off the next stage of his career, one which will see him add "director" to his resume.
Before he makes his directorial debut and takes over the helm once held by longtime collaborator Ryan Coogler, the time seems right to look back at Michael B. Jordan's career and see how he went from child actor to director. And as part of our partnership with AMC Theatres, where Creed III tickets are now available to purchase, (opens in new tab) we're going to do just that.
Michael B. Jordan Started As A Child Actor In The Early 2000s
Though he had two small roles in the final days of the 20th century, Michael B. Jordan's career didn't start in earnest until he landed a role in the 2001 baseball drama Hardball (opens in new tab), in which he played Jamal, a player on Conor O'Neill's (Keanu Reeves) youth baseball team who is kicked off after it is discovered his mother altered his birth certificate. A small yet memorable role, Hardball would lead to Jordan securing a role on David Simon's landmark HBO crime drama series The Wire.
Jordan's character, a 15-year-old member of the Barksdale Organization's "Pit Crew" named Wallace, would end up becoming one of the most sympathetic characters (opens in new tab) in the entire series, despite not making it out of the first season alive. Soon after, Jordan would continue to work in TV, landing prominent roles on shows like All My Children and Friday Night Lights, while also making small appearances on CSI: Crime Scene Investigation, Cold Case, and Burn Notice.
His Transition To An Adult Actor Kicked Off With His First Collaboration With Ryan Coogler
When Michael B. Jordan was 25 years old, he landed what would become his most highly decorated role at the time, Oscar Grant, in Ryan Coogler's 2013 biographical drama Fruitvale Station (opens in new tab). The movie, which recounted the final day in the life of the 22-year-old shot and killed by police at an Oakland BART station on New Year's Day 2009, offered a glimpse at the adult actor Jordan would become in the following years, while also introducing the world to Coogler's knack for emotional storytelling.
Coogler and Jordan would go on to team up several more times in the years' following the release of Fruitvale Station, but not before the actor landed prominent roles in movies like That Awkward Moment and Fantastic Four, his first but not last foray into the world of Marvel Comics.
In 2015, The Actor Worked With Ryan Coogler Again To Start The Creed Franchise
Michael B. Jordan and Ryan Coogler's first time working together resulted in a critical darling and modest box office success (it made $17.4 million worldwide, according to BoxOfficeMojo (opens in new tab). They collaborated again a couple of years later for 2015's Creed, which not only served as a spinoff to the Rocky franchise (opens in new tab), it took it in a whole new direction for a new generation of moviegoers. And it's safe to say, it paid off handsomely for all involved.
Playing Adonis Johnson, the son of Carl Weathers' Apollo Creed, offered up one of his best performances to date as an up-and-coming boxer trying to chart his own path in the ring, and in life. Paired up with great on-screen talent like Sylvester Stallone, Tessa Thompson, and The Wire costar Wood Harris, Jordan shined in the role. And just his character trying to prove he's more than the son of a former Heavyweight Champion, Jordan showed he was not only a good actor, but one of the best.
Michael B. Jordan's Career Reached New Heights With His Role In Black Panther
Just when it looked as if his career couldn't get any better, Michael B. Jordan reached new heights in February 2018 with the release of Black Panther. Taking on the role of Erik "Killmonger" Stevens, King T'Challa's (Chadwick Boseman) long lost and vengeful cousin, Jordan introduced the world to a new type of comic book villain (opens in new tab), one with principles and just motivations in addition to strength and brutality. Was Killmonger a likable guy? No, but it wasn't hard to understand where he was coming from in his attempt to take over Wakanda and use the nation's vast resources to help disenfranchised populations around the world.
Instead of a situation where the hero inspires the villain to change his ways, it was Killmonger, in his dying moments, who convinced King T'Challa to adopt a new worldview (opens in new tab), one where Wakanda could help the outside world instead of hiding from it. And just like how his character brought forth change in the MCU, Jordan would do the same while becoming a Hollywood producer later that year.
On Top Of Acting, Michael B. Jordan Started Working Behind The Scenes
Following the successes of Creed and Black Panther, Michael B. Jordan would continue to land prominent roles in major releases, but he would also try out something new in 2018 by producing multiple movies with his new production company, Outlier Society Productions.
Over the course of the next few years, Jordan would star in and produce movies like Just Mercy, Without Remorse, and A Journal for Jordan, opening the door for stories that might not have been told otherwise. And going off Frances McDormand's comments during her 2018 Oscars acceptance speech (opens in new tab) where she called for an inclusion rider (opens in new tab), Jordan endorsed the idea, putting it into action with his various productions in hopes of creating a more diverse Hollywood open to all voices.
All Of This Has Led To Michael B. Jordan Making His Directorial Debut With Creed III
Though Ryan Coogler came up with the story and served as a producer on the upcoming Creed III, it was revealed in March 2021 that Michael B. Jordan would be making his directorial (opens in new tab) debut in addition to starring in the movie. When speaking with Deadline after the news was first revealed, Jordan said directing had "always been an aspiration" but was waiting for the right time to make the jump. His decision came after working extensively with Coogler and Denzel Washington (who directed A Journal for Jordan).
Only time will tell what the future holds for Michael B. Jordan, both as an actor and director, but if his career continues down the path it's been on the past couple of decades, it's safe to say we'll be seeing a lot more of the Hollywood leading man on both sides of the camera for years to come. But while we wait to hear more about Jordan's next steps, take a look at the 2023 movie schedule (opens in new tab) to get caught up to speed on everything coming to the big screen this year. In the meantime, Creed III arrives in theaters soon. Catch Michael B. Jordan's titular character as he faces off against Jonathan Majors' Damian "Dame" Anderson (opens in new tab) when Creed III opens on March 3rd.
Your Daily Blend of Entertainment News
Philip grew up in Louisiana (not New Orleans) before moving to St. Louis after graduating from Louisiana State University-Shreveport. When he's not writing about movies or television, Philip can be found being chased by his three kids, telling his dogs to stop yelling at the mailman, or yelling about professional wrestling to his wife. If the stars properly align, he will talk about For Love Of The Game being the best baseball movie of all time.