Is Michael B. Jordan's Killmonger Marvel's Best Villain Yet?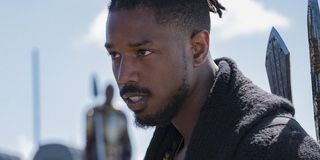 Warning: MASSIVE spoilers ahead for Black Panther! Read ahead at your own risk!
The Marvel Cinematic Universe is in the midst of a fantastic hot streak right now, and that looks poised to continue with this weekend's release of Black Panther. Ryan Coogler's landmark solo movie for T'Challa (Chadwick Boseman) has a lot of hype to live up to, and one of the prominent fan-favorite elements to shine through in early reviews of the film is Michael B. Jordan's portrayal of Erik Killmonger. That raises one fundamental question: is Killmonger the MCU's best villain yet? Let's dive in and talk this out.
Right off the bat, we need to look at who Erik Killmonger is as a person to determine his worthiness as a villain. Luckily, Black Panther is in many ways more about Erik's emotional arc than it is about T'Challa's. We unwittingly see his origin story during Black Panther's opening scene, and while he initially enters the equation like a mustache-twirling bad guy, Ryan Coogler efficiently peels away the layers of his persona and shows us who he is on the inside. Despite his royal blood, Killmonger grew up beyond the safety of Wakanda's borders, and he has seen the racial injustice that exists in the world. Bastardized and evil as his ideology may be, his mission to use Wakanda's resources to flood impoverished areas of the world with advanced weapons to destabilize corrupt governments makes sense. It's not a noble cause, but it's understandable given what he has seen.
His case is also helped by the sheer amount of menace that Michael B. Jordan brings to the role. The Creed star practically turned his body into one giant muscle for Black Panther, and Jordan is easily one of the most convincing physical threats that the Marvel Cinematic Universe has ever seen. He has an ideology that's easy to empathize with (if not root for at times) and he has the raw strength to provide some of Phase 3's best action sequences, which is a rare combination not often seen in a Marvel baddie.
Now, speaking more broadly, it's worth acknowledging that Marvel (for all of the critical praises that its films receive) doesn't have a great history of compelling villains. To date, the clear standouts that many fans have agreed on are that Loki (Tom Hiddleston) and Spider-Man: Homecoming's Vulture (Michael Keaton) appear to be two of the best. Now, we have Erik Killmonger and a legitimate three-way fight on our hands.
With Loki, audiences have the advantage of getting to know him over the course of no less than four movies (with a fifth on the way). He's one of the oldest characters in the Marvel Cinematic Universe (having made his first appearance in 2010's Thor), and he has shown the most natural arc of any Marvel villain to date.
Through his appearance in The Avengers, and flirtations with heroism in Thor: The Dark World and Thor: Ragnarok, he arguably still seems like Marvel's most fleshed out antagonists. That makes him a great character, but it also muddies the waters as far as whether or not he can fully be classified as a villain or an anti-hero at this point.
However, someone like Vulture stands out because he's so easy to relate to on a practical level. Adrian Toomes (like Killmonger) gets indirectly screwed over by a hero at the beginning of his film, and his mission to provide a life for his family seems like something that any one of us can relate to. He even gives Peter Parker (Tom Holland) a chance to walk away from their conflict during that badass scene when he drives Spidey to the dance in Homecoming.
Perhaps the one thing holding Erik Killmonger back from achieving the potential of villains like Loki and Vulture is the fact that we likely won't see much more of him going forward. The character ends his debut appearance by dying with a blade plunged into his chest while T'Challa allows him to witness one of the sunsets that his father had always promised to show him. It's a scene that gives Killmonger an emotional and human conclusion after a movie full of horrific acts, and it appears to ensure that he won't come back -- especially if T'Challa keeps his word and buries Killmonger at sea.
That's our assessment of Black Panther's villainous situation, but we want to hear what you have to say, Make sure to answer our poll below and give us your opinion on Erik Killmonger!
Black Panther is currently in theaters, so make sure to check out CinemaBlend's full review of the film and start looking ahead to T'Challa's next MCU appearance when The Russo Brothers' Avengers: Infinity War premieres on May 4!
This poll is no longer available.
Your Daily Blend of Entertainment News
Originally from Connecticut, Conner grew up in San Diego and graduated from Chapman University in 2014. He now lives in Los Angeles working in and around the entertainment industry and can mostly be found binging horror movies and chugging coffee.