What Is An Inclusion Rider And Why Is Michael B. Jordan Endorsing It?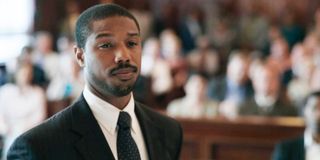 Before it started, the 90th Annual Academy Awards ceremony in March 2018 seemed like it would the same old same old from previous years, but as soon as Frances McDormand took the stage to accept the Oscar for Best Actress for her role in Three Billboards Outside Ebbing, Missouri, the shape of Hollywood would change forever. With two words: "Inclusion Rider," the talented, decorated, and empowering actress inspired countless others to make the same promise and guarantee more diversity in their scripts, on their sets, and all around their productions. And not long after the call for change, Michael B. Jordan, a Hollywood mainstay in his own right, accepted the call.
But what exactly is an inclusion rider and how have production companies and studios changed their methods of operation in the two-and-a-half years since the first call to action? Well, I hope to answer those questions and learn a little something myself about Hollywood's push to make movies and television programs a more diverse, inclusive, and all around more welcoming place for people of all races, genders, and cultural backgrounds.
What Is An Inclusion Rider?
The idea of an inclusion rider may have first received mainstream attention with France McDormand's speech at the Oscars in 2018, but concept had been around for quite some time before then, with its roots going back more than a decade thanks to the tireless work of Stacy L. Smith, the founder and director of the University of Southern California's Annenberg Inclusion Initiative. In 2016, Smith spoke at TEDWomen 2016 where she gave a 15-minute presentation on sexism in Hollywood and how the industry could go about fixing this problem.
One of the ways that Stacy L. Smith felt that Hollywood could change was through A-listers making demands in their contracts that would serve as an equity clause or an inclusion rider that would require a production company or studio to hire a larger proportion of actors and crew that are women, people of color, LGBTQ, and even those with disabilities. After the presentation, the professor teamed up with film executive Fanshen Cox DiGiovanni and employment lawyer Kalpana Kotagal to create the template for what would become the inclusion rider. And slowly, those A-list stars, especially those with production companies of their own, took notice.
In 2018 Michael B. Jordan Adopted An Inclusion Rider For His Production Company
Just days after the "inclusion rider" speech at the 90th Annual Academy Awards, Michael B. Jordan, who was hot off the debut of the Marvel Studios juggernaut Black Panther, announced that he would adopt the rider for upcoming projects from his production company, Outlier Society Productions. In an Instagram post (via The New York Times), Jordan wrote:
Outlier Society Productions was founded in 2016 and has spent the past four years developing a number of projects like the Netflix superhero series Raising Don, which was picked up for the a second season in early 2020, as well the 2019 courtroom drama Just Mercy. The film, which stars Michael B. Jordan as a recent Harvard grad who represents the wrongly convicted who lack the means of hiring legal counsel, and Jamie Fox as the man he represents.
In a 2018 interview with Variety, Michael B. Jordan said that adopting an inclusion rider was the right thing to do.
Several Filmmakers Have Adopted Similar Clauses In The Years Since
Michael B. Jordan isn't alone in his push to make Hollywood and a more diverse place for creators, actors, and production crews, as a number of high-profile filmmakers also voiced their support for inclusion riders for future projects. Names like Ben Affleck and Matt Damon with their Pearl Street production company and Paul Feig with Feigo Entertainment Productions have said they will be adopting such policies with future projects, but one of the loudest supporters is Michael B. Jordan's fellow MCU star Brie Larson.
In an extensive 2018 profile in The Hollywood Reporter alongside Avengers co-star Tessa Thompson and Stacy L. Smith, Captain Marvel herself said that she planned on pushing for better representation across the board, whether that means on sets, on press tours, or in interviews.
WarnerMedia Released Its First Film With An Inclusion Rider In 2019
With the debut of Just Mercy in 2019, WarnerMedia, which oversees Warner Bros., released its first film that had an inclusion rider, which according to Brie Larson in the aforementioned THR piece, was all thanks to the dedication and strength by the film's star and executive producer, Michael B. Jordan:
Shortly around the time Just Mercy went into production, Michael B. Jordan released a statement (via Chicago Tribune) that explained his reasoning for pushing the inclusion rider policies for the film and future projects, stating:
And hopefully, this is just the beginning of a bigger push to have more inclusive working environments on both side of the camera as the culture in and around Hollywood productions continues to transform into one more acceptable to persons of all backgrounds.
Your Daily Blend of Entertainment News
Philip grew up in Louisiana (not New Orleans) before moving to St. Louis after graduating from Louisiana State University-Shreveport. When he's not writing about movies or television, Philip can be found being chased by his three kids, telling his dogs to stop barking at the mailman, or yelling about professional wrestling to his wife. If the stars properly align, he will talk about For Love Of The Game being the best baseball movie of all time.