Creed 3: 7 Quick Things To Know About The Michael B. Jordan Movie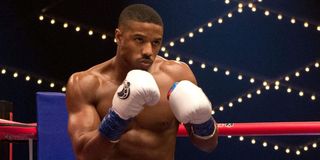 In 2015, Creed brought some much-needed life to the dormant Rocky franchise with its emotional and engaging story about the son of Apollo Creed finding his place in the boxing community but also in the world around him. That was followed up with 2018's Creed 2, which brought back stars Michael B. Jordan, Tessa Thompson, and Sylvester Stallone for another hard-hitting and emotionally-driven story with ties to the original franchise. But it has been nearly three years since we saw Adonis Creed take on the son of Ivan Drago and some may be wondering what's going on with Creed 3.
Those holding out to see Adonis Creed go another round of action in the ring while also tackling life's obstacles outside of it are in for some good news because Creed 3 is actually happening and there has been quite a bit of work put into over the past few years. To catch you up, we've put together a list of things we know about the planned sequel.
Michael B. Jordan Will Make His Directorial Debut With Creed 3
With neither Ryan Coogler (Creed) or Steven Caple Jr. (Creed 2) returning to direct third movie based on Adonis Creed, the actor who brought the character to life is taking the reins himself. Word that Michael B. Jordan will be stepping not only into the ring but also the director's chair has been circulating for some time, but in a December 2020 interview with MTV News, Jordan's on-screen love interest and off-screen close friend, Tessa Thompson, confirmed that People's 2020 Sexiest Man Alive will be the one running the show when the cameras start rolling on Creed 3.
And when Creed 3 does enter production, it will be Michael B. Jordan's directorial debut. This seems like the next step for the former star of The Wire and Black Panther as he continues to expand his reach in Hollywood with his Outlier Society Productions, which made waves with its decision to adopt an inclusion rider calling for more diversity on film and television sets back in 2018.
Tessa Thompson Is Returning For Creed 3
One of the driving forces of the first two Creed movies was Tessa Thompson's Bianca Taylor, who went from the aspiring musician in the same apartment building as Michael B. Jordan's Adonis Creed to his love interest and eventual fiancée and mother of his child. With the start of the next chapter of the couple's journey alluded to in the final moments of Creed 2 it should come as no surprise that Thompson, who is also set to return to the Marvel Cinematic Universe in Thor: Love and Thunder, will be reprising her role in the Creed franchise.
Tessa Thompson has previously discussed here plans for Creed 3 during interviews like the MTV News conversation mentioned earlier, and she even received some praise from co-star Michael B. Jordan during a January 2021 Town & Country profile piece regarding her career, where the Creed 3 star alluded to his on-screen counterpart's ability to be a driving force on the set of the first two films.
Production On Creed 3 Could Start In Late 2021
Another bit of good news regarding Creed 3 that will surely make fans of the Rocky franchise and first two Creed titles excited is the fact that production on the threequel is slated to get underway at some point towards the end of 2021. During that MTV News interview back in December 2020, Tessa Thompson — once she finished ribbing Michael B. Jordan and his "Sexiest Man" status — revealed that they will begin shooting later in the year (meaning late 2021, not the final week of 2020).
Besides those comments, not much is known about the actual principal photography for the highly-anticipated sports drama, but expect to hear more concrete information regarding this in the months to come.
Creed 3 Is Being Written By King Richard Scribe Zach Baylin
At this point we still don't know what will happen in Creed 3 or who Adonis will square up against in the ring (or possibly outside the ring if they take a Rocky V route), but one thing that is known is is that Zach Baylin is penning the script. Back in February 2020, The Hollywood Reporter published an article revealing that Baylin had been tapped to follow in the footsteps of Ryan Coogler and Aaron Covington with Creed and Juel Taylor and Sylvester Stallone with Creed 2 by continuing the story started back in 2015.
For those not familiar with Zach Baylin, he's the screenwriter for the upcoming Will Smith movie King Richard, which tells the story of Richard Williams, the father and coach of tennis legends Venus and Serena Williams. That movie is slated to be released in theaters and on HBO Max (for one month) on November 19, 2021.
Sylvester Stallone Previously Stated He'd Be Down With Creed 3 Featuring Clubber Lang's Son
The first Creed movie focused on Adonis Creed, the son of the late Apollo Creed and Creed 2 introduced the son of Ivan Drago, so it would only make sense for the son of one of Rocky Balboa's toughest opponents — Mr. T's Clubber Lang from Rocky III — to be featured in Creed 3. To add weight to this argument, even Sylvester Stallone thinks this is a good idea, at least that's what he said back in December 2018.
All of this got started with TMZ reported that former WBC heavyweight boxing champion Deontay Wilder wanted to bring the son of the vicious Clubber Lang (the man who straight up punched Mickey Goldmill (Burgess Meredith) to death) to the screen for Creed 3. Shortly after that, Sylvester Stallone told the publication he would give Wilder a shot if that route was pursued for the next chapter. That was more than two years ago, however, and the topic hasn't come up since.
It Is Still Not Entirely Clear If Sylvester Stallone Will Return For Creed 3
The last time we saw Sylvester Stallone's Rocky Balboa in Creed 2 he was finally making amends with his estranged son and getting the opportunity to meet his grandson, seemingly leaving Adonis Creed on his own (or at least with a family of his own) to start the next chapter in his life. And judging by comments made by Stallone shortly after the film's 2018 release, that may very well be the final time we see the Italian Stallion in the Creed franchise.
In an Instagram video from November 2018, Sylvester Stallone said that after 40 years of playing Rocky Balboa and living in the world he created decades earlier, all things must pass and come to and end. But even then, it remains unclear if this is actually the end of Rocky's story or just a way to spark interest in future installments in the franchise.
Creed 3 Isn't The Only Rocky Movie In The Works
What makes Sylvester Stallone's 2018 comments about ending his run as Rocky so strange is the news that came out a few months later about another movie set in the storied franchise coming out in addition to Creed 3. Speaking with Variety in 2019, Stallone revealed that he was toying around with the idea of making another Rocky movie in which the Philadelphia-based boxer meets an immigrant who he then trains in the boxing ring. Now, there haven't been any further updates on this project since the topic first came up, but we're also talking about an action star who knows how to keep going year after year.
With a movie like Creed 3, which is still very much in middle of pre-production, it's best to remember that a lot can change between now and the time shooting gets underway and especially between now and the time of its eventual theatrical release. But if you want to know what else you can expect to see at your local movie house (or streaming service) check out CinemaBlend's 2021 movie release guide.
Philip grew up in Louisiana (not New Orleans) before moving to St. Louis after graduating from Louisiana State University-Shreveport. When he's not writing about movies or television, Philip can be found being chased by his three kids, telling his dogs to stop yelling at the mailman, or yelling about professional wrestling to his wife. If the stars properly align, he will talk about For Love Of The Game being the best baseball movie of all time.
Your Daily Blend of Entertainment News
Thank you for signing up to CinemaBlend. You will receive a verification email shortly.
There was a problem. Please refresh the page and try again.