Creed: 12 Cool Behind-The-Scenes Facts About The Michael B. Jordan Movie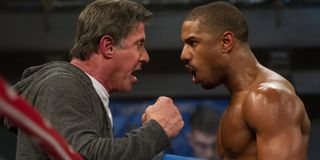 The Rocky franchise would never be the same after director Ryan Coogler took over with Michael B. Jordan as the star of a new boxing epic. However, as the case tends to be with any new installment of a beloved film series, the road to make Creed was not a straight path, as the following behind the scenes facts will reveal.
The 2015 "rebootquel," so to speak, saw Sylvester Stallone return to play the Italian Stallion a seventh time, but now as a mentor in the ring to Adonis Johnson (Michael B. Jordan), the illegitimate son of Apollo Creed, his late rival-turned-friend played by Carl Weathers in the original film. Creed was met with much critical acclaim, impressive box office returns, and even earned Stallone an Oscar nomination and Golden Globe win for his supporting role as Rocky Balboa, which almost did not happen.
Care to hear why Sly didn't want a rematch and what convinced him to come back anyway? Learn about that and 11 other astounding bis of trivia from the set of Creed.
Ryan Coogler's Father Inspired Rocky's Story Arc In Creed
What attracted future Black Panther director Ryan Coogler to helm Creed was his father's own admirations for the original Rocky movies, making him a fan, too. In fact, as the filmmaker revealed in an interview with The Wrap, his dad was largely influential to the plot, specifically the unnamed illness he faced being the basis for Rocky Balboa's own battle with non-Hodgkins lymphoma. The real-life inspiration for that arc and its themes of manhood and "the ability to protect all you love" is what convinced Sylvester Stallone to do the picture, among other things.
Sylvester Stallone's Was "Dead Set Against" Starring In Creed
Being naturally protective of the franchise he pioneered, Sylvester Stallone was "dead set against" reviving it with Creed, telling The Los Angeles Times he never envisioned his most famous character in the way the film depicts him. However, three people were responsible for Sly's reconsideration: director Ryan Coogler's aforementioned personal story, his agent calling him chicken "for a guy who played Rocky," and his wife, Jennifer Flavin, who encouraged him to take on the challenges the movie had in store for the role and not try to change the story, according to an interview with Deadline. The actor followed her instruction… for the most part, at least.
Sylvester Stallone Revealed He Rewrote His Scenes In Creed
While he proved to be a good sport when passing the torch onto a new generation filmmakers by choosing not to write the script for Creed, Sylvester Stallone could not resist in having some control over how Rocky Balboa was depicted, and not just for the first film. In recent Instagram video of Sly answering fan questions, he had the following to say about what changes he made to his dialogue in both the 2015 film and its 2018 sequel:
Who better to write the Italian Stallion than the man himself anyway?
Michael B. Jordan Underwent A Rocky-style Diet During Training For Creed
It is just as important to live the part as it is to look it, Michael B. Jordan demonstrated with his strict diet in preparation for Creed, which consisted of six daily meals of high proteins and carbs and, according to Men's Journal, the occasional Philly cheesesteak as a most appropriate cheat snack for the character. Jordan would later compare his training to play Donny to that of Kilmonger when speaking to Digital Trends, describing the goal for the Black Panther villain as "more muscle, less cut."
Sylvester Stallone Accidentally Tweeted Creed Spoilers A Year Before It Released
The only training that Sylvester Stallone could have used in preparation for Creed was a lesson in discreet social media use. That way, the actor could have prevented himself from revealing major plot details to the film in a photo of the script's final page he shared to Twitter in late 2014. All it took was a vertical flip and a zoom for some eager fans to learn about Rocky Balboa's non-Hodgkins lymphoma diagnosis and Donny's victory against "Pretty" Ricky Conlan almost a year in advance.
Boxer Tony Bellew Thought His Offer To Audition For Creed Was A Prank
Speaking of "Pretty" Ricky Conlan, real-life boxer Tony Bellew has a funny story about how he got the part (or almost did not get the part) of Michael B. Jordan's onscreen rival in Creed. While appearing on short-lived UK talk show The Nightly Show, the Liverpudlian athlete admitted that when he first got the call to audition for the role, he hung up, assuming someone was "taking the piss." After the studio's third attempt to phone him, Bellew reached out a friend who apparently gave them his number for verification, threatening that his car "would be on bricks in the morning" if this turned out to be a farce.
Michael B Jordan Really Got Knocked Out While Filming Creed
Supposedly, having Michael B. Jordan face off against a professional boxer in Creed helped him earn a certain "rite-of-passage" into the Rocky franchise. As behind-the-scenes footage would reveal, the actor suffered an actual knockout during filming, which Sylvester Stallone assured was practically a tradition for the movies, adding that he endured a KO each time he was in the ring as Rocky Balboa. Jordan would wear his knockout as badge of honor, and even made him more welcoming to the idea of taking a few extra hits for the 2018 sequel.
Creed Star Tessa Thompson Also Contributed To The Soundtrack
Speaking of art imitating life, in Creed, Tessa Thompson plays Bianca Taylor, an aspiring musician whom Donny falls for shortly after his move to Philadelphia. The fellow MCU alum moonlights as a singer in real life, both as a former member of electronic soul group Caught A Ghost and as a featured artist in the soundtrack for the 2015 drama and its 2018 sequel. In an interview with Bustle, Thompson talked about how, instead of writing with a cinematic mindset, she took inspiration from her character to write tracks, that she also sings herself, with Academy Award-winning composer Ludwig Göransson.
Sylvester Stallone May Have Had To Break Up A Real Fight On The Set Of Creed
To give an example of life imitating art, apparently not all of the boxing on the set of Creed was for the camera. In March 2015, a report by TMZ stated that "Pretty" Ricky Conlan actor Tony Bellew decided to go off script in the middle of filming a scene and began pummeling the man who played his coach, forcing Sylvester Stallone to break character (or, more accurately, get more into character than usual) and put an end to the scene. An update in the article mentions that a Warner Bros. representative announced that the conflict between the actor and real-life professional boxer never really amounted to a physical brawl, while multiple witnesses claimed the opposite.
A Two-Round Boxing Match In Creed Was Captured All In One Shot
What we can be sure of, however, is that alleged on-set brawl must not have happened while the most celebrated shots in Creed was being captured onto film. I am referring to a scene of a boxing match lasting a total of two rounds that was filmed all in one unbroken shot, achieved genuinely after several imperfect takes and not with the aid of clever editing tricks in post. While speaking to Variety about the stunning oner, cinematographer revels in the fact that "everybody thinks we're cheating, but that is one shot."
Original Rocky Co-star Carl Weathers Loved Creed
Arguably the greatest achievement of Creed, however, was earning the approval of the man whose onscreen legacy is paid tribute to in the film: Apollo Creed himself. Carl Weathers, who was more recently seen on The Mandalorian as Bounty Hunters' Guild agent Greef Karga, told The Hollywood Reporter that he was "pleasantly surprised" by what he believes is "the best work Sly has done to my memory." The now 72-year-old actor also had some words of encouragement for Michael B. Jordan who "seems to be making really good choices" in his eyes.
Sylvester Stallone At One Point Believed 2015's Creed Should Have Ended The Rocky Saga
Another Rocky veteran who, obviously, was satisfied with Creed is Rocky Balboa himself, Sylvester Stallone. In fact, even though Sly would go on to reprise his role an eighth time for Creed II, his following statement to Variety in early 2016 suggests some reluctance to continue the saga further:
What do you think? Do you agree that Creed was the perfect way to end the series, or do you have a soft spot for Creed II? Let us know in the comments and be sure to check back for additional information and updates on the legacy of the Rocky movies, as well as even more behind-the-scenes looks at some of your favorite movies and TV shows, here on CinemaBlend.
Your Daily Blend of Entertainment News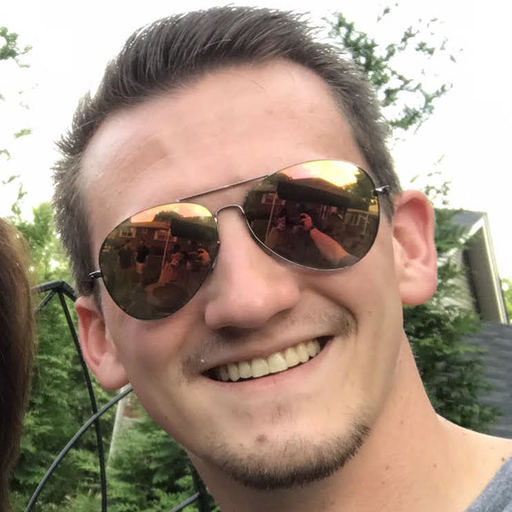 Jason has been writing since he was able to pick up a washable marker, with which he wrote his debut illustrated children's story, later transitioning to a short-lived comic book series and (very) amateur filmmaking before finally settling on pursuing a career in writing about movies in lieu of making them. Look for his name in almost any article about Batman.