How Does It Feel To Work With A Legend Like Keanu Reeves On Your First Movie? Michael B. Jordan Knows The Answer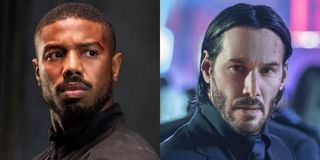 Michale B. Jordan has just released his new action movie, Tom Clancy's Without Remorse, a film that required some seriously intense training. Jordan has come a long way in his career, leading the Creed series and starring in MCU film Black Panther. Needless to say, he has really cemented himself as a bonafide superstar. Jordan, who can't escape his sexiest man alive title, is now reflecting on his first movie and how it feels to have worked with Matrix legend Keanu Reeves on the set.
Way back in 2001, Michael B. Jordan starred in Hardball with Neo himself, Keanu Reeves. Hardball followed Reeves as a gambler-turned-little league coach of a ragtag group of kids from one of the toughest places in Chicago. This was Jordan's first film, and he recently remarked on the experience of working with a superstar like Keanu Reeves at such a young age, telling The Hollywood Reporter:
Imagine your first movie being made with the biggest star on the planet; that's what happened with Michael B. Jordan through Hardball. Jordan describes himself as the young cast being in awe of Keanu Reeves, who was fresh off his iconic role as Neo in The Matrix. Reeves was a big deal, and all the kids were fans and apparently had a lot of fun working with their hero. During the same interview, Jordan went on to describe another cool moment involving Reeves, and any film fan would be jealous. He recalled:
Working with and being taken to dinner by Keanu Reeves and Laurence Fishburne seems like an amazing experience for a young actor. Michael B. Jordan definitely felt the impact of that moment and how special it was that two stars of that magnitude took the time to make the cast feel special. It's nice to see that Jordan still fondly remembers that incredible feeling two of his heroes gave him and his castmates.
Keanu Reeves is still making waves and adding to his legend with John Wick 4 heading towards the start of production and The Matrix 4, which is a movie we are all willing to wait to see on the big screen, getting ready for release. Keanu has used his action movie clout to get his own comic book, so he isn't slowing down in the slightest, he's just adding more to his repertoire.
Like his hero Keanu Reeves, Michael B. Jordan is carving out quite the action movie resume. Hopefully, in the near future, we get to see Michael B. Jordan in a Matrix movie, the John Wick franchise or an original film, so we can bring the Hardball connection full circle.
Michael B. Jordan's Without Remorse is currently streaming on Amazon Prime.
Your Daily Blend of Entertainment News
Movie and TV obsessive. A good Heist movie is the way to my heart. Enjoyer of everything from Marvel Movies to Rom-coms.
Your Daily Blend of Entertainment News
Thank you for signing up to CinemaBlend. You will receive a verification email shortly.
There was a problem. Please refresh the page and try again.