Despite Knee Pain, Josh Homme Soldiers On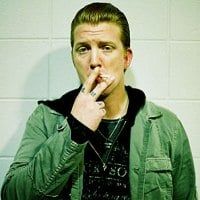 We all knew Queens of the Stone Age leader Josh Homme was a bad dude. But postponing needed surgery to continue touring takes things to another level.
According to NME, Homme really needs surgery on his knee, but he refuses to do so until all of his touring commitments for the coming year are taken care of.
"[The knee] is messed up pretty bad," Homme said in an interview with Stereo Warning. "It hurts. I gotta go home and have surgery again. On stage it hurts a lot. There's 3-4 moments a set when it feels like boulders underwater, when they hit each other. That's the only way I can describe it. But what do I do, go home? Everyone cancels all the time for hurting their finger and stuff like that, that's not me."
This past weekend, Homme and Queens played at not just one, but two festivals in the U.K., Oxegen and T in the Park. He was seen limping badly and using a walking stick, showing obvious discomfort during both performances.
And it's not as though Queens of the Stone Age are almost done touring, either: Once this European jaunt finishes later this month, they are scheduled to begin a North American tour immediately thereafter.
You get a sense that certain people are badder than others; for instance, everyone figures that Iggy Pop would no doubt stab Barry Manilow if they met on a dark street. Then he'd probably kick the corpse a couple times, possibly urinate on it, maybe set it on fire. But that's all conjecture.
This Josh Homme fellow is the real deal. Anyone who doesn't think a guitar player's knees are all that important, and I'm making too big a deal of this, has never tried to play rock music standing up in front of a crowd. With so many variables in play, constant, throbbing pain in your leg doesn't help anything; packing it in under the circumstances would be more than understandable.
Doesn't faze Josh Homme, though. He's that bad a dude.
Your Daily Blend of Entertainment News
Thank you for signing up to CinemaBlend. You will receive a verification email shortly.
There was a problem. Please refresh the page and try again.