Green Day Sued By A Real American Idiot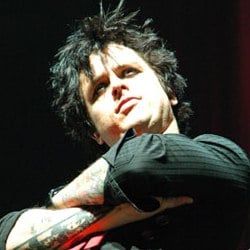 A grocery store clerk in Oregon is claiming he wrote Green Day's global smash hit "American Idiot" nearly fifteen years ago, and has filed a copyright infringement suit against the band.
In a story found on Dotmusic, Paul McPike alleges he penned both the lyrics and music to Green Day's song back in 1992, when the accuser was in high school, and the band subsequently ripped him off. A better term might be "shredded with absolute prejudice," given the song's success.
According to McPike, a recording was made of his young adult rock-fest and the tape somehow, some way, found itself in the band's hands; Green Day proceeded to win Grammys, earn much artistic respect, and make lots and lots of money off his tune. Says McPike, " "It was just disbelief every time I turned on the radio".
As evidence of his claim, he sites the fact that the lyrics posted in the album's liner notes do not match up with those sung on the actual recording. A U.S. District Court Judge already tried to throw the case out before reconsidering and allowing McPike to file an amended lawsuit with additional evidence. He is seeking a share of the album's monumental profits.
McPike is certainly not the first jackass in American society to try and score a pay day through such means. Anyone hear of the guy who tried to sue Michael Jordan for "stealing his look" (the unique mixture of a shaved head, a face, a nose, and two eyes, all while being black) a few months ago? Suffice it to say, if his case ever saw a courtroom, McPike's days in the produce aisle could be long gone.
No word yet on whether he also gave Billie Joe Armstrong guitar and songwriting lessons, since "American Idiot" wasn't exactly a stylistic departure for the band.
The title of the song he's suing over is rather ironic, though, isn't it? Something tells me we're on the verge of the universe refusing to go on, preferring instead to cave in on itself and call it a day.
Your Daily Blend of Entertainment News