Jim Carrey Creates Top 23 Playlist, Takes Method Acting To An Extreme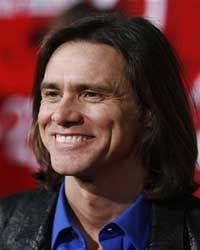 How could anybody with an actively beating heart not like Jim Carrey? I don't mean his comedy or his acting but the man himself. He's so full of life and childlike enchantment. This is even more the case now: Carrey is starring in the film 23 opening Feb. 23 about a guy who becomes obsessed with the number 23 and how it randomly appears within life's trifling details.
I saw Carrey on the Today Show Tuesday and he seemed as happy as ever. He's very in love with girlfriend Jenny McCarthy and there's not a speck of Ritalin in his bloodstream. He told Meredith Vieira that he, too, has been captivated by the number 23, and that the number reveals that there is magic all around us. I guess if I were him, I'd believe in magic too. Well, not really.
In any case, on to the Ace Ventura and Dumb & Dumber sensation's top 23 playlist (he probably wants to get away from being aligned with those movies, but not today). He chose 23 songs and wrote little snippets as to why he cherishes them so. Check it out:
1. Strawberry Letter 23 - The Brothers Johnson:
"Classic lost song from the '70's. Makes you wanna be on roller skates,with a disco ball. Coincidence that the number 23's in the title? I thinknot."
2. Breed - Nirvana:
"One of my anthems. Put it on and imagine you're pummeling your foe's face into blood soup"
3. My Immortal - Evanescence:
"Gothic. Hauntingly beautiful voice. I like powerful women."
4. One - Mary J. Blige & U2:
"I love the light that shines through Mary. And U2's song can really lift you out of the muck"
5. Close to Me - The Cure:
"This song makes me feel like I'm being held down and tickled."
6. Time Is Running Out - Muse:
"Really into the energy and power. Definitely written by someone obsessed."
7. Overtime - Lucinda Williams:
"She breaks my heart."
8. Fell in Love with a Girl - The White Stripes:
"Not too many originals out there, but Jack is one of 'em. I like him so much that I never want to meet him."
9. Run - Snow Patrol:
"This song reminds me of a person who's passed on, reaching back to touch the one her loves. Touching man"
10. Breathe Me - Sia:
"Song gives me chills - incredible voice. Jenny made me put this song on the list. But I love it, too"
11. Tear You Apart - She Wants Revenge:
"I found this song for the soundtrack of The Number 23. They're a great L.A. band, and the song is like the kind of passion that overwhelms your partner - loving but slightly brutal"
12. Lover's Spit - Broken Social Scene:
"Found this one be mistake online. It was no mistake."
13. A.K.A. I-D-I-O-T - The Hives:
"This is the perfect 'we're not buyin' your bullsh*t song."
14. Do You Realize? - The Flaming Lips:
"You're perfect. Love yourself. And commit to being fully present. This song is a joygasm."
15. Hallelujah - Jeff Buckley:
"One of the most beautiful tracks ever. Everyone should be familiar with this song. Originally recorded by Leonard Cohen - I love Jeff's version. "
16. Somewhere Over the Rainbow - Israel Kamakawiwo'ole:
"Iz was Hawaii 's most popular singer until his death in 1997. I love his interpretation of this song. It's so transcendent that you don't even care that the lyrics are wrong. It's even better that way. Just would'a dug it."
17. Round Midnight - John Coltrane:
"How can anyone beat the joy of Coltrane? Some things are classic for a reason. Everything Coltrane. Trust me! Just sit back and let him drive. The scenery he creates is breathtaking."
18. Limp - Fiona Apple:
"I saw he rlive. It was staggering. One of the most talented people I've ever seen. She's totally hooked in. Pure and uncut."
19. American Idiot - Green Day:
"These guys just get better and better. I love that this song exists. They took the words right out of my mouth."
20. Nobody Home - Pink Floyd:
"Remember when there were only '15 channels of sh*t on the TV to chose from, chose from, chose from?"
21. Land of Hope and Dreams - Bruce Springsteen & The E Street Band:
"This song is about unconditional love and acceptance. It's salvation for all of us sinners. And the performance is like watching an architect build a grand cathedral. Sublime!"
22. Hey Man Nice Shot - Filter:
"I heard it was about Kurt Cobain, who was born in 1967 and died in 1994; both dates add up to 23."
23. I Am the Walrus - Jim Carrey:
"well, I am."
The actor has some good taste, most notably in his love for Jeff Buckley's "Hallelujah," which is haunting and consolatory at the same time. "American Idiot" springs to mind as something that would have to be on Jim Carrey's list, due to its fast and furious beats. As for his comment under "Fell in Love with a Girl," a great song to rock out to, I have to wonder if Jack White is ready to die now after Jim's little zinger.
One choice I found odd was "One" with Mary J. Blige and U2. Nothing against Miss Blige, but her presence on the already well-known track feels rather intrusive. My feelings on Evanescence are unwavering, though I can understand if Jim likes it for the band's magic themes. Really, it's a good mix of new and old material that makes up the soundtrack of Jim Carrey's life. Even if I don't share his feelings on the presence of magic in everyday life, I do hope he holds onto it.
Thanks to Linda at Cornerstone and CB's Kelly for the heads up.
Check Out More CB Music Stories Here
Your Daily Blend of Entertainment News