The 10 Best Vince Vaughn Performances, Ranked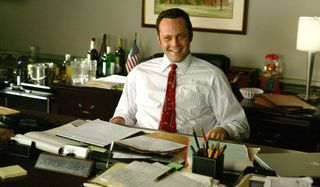 Vince Vaughn's career is a lot more eclectic than you might instantly assume. Having earned most of his dough appearing and exceling in comedies as the affable everyman, you sometimes forget that he's delivered some impressive dramatic turns in his time, as well.
Vaughn may always be remembered by moviegoers as a comedic actor. But that doesn't mean his other forays into cinema should be forgotten. So to pay due respect to Vince Vaughn's dramatic performances, as well as to honor his natural ability to be insanely funny, here are the 10 best performances of Vince Vaughn's career. Unfortunately his turn as Norman Bates didn't quite make it.
10. Into The Wild
Vince Vaughn's appearance in Into The Wild hinted at the career that he could have had. Staring down the barrel of Emile Hirsch's titanic portrayal of Christopher McCandless, Vaughn plays the weary but still driven Wayne Westerberg.
And despite the fact that Hirsch gives the performance of his young career, Vaughn is able to go toe to toe with him. He allows Hirsch the room to strut his stuff, and takes his opportunity to deliver sage advice in a profound yet still grounded fashion. In fact, in just a few minutes of screen time, Vaughn gives us a full understanding and idea of who Westerberg is and where he went wrong with his life.
It's only brief, but Vaughn's turn in Into The Wild is memorable, and makes you wonder what could have been if he'd been given a script and a character as good as Hirsch's at his age.
9. Thumbsucker
Another film where Vince Vaughn gets a limited time to showcase his dramatic skills. However in Mike Mills' Thumbsucker, his character of Mr. Geary is much closer to the outlandish comical characters that Vaughn can play in his sleep.
Unlike Trent Walker, Ricky Slade, Peter La Fleur, or Beanie Campbell, though, Mr. Geary is a toned-down incarnation of the "Vince Vaughn" personality. Plus, there's also a sadness and melancholy to Geary that Vaughn slightly showcases without letting it fully envelop the character. Wearing a pair of bifocal glasses, a fine array of sweater vests, and a flat-top hairstyle, Vaughn allows his charisma to slyly eke out, while the laughs that he generate come from subtle moments and quirks rather than brash and broad scenes.
Thumbsucker proves that while Vaughn is probably more at home in a mainstream setting, he can also easily turn his talents to more introverted and nuanced comedy characters. And it suggests that if Wes Anderson ever came knocking, Vaughn would fit into his world like a glove on a hand while walking through Antarctica.
8. Delivery Man
Delivery Man is far from a perfect film. In fact, it's painstakingly mediocre in places.
It is only elevated by the sweetness of Cobie Smulders, the hilarity of a scene-stealing Chris Pratt (before Guardians of the Galaxy turned him into Harrison Ford 2.0), and Vince Vaughn simply doing what he does best: eating up the frame effortlessly.
Because of Vaughn's aura, you find yourself being further and further drawn into David Wozniak's dilemma of learning that he's the father to 533 children. And while he is in more reflective mood that usual he still manages to emanate his usual relatability and humor presence.
Delivery Man is proof that Vince Vaughn can make poor material palatable, and when you watch it, you suddenly realize that there is very few modern actors who could have played this part with such warmth and pathos.
7.Dodgeball: A True Underdog Story
After Swingers elevated his profile, Vince Vaughn struggled to find his place in Hollywood. He appeared in big blockbusters (The Lost World: Jurassic Park), woeful remakes (Psycho), and as supporting characters in run-of-the-mill, star-driven popcorn efforts (The Cell).
Old School saw him return to comedy, and while both Blackball and Starsky & Hutch were forgettable, Dodgeball: A True Underdog Story proved that he could carry his own entry in this genre with ease, and make a lot of money while doing so.
Vaughn's Peter LaFleur is the true center to Dodgeball. Vaughn's grounded performance allows Ben Stiller, Rip Torn, Justin Long, Stephen Root and Alan Tudyk's more eccentric characters to go balls out (pun intended) for jokes, while he pulls them back in and keeps Dodgeball from being too outrageous. At the same time, he has a seamless chemistry with Christine Taylor. Dodgeball turned Vaughn into a credible comedic leading man again, and it's a position that he hasn't dropped from since.
6. Anchorman
Unlike Dodgeball, in Anchorman, Vaughn was given free rein as the devilishly evil Wes Mantooth. And boy, did he have fun with it.
As the only recognizable face of the Evening News team, Vaughn could easily have wilted going up against the combined skills of Will Ferrell, Paul Rudd, David Koechner, and Steve Carrell. Instead he repeatedly delivers delightfully evil quips, all of which are punctuated with his hyena-esque laugh.
My personal favorites are, of course, his impassioned defence of Dorothy Mantooth, who we now all know is a saint. And yet, his closing remarks straight to Ron Burgundy's face -- when he has his rival's life in his hands, but states, "I pure straight hate you … but God damn it do I respect you," before he then plants a soft kiss on his head and helps him out of the bear enclosure -- is already a modern comedy classic.
5. The Break-Up
The Break-Up is another romantic comedy that is memorable largely because of Vince Vaughn. Actually that's unfair; labelling The Break-Up as a romantic comedy implies that it actively goes for laughs, something that it doesn't do. Instead it's a drama, with laughs.
Vaughn and Aniston bounce off of each other in an adoring and completely realistic fashion – which is no surprise as they were dating each other at the time -- and they end up delivering engrossing portrayals because of where they push each other. IJennifer Aniston's Brooke Meyers is given equal pegging and screen-time as Vaughn's Gary Grobowski, who is a much more complex and slightly loathsome character than we're used to seeing Vaughn portray.
It's just a shame that the script and characters didn't match their efforts (in my opinion).
4. Return To Paradise
An underrated gem from the late 1990s, Return To Paradise revolves around three friends – played by Vince Vaughn, Joaquin Phoenix and David Conrad – who take a trip to Malaysia. Phoenix and Conrad return to New York, but two years later they learn that Vaughn, who stayed in Asia, is set to receive the death penalty because of some hash that they all left in their abode in Malaysia. Starsky & Hutch, this is not.
Vaughn flourishes as his character, Sheriff, providing an uneven and deeply chilling portrayal that creates much of Return To Paradise's tension and suspense.
This was the performance that proved that Vaughn could cut the mustard as a serious actor. Unfortunately he made some poor decisions over the next few years that scuppered his chances of further roles akin to Sheriff, and only regained his footing once he returned to comedy.
While we should all be grateful about the laughs he has since provided, you can't help but wonder what could have been …
3. Wedding Crashers
Give Vaughn an equally talented comedic partner and they can deliver cinematic fireworks that you can't help but feel overjoyed watching erupt. In Wedding Crashers, Vaughn and Owen Wilson are so delightfully at ease and witty with one another that you can't help but look at your friends and feel a little disappointed by them.
Vaughn and Wilson are able to go full-on raunchy because of Wedding Crashers' R-rating. Meanwhile, Steve Faber and Bob Fisher's script delivers its comedic beats and set-ups in a balanced rhythm that means the comedy never even comes close to being tedious.
This allows Vaughn to truly portray his comedic gifts in all of their glory. There are borderline screwball exchanges between Wilson and Vaughn, while Jeremy Grey's arc as a womanizer who turns good after finding the right woman gives Vaughn the scope to riff, deliver one-liners and go on impassioned soliloquys. The perfect showcasing of Vaughn's screen presence. Just don't mention The Internship.
2. Old School
Before he paired up with Owen, Vince Vaughn got his career back on track by starring opposite Luke Wilson and Will Ferrell in Todd Phillips' Old School, another crude, male-dominated, but still warm and downright hilarious comedy.
Vaughn got out of his barren spell with Old School, and the character of Bernard "Beanie" Campbell could easily have been the man that Swingers' Trent Walker turned into. Will Ferrell is roundly remembered for stealing Old School, but Vaughn's presence and his nostalgic flirting with returning to his frat years is something that any of us who have gone back to their university for a beer can relate to.
In fact, the leading trifecta are the reason Old School works. And while its lowbrow jokes and crude humor can be easy to scoff at, there's no denying the fact that it's a comedy that you can re-watch time and time again, and it's all because of the camaraderie shared between Wilson, Ferrell and Vaughn.
1.Swingers
It had to be Swingers, didn't it? As Trent Walker in Swingers, Vaughn exudes a rock-n-roll frontman charisma that means anytime he is off screen, you instantly want him to return. Which is all the more remarkable because it was only his fifth movie role, and the first where he had a leading(ish) part.
Vaughn oozes charisma as Walker, and you can't help but be hypnotized and ensnared by his personality. Especially since he stars opposite Jon Favreau's lovelorn Mike Peter, aa sad sack anyone would probably look like Frank Sinatra standing next to. Of course, it helps that Vaughn gets the film's best lines; but he still had to deliver them, and he did just that in an exuberant manner that you instantly want to imitate. As loveable as he is loathsome, you can't help but root for Trent Walker because of how much of his own personality Vaughn injects into him.
Vaughn showcases his ability to be both funny and dramatic as Walker and it's no surprise that he got caught in a juncture for a few years as he decided which of these cinematic avenues he felt the most comfortable driving down.
And it speaks volumes that, just shy of 20 years later and after all of the box office he has generated, Vaughn is still mostly remembered for this iconic portrayal. He's just so money.
Your Daily Blend of Entertainment News
Thank you for signing up to CinemaBlend. You will receive a verification email shortly.
There was a problem. Please refresh the page and try again.