The 10 Best Westerns Of The Past 20 Years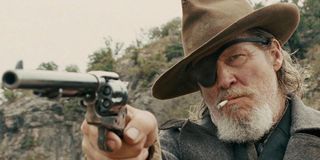 To paraphrase Mark Twain: "The reports of the western's death have been greatly exaggerated."
Sure, unlike the first sixty years of Hollywood – from the 1900s to the 1960s – the Western genre might not define cinema in quite the same way anymore. But the repeated declarations that the genre is dead are way off. Ever since 1992's Unforgiven, movie enthusiasts have written off the western as a has-been. But over the last 24 years there have been a number of films that prove it's still excelling.
The latest example, Jane Got A Gun, starring Natalie Portman and Joel Edgerton, is being released this week. And to celebrate, here are 10 of the best Westerns of the last 20 years, which prove there's still plenty of life left in the old horse yet.
True Grit
While John Wayne won his only Oscar for his performance in the 1969 version of True Grit, the Coen Brothers' version pretty much exceeds it in every fashion. Jeff Bridges even outshines Wayne's take on Rooster Cogburn, while Matt Damon and Hailee Steinfeld are just as revelatory in their supporting roles. As you'd expect, Roger Deakins brings the Western back to life through his exemplary cinematography, while Carter Burwell's score is still underrated to this day. As is Joel and Ethan Coen's subtle script and direction, which results in a more faithful adaptation of Charles Portis' 1968 novel, which means that it's bleak yet touching. Its $252.2 million box office return also scoffed at suggestions the western had perished.
The Assassination Of Jesse James By The Coward Robert Ford
Rightfully praised for having arguably the greatest title in movie history, The Assassination Of Jesse James By The Coward Robert Ford never received the acclaim that it deserved after it grossed just $15 million from its $30 million budget. But it was still roundly praised by critics because of just how brooding its story-telling is. The fact that it possesses captivating visuals doesn't hurt. It's really like watching poetry in motion. Once again, Roger Deakins is in charge of the shimmering, beautiful cinematography, while Brad Pitt stoically leads the way, and the well-rounded ensemble each dovetail into the plot with aplomb. A modern classic, in every sense of the word.
The Proposition
The Proposition is absolutely brutal. From a script by Nick Cave – yes, that Nick Cave – director John Hillcoat (The Road, Lawless) is unflinching with his various depictions of violence, which includes murder and rape. But while the subject matter is admittedly difficult, you still can't take your eyes off the film. There are great performances dotted throughout by the likes of Guy Pearce, Ray Winstone, Emily Watson, and, in particular, Danny Huston. Yet, in amidst the bloodshed, there's still a beauty that shines through, while Hillcoat's homages to Sergio Leone, Sam Peckinpah, and other greats of the genre all coagulate together to create something truly unique.
Django Unchained
It was written in the stars that Quentin Tarantino would direct his very own Western. The Pulp Fiction and Reservoir Dogs filmmaker has long spoken about his admiration for both Rio Bravo and the films of Sergio Leone, while various traits of the genre have been dotted throughout his previous work, too. Django arguably is Quentin Tarantino's most stylish film to date, and every scene builds upon the last before the film ends at a deafening but thoroughly engrossing crescendo. While it might be a little bloated, Django Unchained is always, and unrelentingly, entertaining, and you can sense just how much fun Tarantino has making the audience uncomfortable.
Meek's Cutoff
Kelly Reichardt's contemplative Western might not have the immediate impact or relentless action from other entries in the genre, but it becomes more and more hypnotic with each passing scene. Reichardt's direction is pitch perfect, while Chris Blauvelt's cinematography manages to find beauty in amidst the barren location. The ensemble of Michelle Williams, Bruce Greenwood, Shirley Henderson, Paul Dano, Zoe Kazan, and Will Patton make the film more and more intimate through their subtle performances and characterization. At times it's, admittedly, ponderous, but it's still beautiful to watch unfold, and, if you let it, Meek's Cutoff rewards viewers that actually invest in it.
The Lone Ranger
A quick look at The Lone Ranger's Rotten Tomatoes score of just 31% would have you believe that the Gore Verbinksi directed blockbuster Western was a failure. Something that's also underlined by its $260.5 million box office return, after Disney was believed to have spent around $375 million producing and marketing it. And after the first hour of its 2 and a half hour running time, that all looks to be the case. But, once it settles down, The Lone Ranger actually becomes a hugely enjoyable and rollicking Western that is full of spectacle and action, and is thrilling to watch unfold. The Lone Ranger really is an underrated blockbuster gem. Give it another try.
Open Range
A stark reminder of just how talented Kevin Costner is both as a director and actor, Open Range is a throw back to the Westerns of old. The gun fighting sequences in particular are gorgeous to look at, with Costner using wide shots and a surprising amount of blood to showcase the vivid realism. In fact, Open Range's final gunfight has been roundly lauded as one of the best gunfights in the history of cinema. Plus, with Robert Duvall, Annette Bening, Michael Gambon, and Diego Luna all contributing sublime performances, it's almost impossible not to become engrossed by everything that Open Range has to offer.
The Homesman
There's obviously something about the Western genre that brings out the best in cinematographers. Like Roger Deakins in True Grit and The Assassination Of Jesse James By The Coward Robert Ford, Rodrigo Prieto's work as cinematographer on The Homesman allows Tommy Lee Jones' direction to glisten. The Homesman is also unique as it explores the lives of women in the American West. But that doesn't stop Jones from being just as unflinching, ruthless, and unsentimental as previous entries to the genre. And while Tommy Lee Jones paints his version of the west in a stark and barren light, which is at times haunting and unsettling, it's still always captivating.
Slow West
This is the third time that I have written about Slow West in the last month. One was to include it in my Top 10 of 2015, the other was to write about how underappreciated it was, while now it's to insist that Slow West is one of the best Westerns of the last 20 years. It's pretty obvious how much I love the film, which is all the more remarkable considering that it comes from first-time writer-director John MacLean. Inventive and bold, beautiful and gritty, all with a surreal edge that makes it fearlessly unique, Slow West is also boasted by the fact that it stars Michael Fassbender, Kodi Smit-McPhee, and the always underappreciated Ben Mendelsohn. Basically, if you haven't, you need to watch Slow West now.
No Country For Old Men
While the bulk of the entries on this list are set in the 1800s or early 1900s, No Country For Old Men is the only Western that's even remotely modern. But I couldn't help but include it because, as its four Academy Awards can testify, it's a bona-fide masterpiece. In fact, it could even be argued that it's the Coen Brothers' finest work to date. Where to start? Well, that man again Roger Deakins proves that he's a genius as a cinematographer, while the Coen Brothers somehow keep No Country For Old Men thrilling, tense, and utterly absorbing throughout its entire two hour running time. Its just magnificence all over, and Javier Bardem's turn as Anton Chigurh is probably the most terrifying to have ever been committed to celluloid.
Your Daily Blend of Entertainment News