10 Great Horror Movies You Can Stream For Free On Netflix This Halloween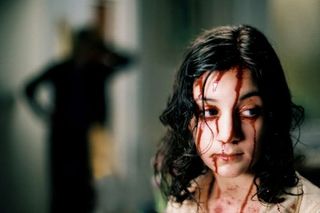 With so many titles to choose from, Netflix Instant's library can be overwhelming. So we bring you this special edition of our biweekly column as a tool to cut through the clutter by highlighting some now streaming titles that pair well with this spooky holiday season.
Inspired by Halloween, we've pulled together a selection of the best horror movies now streaming on Netflix. Whether you want tales of witches, vampires, ghosts or other ghouls that go bump in the night, we've got you covered.
Witches
The Craft (opens in new tab) (1996) A touchstone for teens in the '90s was this drama about four outcasts who turn to witchcraft for the power and control they so desperately want in their lives. But they take mean girls to a whole new level when one of their coven begins having second thoughts. Robin Tunney, Fairuza Balk, Neve Campbell, and Rachel True star; Andrew Fleming directs.
Zombies
World War Z: Unrated Version (opens in new tab) (2013) An epic zombie movie that once seemed poised for disaster became a huge hit for producer and star, Brad Pitt. Based on the Max Brooks novel, this globe-trekking adventure follows U.N. employee Gerry Lane as he avoids the flesh-craving infected to seek a cure to this world-threatening pandemic. Brad Pitt, Mireille Enos, Daniella Kertesz star; Marc Forster directs.
Monsters
Trollhunter (opens in new tab) (2010) This inventive Norwegian mockumentary follows a trio of college students who trek deep in the woods to investigate a bizarre government cover up. They expected conspiracy, but never suspected they'd find deadly, towering trolls of legend. A fresh, funny and exhilarating take on the genre. Otto Jespersen, Glenn Erland Tosterud, and Johanna Mørck star; André Øvredal directs.
Ghosts
The Awakening (opens in new tab) (2011) An underseen gem from England, this spooky thriller stars Rebecca Hall as a professional debunker of séances and mystics. But when she's called to a boys school in the wake of World War I, her skepticism is challenged by the spirit that haunts its halls. Trust me, this is one of the best horror movies you've never seen. Dominic West and Imelda Staunton co-star; Nick Murphy directs.
Vampires
Let the Right One In (opens in new tab) (2008) This Swedish horror story electrified critics around the world with its vivid tale of childhood isolation and first love. Kåre Hedebrant stars as a young bullied boy who finds an unexpected ally in a strange new neighbor played by Lina Leandersson. But could she be responsible for the bizarre string of murders afflicting his town? More importantly, does he care? Tomas Alfredson directs.
Horror Comedy
The Cabin in the Woods (opens in new tab) (2011) The horror movie so scary, clever and accessible that it won over horror fans and those who loathe the genre alike. The script from Joss Whedon and Drew Goddard begins with a familiar premise: five co-eds travel to the titular remote location, where they are plagued by evil creatures. But from this they spin a tale that subverts and pays homage to a wide array of horror tropes. Kristen Connolly, Chris Hemsworth, Anna Hutchison, Jesse Williams and Fran Kranz star; Drew Goddard directs.
So Bad, It's Good
Leprechaun (opens in new tab) (1993) Jennifer Aniston's first lead role came in this kooky horror offering about a malevolent leprechaun who'll do anything to retrieve his stolen gold. So bad and bizarre it spurred a franchise of cult movies, this flick is perfect for a night with friends. Warwick Davis co-stars; Mark Jones directs.
Urban Legend
Mr. Jones (opens in new tab) (2013) A lesser-known but chilling indie thriller centers on a couple who tries to find some peace in a rural cabin. Instead, they stumble across some outsider art they believe belongs to a mysterious sculptor. But is there more to Mr. Jones than his predilection for obscurity and creepy crafts? Sarah Jones and Jon Foster star; Karl Mueller directs.
Slasher
The Town That Dreaded Sundown (opens in new tab) (1976) Believed to be based on true events, this chilling serial killer story is offered in a documentary style that predates the found footage movement. When a hooded murderer stalks 1946 Arkansas, it's up to a Texas Ranger to bring the fiend down. Ben Johnson, Andrew Prine, and Dawn Wells star; Charles B. Pierce directs.
Creature Feature
Monkey Shines (opens in new tab) (1988) Best known for his resurrecting the zombie genre with Night of the Living Dead (opens in new tab), Day of the Day, and Dawn of the Dead, George A. Romero took on a tale of helper monkey gone mad in this sinister science gone wrong tale. Jason Beghe stars as a former athlete whose life is shattered when a car accident makes him quadriplegic. But hope arrives in the form of a biologically altered monkey, who quickly bonds with her master. But as their relationship festers, only one will survive. John Pankow and Stanley Tucci co-star; George A. Romero directs.
For more Now Streaming selections, click here.
Staff writer at CinemaBlend.
Your Daily Blend of Entertainment News
Thank you for signing up to CinemaBlend. You will receive a verification email shortly.
There was a problem. Please refresh the page and try again.