The 10 Greatest Movie Stars Saturday Night Live Ever Produced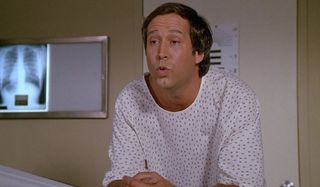 One thing was made crystal clear during NBC's reunion special Saturday Night Live 40: the weekly sketch comedy show has launched an insane amount of massive movie stars. Many of them turned up as hosts, from Tom Hanks to Alec Baldwin. But others got their start as repertory players in the show's cast, and used that exposure to kick start incredibly successful movie careers.
Usually, an SNL cast member tests the waters in an SNL movie. The Blues Brothers, Coneheads and Wayne's World stand out as feature films that got their start on Saturday night. Not every SNL player who made the leap to the big screen managed to stay there. And some folks found movie success on their own, away from Saturday Night Live, even after logging a few years in front of or behind the camera on the incredibly well-received and long-running program.
Which explains why, when taking on the ridiculous task of ranking the greatest movie stars to emerge from the SNL scene, we eliminated incredible talents such as Ben Stiller, Billy Crystal, Chris Rock, Christopher Guest or Robert Downey Jr. All are enormous movie stars, and all have direct ties to the SNL community. But guys like Stiller and RDJ made their mark long after dabbling in SNL sketch comedy, and Rock's more of a brilliant stand-up whose humor doesn't always translate to movies. (Top Five aside.)
These are the 10 talents who took off while on Saturday Night Live, and used the show as a launch pad to have 10 of the most white-hot film careers the program has ever seen. (Note: This list was much harder to put together than I'd imagined, so I welcome your feedback on the rankings!)
10. Kristen Wiig
Kristen Wiig currently has one HUGE movie under her belt (in Bridesmaids), one beloved cult classic (in Macgruber), and a boatload of impressive turns in a full range of experimental genres, from the coming-of-age comedies like Adventureland to the animated smash sequel Despicable Me 2. Kristen Wiig has an incredible versatility as a screen performer, and only just left SNL to give her movie career a full-time push. How big could she get? Well, Bridesmaids director Paul Feig just hired her to be a Ghostbuster, so yeah, the sky continues to be the limit for Ms. Wiig.
9. Chris Farley
If only we had more time. This is going to be a recurring theme on this list: SNL comedians who had a huge impact in a short amount of time, but then had their film careers cut short because they died too soon. The larger-than-life antics of Chris Farley carried one significant motion picture -- Tommy Boy. Hollywood tried to replicate that film's success by teaming Farley with David Spade in Black Sheep. It didn't quite work. But the actor put his loud, obnoxious and hilarious fingerprints on Wayne's World, Airheads, Coneheads and the incredible Billy Madison. His stamp on that era of comedy is undeniable.
8. Mike Myers
One of the hardest things to do is carry a character over from SNL to the big screen. Ask Tim Meadows or Molly Shannon about The Ladies Man or Superstar. You probably forgot those happened. Even if Myers' silver-screen success was limited to the two Wayne's World movies, he might have earned consideration in this conversation. But Myers struck gold with the Austin Powers franchise, made billions as the voice of Shrek, and even dabbled in dramas like Inglourious Basterds and 54. The thing about Myers is that his stinkers are huge misses, from The Love Guru to The Cat in the Hat. But his career, while not Teflon, is certainly stronger than other SNL vets.
7. Dan Aykroyd
Dan Aykroyd seems to be underappreciated. Each of his biggest hits come with a partner, be it John Belushi in The Blues Brothers (pictured), Eddie Murphy in Trading Places or Bill Murray in the Ghostbusters films. Now, if we're being honest, those are all enormous hits… and that, alone, would push Aykroyd up this list. But when you step back and look at his contributions to films such as Neighbors, Indiana Jones and the Temple of Doom (for his 1941 director, Steven Spielberg), Spies Like Us, Dragnet, The Great Outdoors, Sneakers and My Girl, it's evident that Aykroyd has had a larger and more impactful film career then people (like myself) might have realized.
6. John Belushi
Like Chris Farley, John Belushi has a small but extremely influential body of work. Animal House would be enough. Animal House coupled with The Blues Brothers is a dynamic duo, and it cemented Belushi's status as a SNL force. Drugs depleted Belushi's work ethic, leading to the underrated but flawed Continental Divide and Neighbors. The thing about Farley and Belushi is that they might have completely watered down their cinematic resumes had they survived. But by leaving us with a short list of comedy classics, both actors earned their spots on my list.
5. Chevy Chase
What is the quintessential Chevy Chase movie? National Lampoon's Vacation, you say. Good call. Chase's performance as Clark W. Griswold absolutely ranks as the highest… oh wait, what? OK, yes, Caddyshack certainly could be Chevy Chase's quintessential movie because it… oh wait, what? Right, right. Fletch HAS to be considered Chevy Chase's finest comedy. The one-liners alone help push Chase to the top of this list because… ugh, OK, fine! Modern Problems and Funny Farm and Three Amigos and Spies Like Us and Foul Play and Under the Rainbow and Dirty Work and…
4. Will Ferrell
Will Ferrell's appearance on the SNL 40 special reminded me of just how many brilliant characters he played during his seven seasons. From Alex Trebek to Neil Diamond, from the cheerleader to George W. Bush, Ferrell was a chameleon of comedy week after week. But that somehow overshadows the consistent stream of massive comedies Ferrell has starred in during the course of his still-going-strong film career. Anchorman (and its sequel), Old School, Elf, Step Brothers -- Ferrell has created an array of memorable on-screen doofuses for our enjoyment. If he keeps up this pace, he will be in the top three of this list before his career is through.
3. Eddie Murphy
In his prime, no one was hotter than Eddie Murphy. And that "prime" ran simultaneously with his run on Saturday Night Live. As Chris Rock pointed out during his tribute to Murphy, the actor did 48 Hours and Trading Places while also doing SNL each week. That's insane. Of course, Murphy would go on to star in such powerhouse comedies as Beverly Hills Cop, Coming to America, Boomerang and Bowfinger. And while Murphy's detractors point to his decision to go family friendly with Shrek, The Nutty Professor and Doctor Doolittle as a mistake, those movies helped make the all-star a fortune. Most of us think Murphy has a comeback in his back pocket… but if that's the case, it didn't kick start on Sunday night with that awkward send off.
2. Adam Sandler
Two-point-four BILLION dollars. That's roughly how much Adam Sandler has accounted for at the box office since making his big-screen debut in 1992 as a small part of Shakes the Clown. Three years later, the adolescent all-star hit with Billy Madison, and basically never looked back. The Waterboy, Anger Management, Click, I Now Pronounce You Chuck & Larry -- Sandler basically crossed the $100 million mark in his sleep. And right when critics were ready to finally bury him, the comedian delivered his biggest hits with the Grown Ups movies. Sandler's star might be dimming ever so slightly, as Blended and That's My Boy underperformed. But Sandler's brand remains a safe bet, and likely will be for years to come.
1. Bill Murray
Beloved. Respected. Hilarious. Bill Murray got heat during his SNL run for joining in the show's second season… and not fitting in with the "original" cast right away. But as a feature-film star, Murray burst out of the gate early (with Meatballs) and consistently racked up hit after hit after hit. Ghostbusters, Stripes, Caddyshack and Tootsie established Murray as a brilliant comedic star. When Murray switched gears to dramas, he succeeded where so many other funny people have failed. The Razor's Edge, Lost In Translation (his only Oscar nomination) and Get Low are vintage Murray turns… to say nothing about his truly brilliant collaborations with Wes Anderson. SNL helped Bill Murray, but all of these titles suggest Murray also would have been just fine on his own.
Your Daily Blend of Entertainment News
Sean O'Connell is a journalist and CinemaBlend's Managing Editor. He's frequently found on Twitter at @Sean_OConnell. ReelBlend cohost. A movie junkie who's Infatuated with comic-book films. Helped get the Snyder Cut released, then wrote a book about it.
Your Daily Blend of Entertainment News
Thank you for signing up to CinemaBlend. You will receive a verification email shortly.
There was a problem. Please refresh the page and try again.