How Grown Ups 2 Led To Chris Rock's Hysterical New Top Five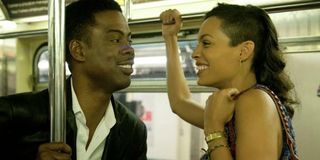 Just when you were ready to dismiss Grown Ups 2 as a cinematic black hole, co-star Chris Rock gives the Adam Sandler atrocity proper credit for inspiring his latest, hysterically funny comedy Top Five. So there's that.
Chris Rock brought his new project – which he writes and directs – to the Toronto International Film Festival, where he sparked a fierce bidding war. (The asking price reportedly is north of $10 million.) Understandably. Rock's comedy is a biting commentary on the entertainment industry, and is packed to the brim with dozens of famous faces who'd cut together into an all-star trailer that could guarantee a huge opening weekend.
How does Grown Ups 2 factor in, aside from Adam Sandler having a cameo in the end of Top Five? The way Rock told it during a ribald Q-and-A following our screening, he spent a lot of time on the set of the Grown Ups sequel just sitting around. Despite being third or fourth on the call sheet, Rock said, "I was in a movie with nothing to do." So he sat in his trailer and decided to come up with a screenplay that would give him something to do. He imagined all of the people that he'd want to work with, from Kevin Hart, Gabrielle Union and J.B. Smoove to Rosario Dawson. And he wrote himself a juicy lead role.
Just so long as audiences are prepared for an unapologetically raunchy, nasty, filthy, dirty but perpetually entertaining comedy that's modeled after like Rock's observational stand up and structured (in my humble opinion) after Louis CK's smash-hit cable show, Louie. One Tweeter kind of nailed the comparison when he called Top Five "Chris Rock's Annie Hall." Because it's a conversational get-to-know-me plot that follows a successful comedian (Rock) and a NY Times journalist (Rosario Dawson) trying to peel back his layers for a juicy expose.
Top Five gives Chris Rock a chance to chomp down on the hand that normally feeds him. And he essentially takes a machete, douses the blade with gasoline, ignites the lethal sword and starts swinging at all types of obvious but still deserving targets.
Andre (Rock) is a famous actor best known for a series of awful-looking cop comedies in which he played Hammy, a gun toting bear. Nope, I'm not joking. Now Andre is trying to go the serious route, producing and starring in the Oscar bait Uprize, about the leader of a Haitian slave revolt. "He killed a lot of white people," ensures Andre. The trouble is that fans don't want to take this previous comedian seriously, and since he's a recovering alcoholic, he's not sure he can be funny without some liquid courage.
Rock's comedy pulls few punches, going after topics of sex, addiction, reality television, and the entertainment industry with what his characters keep calling "rigorous honesty." He's no better of an actor, but he certainly has improved as a writer-director since I Think I Love My Wife. Top Five tends to wander, but you might to if you had a sparring partner like Rosario Dawson, who brings an open mind to some of Rock's crazy suggestions. (There's a subplot about her character having a gay boyfriend with an anal fixation. Eventually, it involves a tampon and hot sauce. For real.)
In general, though, Chris Rock hires funny – and often famous – people to fill his cast, and then let's them steal a scene or two. Brian Regan is hysterical as a radio station producer (where we get to see the now-separated Opie and Anthony on screen together, perhaps for the last time). Tracy Morgan gets shit on for his weight. DMX destroys in an unexpected scene. Sandler and Whoopi Goldberg break off fantastic one-liners during a strip-club bachelor party, where Jerry Seinfeld (!!) makes it rain hundred dollar bills on strippers.
Top Five is that type of movie. Which explains why several studios are willing to spend millions of dollars for the right to show it to you… hopefully soon.
Sean O'Connell is a journalist and CinemaBlend's Managing Editor. He's frequently found on Twitter at @Sean_OConnell. ReelBlend cohost. A movie junkie who's Infatuated with comic-book films. Helped get the Snyder Cut released, then wrote a book about it.
Your Daily Blend of Entertainment News
Thank you for signing up to CinemaBlend. You will receive a verification email shortly.
There was a problem. Please refresh the page and try again.