10 Hilarious Female Comedians Who Should Be Opening Big Movies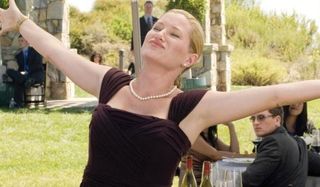 Comedian Amy Schumer is about to become Hollywood's biggest new female comedy star. Her brand new film Trainwreck - which she also wrote – held a work in progress screening at SXSW this weekend, and the reaction to the movie was overwhelmingly positive, with a wide range of critics, including myself, praising both Schumer's performance and the new voice she brings to the comedy landscape. But while the actress/stand-up sits on the verge of superstardom, now is as good a time as any to point out that there are many, many gifted women in Hollywood waiting for their moment to shine just as brightly.
But who exactly are these gifted women? That's truthfully an extremely long list, but we have put together a list of 10 who we would particularly like to see get their own big screen comedies and show what they can really do. Read on to find out our picks!
Kathryn Hahn
Go ahead and try to name a movie with a bad Kathryn Hahn performance. The truth is that you can't. While the projects she does may not always be of the highest quality, she is always fantastic and has done some amazing character work. Whether she's acting completely ridiculous like in Step Brothers or playing it more straight like during her time on Parks and Recreation, she has always demonstrated impeccable timing and wit, and deserves the reward of a film to call her own.
Jillian Bell
There was a great deal to love about Phil Lord and Chris Miller's 22 Jump Street, from its perfectly meta approach to the return of the fantastic Jonah Hill-Channing Tatum chemistry, but it was Jillian Bell as the villainous Mercedes that stole every scene in which she appeared, generating huge laughs with every line. She's clearly a gifted improviser, and also a double threat, as she also has a background writing for Saturday Night Live.
Aisha Tyler
As much as I love hearing Aisha Tyler voicing the lovely and deadly Lana Kane each week on Archer, her big screen career pretty much baffles me. Despite being hilarious, smart, talented and gorgeous, she hasn't actually been in a film since 2012's The Babymakers - and even that was just a limited supporting role. Hollywood should not only be giving Tyler more feature parts, but also really needs to start throwing some leads her way.
Maya Rudolph
It was Melissa McCarthy who wound up getting the most significant big screen career bump of the supporting cast featured in Paul Feig's Bridesmaids, but like the aforementioned Ellie Kemper, it's a shame that Maya Rudolph hasn't gotten more film leads in that movie's wake. She's a legit Saturday Night Live veteran with a solid filmography (including a co-lead in Sam Mendes' Away We Go) and deserves a shot to carry her own comedy.
Ellie Kemper
If there's one word that can be used to describe Ellie Kemper, it's "delightful." She spent years charming us on The Office, and while she is currently the lead of her very own television show – the fantastic Unbreakable Kimmy Schmidt - I'm going to be greedy on her behalf and say that she deserves a leading lady career on the big screen as well. She has a unique brand of charisma that never fails to be charming, and it deserves the biggest stage possible.
Casey Wilson
Casey Wilson got a nice bit of big screen exposure last year playing a well-placed pawn in the plot of David Fincher's Gone Girl, but she definitely deserves a moment in the spotlight to highlight her comedic gifts. Admittedly her recent effort Ass Backwards - which she co-wrote didn't go over so well with critics, but her time on Happy Endings shows that she can be fantastic with the right material, and deserves a big time shot.
Niecy Nash
Niecy Nash has been very busy on the small screen lately, preparing to star in the third season of Getting On while also playing a role in the new horror comedy series Scream Queens, but at some point in her schedule it would be great to see Hollywood give her a shot with a leading role. After all, she's been in this business for 20 years now, has a fanbase thanks to her extensive TV work, and most definitely has the talent.
Jenny Slate
Admittedly, Jenny Slate already has some lead actress experience, as she was the main character in last year's critically-acclaimed indie Obvious Child, but it's time for a major studio to bank on her in the same way that Universal Pictures banked on Amy Schumer. Slate has not only proven herself to be ridiculously funny, but has also demonstrated legitimate range that is necessary to carry an entire narrative.
Chelsea Peretti
To go along with her successful career as a stand-up, Chelsea Peretti currently has a great gig on Brooklyn Nine-Nine, but amazingly has not yet had a movie role, let alone a leading part in a feature. Like many of the other actresses on this list, in addition to acting she also has an extensive resume as a writer, so all she really may need to do is find the right director with whom she can collaborate.
Kate McKinnon
Kate McKinnon is a full-blown weirdo. Often times, her sensibilities skew toward the bizarre, but in her best moments, she finds the perfect blend of human and eccentric, mining the space between our weird impulses and the bad habits we all have. She's fearless, brilliant and probably the odds on favorite to steal Ghostbusters out from under her more famous co-stars. She's one of the most talented cast members SNL has had in years, and someday, American will fall in love.
Assistant Managing Editor
NJ native who calls LA home and lives in a Dreamatorium. A decade-plus CinemaBlend veteran who is endlessly enthusiastic about the career he's dreamt of since seventh grade.
Your Daily Blend of Entertainment News
Thank you for signing up to CinemaBlend. You will receive a verification email shortly.
There was a problem. Please refresh the page and try again.