Trainwreck Is Hilarious, Judd Apatow's Best Movie In Years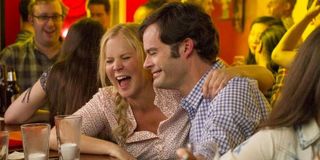 After breaking out in a huge way with both The 40 Year Old Virgin and Knocked Up, Judd Apatow found himself moving in a more dramatic direction. With both Funny People and This is 40, the filmmaker found himself dealing in more serious material like cancer and middle-adulthood, and while the movies did have their funny moments, they also didn't pack the same kind of fresh energy and entertainment that featured so heavily in his first two directorial efforts. With Trainwreck, however, Apatow has rediscovered his incredibly gifted sense for comedy, and thanks to his collaboration with star/writer/producer Amy Schumer, he has made his best, funniest movie in years.
Screening as a work in progress at SXSW this evening, the film stars Schumer as Amy, a young woman who has spent her entire life not believing in monogamy, and as a result has found herself living a rather responsibility-free lifestyle that finds her bouncing from one night stand to one night stand, liberally drinking, and smoking pot. But while this lifestyle seems to suit her just fine, her perspective becomes altered when she meets Aaron (Bill Hader), a hot shot sports doctor whom she has been assigned to interview as part of her job at a men's lifestyle magazine. She winds up sleeping with him, thinking that it's going to be just a one-off thing, but when he begins to indicate interest in being her boyfriend, Amy is completely thrown off her game, and is forced to reconsider her entire attitude about relationships.
In many ways, Trainwreck finds Apatow working within a completely new environment – working for a script he didn't write himself, not working with any of his regularly featured actors, and even setting the story in New York instead of Los Angeles – but it's also very clear that his established sensibilities sync incredibly well with Schumer's, and ultimately makes the new film feel incredibly fresh. Being much more than just strictly romantic relationship-centric, the movie wonderfully utilizes its diverse ensemble of odd and eccentric characters to create great dynamics not seen in any of the director's other titles, and in every scene they provide a different kind of energy – be it Amy's relationship with her caustic, aging father (Colin Quinn), or Aaron's strangely close relationship with LeBron James (playing himself, and standing out as one of the greatest highlights). Furthermore, everyone is armed to the teeth with tremendous wit and amazing dialogue, and the jokes are actually so rapid fire that many lines are actually drowned out by howls of laughter generated by the ones that precede it.
Perhaps even more significant than Judd Apatow's return to form, however, is the big screen emergence of Amy Schumer, who immediately establishes herself in Trainwreck as comedy's best new leading lady. Even beyond her work behind the scenes developing the project - which is incredibly impressive by itself given her limited feature experience – her performance in the movie is fantastic, and she's not only hilariously funny, but also even does great work with key dramatic moments in the story as well. There is an obvious caveat, as the actress did specifically write the part for herself and clearly played to her strengths in doing so, but it's such great work that one can't help but feel confident that her career will eventually take her out of her comfort zone and that she will continue to excel.
Even though tonight's screening came with the asterisk of being only a work in progress – with the movie still a few months away from theatrical release – it's honestly hard to imagine that the cut will change a great deal, as simply too much of it works perfectly to believe that major alterations will be necessary. As it stands, Trainwreck is on pace to be the best comedy of 2015, and if it wasn't already on your radar, it definitely should be now.
Assistant Managing Editor
NJ native who calls LA home and lives in a Dreamatorium. A decade-plus CinemaBlend veteran who is endlessly enthusiastic about the career he's dreamt of since seventh grade.
Your Daily Blend of Entertainment News
Thank you for signing up to CinemaBlend. You will receive a verification email shortly.
There was a problem. Please refresh the page and try again.