An Unleashed Jason Sudeikis Steals The Hilarious Sleeping With Other People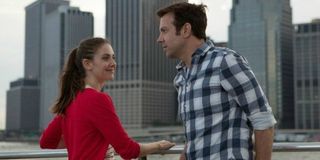 The transition from the small to the big screen is a tricky one to master. Some personalities are brimming with so much energy, talent and charisma that they can't help but ascend to celluloid while others struggle to find their voice in their new medium and slowly decline into obscurity. Saturday Night Live alumni Jason Sudeikis is somewhere in between.
Sudeikis' rise from scene-stealing support in Semi-Pro and The Campaign to credible leading man in Hall Pass, Horrible Bosses and We're The Millers has been impressive. But he hasn't looked entirely at home in these parts, and some of his performances have felt a tad forced, which has slightly hindered his comedic efforts. But things appear to be changing for Sudeikis. Over the last year, he has looked to move into more independent and character-driven fare with the likes of Drinking Buddies, Tumbledown and Sleeping With Other People, the latter of which screened at the Tribeca Film Festival, and sees Sudeikis at his smooth, vulnerable and painfully funny best.
Jason Sudeikis really never has been better than in Sleeping With Other People, as he's able to blend the vast qualities that have turned him into one of the most popular comedic actors of the last few years with more sensitive traits, while writer/director Leslye Headland asks probing questions about his sex addicted character that push Sudeikis to lengths he's never been asked to attempt before.
Sudeikis stars as Jake, a man who ever since he lost his virginity to Alison Brie's Lainey has embarked on countless meaningless sexual escapades that have been increasingly non-committal. Lainey hasn't fared much better, though. In fact, she's embroiled in a torrid affair with Adam Scott's gynecologist character, who she is convinced will leave his wife for her. Their plights have become so bad that the pair visit a counseling group, where they reconnect after more than a decade. And after a misinterpreted date develops into a mutual sharing of their vile escapades, the pair decide to keep their relationship platonic. They soon develop into best friends, and even though their feelings for each other become obvious, they continually avoid progressing their friendship to a physical echelon.
Sleeping With Other People works so well because it expertly mixes sweetness with raunch, as Brie and Sudeikis' effortless warmth and adorable patter perpetually emanates across the screen and makes for engrossing viewing - even as they commit deplorable acts, such as having affairs and taking drugs at a child's birthday party. And even though it still fits snuggly into the romantic-comedy genre, Sleeping With Other People progresses in a surprising and suspenseful manner.
But the real reason for Sleeping With Other People's success is Brie and Sudeikis. The duo are so heartwarming and enchanting that you simply want to break through the screen and hand them a friendship bracelet. And even though Headland makes sure that Sleeping With Other People takes a more complex and examining look at these disturbed characters this doesn't get in the way of both Sudeikis and Brie being hilariously funny. Sudeikis in particular has never been breezier or as in control, while there's a 10-minute section of the film where everything that comes out of his mouth is riotously amusing. They're also expertly supported by a stellar supporting cast that includes Amanda Peet, Natasha Lyonne, Jason Mantzoukas and an against-type Adam Scott.
Sleeping With Other People might end a little bit too tidily, but its raw look at a modern relationship is still wholly original, while it also possesses more sweetness and laughs than its genre peers. A strong contender for the best romantic comedy of the year. And it will take something remarkably impressive to topple it.
Your Daily Blend of Entertainment News