Michael Fassbender Is Great In Slow West, Like Boba Fett Meets John Wayne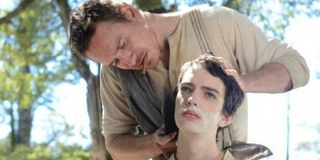 Actors are always towing the line between artistry and commerce. More of the latter means the freedom to the former, and thus the opportunity to truly push their talents by taking the risks that are usually restricted when they're stuck in the confines of Hollywood. This year's Tribeca Film Festival is packed with lower budget, more character driven projects that are populated with some of the finest and most renowned actors in the world. Without them, these films would probably have struggled to amass their budgets, but with them their status is immediately elevated.
One such effort is Slow West, the first feature film from Scottish filmmaker John Maclean, who perfectly casts Michael Fassbender (Prometheus, 12 Years A Slave) as Silas Selleck, a wandering bounty hunter who treks across the American west with lovelorn young aristocrat Jay Cavendish (Kodi Smit-McPhee). Cavendish wants to find his lost love Rose Ross (Caren Pistorious), while Maclean wants the $2,000 reward that will come with her capture.
As per usual, Fassbender eats up the screen, combining the effortless, monosyllabic bravura of Star Wars' Boba Fett with the rugged but heartfelt morals of John Wayne. He's perfectly complimented on-screen by Kodi Smit-McPhee (Let Me In) though, and the pair soon develop a heartfelt, but still subtle, camaraderie that runs at the spine to Slow West. But don't mistake this for an uplifting coming-of-age horseback ride through the wild west, because Maclean's world is filled with caustically bleak characters and scenarios, yet is still engrossing to look at, and overall feels hopeful.
There's a lyricism to both Slow West's dialogue, which is peppered with an unforced wit, and gorgeous imagery that teases Maclean's musical past (he is a member of the stellar Scottish post-rock outfit The Beta Band). At times, though, you can almost sense that a first-time feature filmmaker is behind the camera because of the joy and enthusiasm for the medium that permeates on-screen. In fact, Maclean's influences are obvious throughout. Intermittently, we're jolted from John Ford's world to a Wes Anderson-style and approach, all through David Fincher's wry and cynical viewpoint, all of which stylishly amalgamate together seamlessly to create a surreal (due in part to New Zealand being used as the West) yet enchanting take on the Western.
Maclean isn't afraid to dawdle on tender moments of characterization, either, while he also adoringly frames his shots, makes sure that we can breath in the luscious landscape, and flirts with moments of genuine natural beauty that are amidst this barren wasteland. Naturally, the film brings together its fantastic ensemble (which includes the always majestic Ben Mendelsohn) for its brutal final shoot-out. The only sour point is its conclusion is a tad too neat and tidy.
But that doesn't stop Slow West from following in the footsteps of The Assassination Of Jesse James By The Coward Robert Ford and The Proposition, as another recent worthy addition to a once-great genre that embraces its roots and also glows with a modern edge.
Your Daily Blend of Entertainment News