10 Terrifying Monsters That Will Haunt The Goosebumps Movie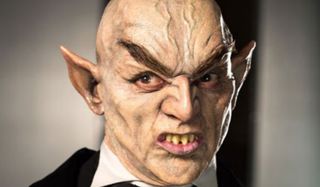 Happy Monday! Did you need some nightmare fuel to help you get through this severed work week? No problem, because the Goosebumps movie has unleashed a series of character posters, giving us a chilling look at what'll be going bump in the night next year.
Nerdist has shared 10 images from Goosebumps, but chief among them is the little guy up top. Slappy might seem harmless enough - just a beat-up, old ventriloquist puppet. But this dummy has an insatiable thirst for mayhem. He popped up in R.L. Stine's kid-friendly horror novels, Night of the Living Dummy 1-3, Bride of the Living Dummy, Slappy's Nightmare, Revenge of the Living Dummy, and more. It's little wonder that he's popping up in the live-action Goosebumps movie.
Directed by Gulliver's Travels' Rob Letterman, Goosebumps is set in a sleepy little town that gets a rude awakening when the various monsters and ghouls from R.L. Stine's books come to life. Jack Black stars as R.L. Stine, while Jillian Bell, Odeya Rush, Amy Ryan, Dylan Minnette, and Ryan Lee play supporting roles. But the monsters may be the film's real stars, so let's dig into these creature pics.
Next up we've got a seriously psycho looking clown. Though he seems a nod to Stephen King's iconic It, this jeering jester could have been culled out of the pages of the choose-your-own-adventure Goosebumps book Trapped in the Circus of Fear.
This pirate ye see here could well be the murderous Captain Long Ben One-Leg, captain of the Scarlet Skull and villain of Creep from the Deep.
This Lord High Executioner hails from A Night at Terror Tower, and at San Diego Comic-Con last summer he helped the devilish clown drag Jack Black off the panel.
Besides being a horror staple, zombies have popped up in Goosebumps' Zombie School, Zombie Halloween, and Why I Quit Zombie School.
Mummies were also recurring in the books, but the best known Goosebumps mummy is the one that crept out of The Curse of the Mummy's Tomb.
This Nosferatu-looking fool reminds us with a glance Please Don't Feed the Vampire!
Next up a gypsy. But where could she come from? We're not 100% certain, but perhaps one of you can identify her?
So the title goes, The Scarecrow Walks At Midnight - so steer clear of cornfields if you want to avoid this terrifying monstrosity.
Last but not least, a bit of produce that fills us with dread. This thing looks like it could be Charlie Brown's Great Pumpkin gone evil. More likely, his inspiration is R.L. Stine's Attack of the Jack O'Lanterns.
Which one spooks you the most?
Goosebumps hits theaters on August 7, 2015.
Your Daily Blend of Entertainment News
Staff writer at CinemaBlend.
Your Daily Blend of Entertainment News
Thank you for signing up to CinemaBlend. You will receive a verification email shortly.
There was a problem. Please refresh the page and try again.