10 Years Later: Ranking The 10 Best Movies Of 2005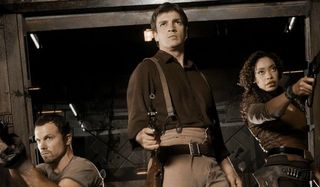 2005 was a year of great turmoil. It started with the world still in mourning and trying to provide aid for the 11 Asian countries affected by the devastating tsunami on December 26, 2004. Pope John Paul II died, and terrorists attacked London.
To help people through this time of dread, a cavalcade of cinematic delights populated multiplexes over the course of 12 months. And what struck me most when looking back at the movies that were released in 2005 was just how many sublime films there were. In fact, there wasn't actually a single effort that truly stood out above the rest. It was just a really consistent year for great movies. Fancy reliving it? Then put "Best Of You" by the Foo Fighters on, picture Chris Rock hosting the Academy Awards, and flick through my list of the 10 best movies of 2005.
10. Grizzly Man
Werner Herzog once again deftly displayed his keen eye for a fascinating figure with his examination of bear enthusiast Timothy Treadwell. Having spent 13 summers in an Alaskan national park, Treadwell believed that he had built up a relationship with the bears, even going as far as to touch them. Park officials repeatedly warned him that his interaction with the bears was unsafe, and they were devastatingly proved right when Treadwell and his girlfriend, Amie Huguenard, were killed and partially eaten by a bear. Werner Herzog whittled Grizzly Man down from a 100 hours worth of footage shot by Treadwell, and his narration and interpretation of events paints a vivid, emotional, flawed and perpetually gripping account of Treadwell and his life.
9. Serenity
Before Joss Whedon became the darling of the superhero genre thanks to his work on The Avengers, the Buffy The Vampire Slayer writer created one of the most fabulously entertaining sci-fi space operas in decades. Effortlessly led by the sublimely charismatic Nathan Fillion, Whedon decided to keep faith with the cast of Firefly, the television show that Serenity was a continuation of. The adorably quirky and goofy characters bounce off of each other with aplomb, while Whedon crafts a decadent galaxy that is populated with wonderfully evolved worlds. Yes, its plot does grow a tad weary after a while, but its stunning visual effects, vibrant wit and joyous energy more than makes up for its shortcomings.
8. Kiss Kiss Bang Bang
Kiss Kiss Bang Bang not only helped to re-launch Robert Downey Jr's career, but it reminded moviegoers just how good Val Kilmer can be when he's given the right part, while also providing Shane Black with a platform to show off his preposterously good writing and directing skills. The film is a genre-bending, relentless ball of wit, action, and mystery, and Downey Jr. leads the plot in such a calculated yet charming fashion that you can't help but be lulled in to it. Shane Black also made sure to make Kiss Kiss Bang Bang as dark as possible, giving it a noir sheen that set it apart from its rivals. He also embraced the buddy-cop relationship trope that he'd previously used so thrillingly in Lethal Weapon. Downey Jr. probably wouldn't have been cast in Iron Man if it wasn't for Kiss Kiss Bang Bang (which explains why Black went on to direct Iron Man 3).
7. The Squid And The Whale
Noah Baumbach's eccentric yet honest look at the impact divorce has on a family excels thanks to its extraordinary cast. That's not to say that Baumbach's direction and writing are second rate. Far from it, in fact. But Jeff Daniels, Laura Linney, Jesse Eisenberg, and Anna Paquin each inhabit their roles in such a precise and intimate fashion that you find yourself hypnotized by their portrayals. Noah Baumbach deserves immense credit for their casting, and for the fully realized script that makes them so complex and relatable. Part of The Squid And The Whale's joy is in its brevity. It zips by in just 81 minutes, and in this time it still manages to be sublimely witty, joyously absurd and painstakingly raw.
6. Brick
Rian Johnson proved that he was one of the most intriguing new filmmakers in the world with his meticulous, hardboiled detective tale that revolved around the antics of high school students. Lusciously shot, Jonson's Brick brings the suburbs of California vividly to life, while Joseph Gordon Levitt's Brendan Frye is the perfect conduit into this murky world of murder and drugs. While you are never really certain what's actually going on, you can't help but fall in love with the world that Rian Johnson has crafted and the delightfully unique characters that inhabit it. Brick perfectly merges the old-school cool of the classic films from the noir genre of the 1940s and 1950s with a modern edge.
5. Brokeback Mountain
Brokeback Mountain is probably still the most endearing film of 2005. It's beautifully structured and paced, with Larry McMurtry and Diana Ossana's script patiently eking out the romance of Jake Gyllenhaal's Jack Twist and Heath Ledger's Ennis Del Mar, rather than overtly forcing it. Both Gyllenhaal and Ledger embrace their characters with full pelt, giving audaciously honest portrayals in the process. But it's Ang Lee's vibrant direction, which embraces both the epic and intimate, that truly elevates Brokeback Mountain. Tender moments between the pair and lusciously framed shots of the mountain collide sumptuously, while its conclusion is simply heartbreaking.
4. A History Of Violence
David Cronenberg's thought-provoking examination of violence and secrecy delightfully keeps its cards close to its chest for most of its run time. Viggo Mortenson's Tom Stall/Joey Cusack is both coldly calculated and amicably warm, while Maria Bello, Ed Harris and William Hurt each punctuate A History Of Violence with complex performances. David Cronenberg keeps his filmmaking idiosyncrasies to a minimum, allowing the intrigue and mystery of the plot to wash over viewers as they try to decipher who Tom really is. Meanwhile, sudden, explosive bursts of violence and rage repeatedly jolt and provoke, but never hinder the perfect tight-roping of both plot and character.
3. Batman Begins
Batman Begins immediately re-invented the blockbuster and led the superhero genre into more mature terrain when it was released in 2005. Christopher Nolan and David S. Goyer probed deep into the character and psyche of Christian Bale's Bruce Wayne, asking that eternal question: why would a man dress up as a bat to defend his city? They give a pretty darn good answer too, and thanks to its weaving non-linear plot, audiences are given a thorough yet original take on the iconic character. Bale's gruff intensity gives way to naivety and comedy when those moments are needed, and even though the film's action scenes are a tad weak, Christopher Nolan improved on them drastically with the two follow-ups. This remains a smart, exciting and now definitive cinematic origin story for Batman.
2. Wallace & Gromit: The Curse of the Were-Rabbit
It should have been impossible to top the trio of Wallace and Gromit short films that preceded The Curse of the Were-Rabbit. But Nick Park deliciously brings the adorable pair to the big-screen with a riotous, eccentric, silly but still thoroughly enthralling tale. Delightfully nostalgic, Wallace & Gromit: The Curse of the Were-Rabbit is also audacious and inventive, while its homage to all things horror will keep the adults entertained and its bright and fast visuals will do the same for the kids. It's so good it even rivals Pixar.
1. Good Night, And Good Luck
Before Good Night, And Good Luck George Clooney was just an actor. A damn-good actor mind you, but one we all assumed was just as vapid and materialistic as his peers. Good Night, And Good Luck showcased just how talented George Clooney was as both a screenwriter and filmmaker, and his prescient look back at Edward R. Murrow's battle with Joseph McCarthy's pursuit to find communist elements in the US government glows with pride and sorrow. Clooney makes sure to showcase that the themes and issues that Good Night, And Good Luck probes were, and still are, very much a problem in today's political and social climate. Meanwhile George Clooney's terrifically assembled ensemble cast, as well as the director himself, subtly glide Good Night, And Good Luck through its narrative with aplomb. All without ever getting weighed down by its subject matter. A true triumph that documents all that is right and all that is wrong with America.
Your Daily Blend of Entertainment News
Thank you for signing up to CinemaBlend. You will receive a verification email shortly.
There was a problem. Please refresh the page and try again.