12 Funky Facts You Need To Know About James Brown's Biopic Get On Up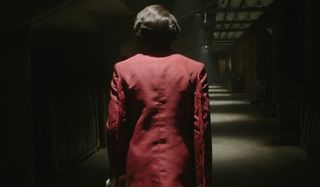 Tate Taylor's Get On Up tells the tumultuous story of James Brown, the Godfather Of Soul who cut a wide swath through the music world, changing both the art and commerce of the modern rock star. But for years, producer Brian Grazer slaved over making a new film that brings Brown back to the masses after his 2006 death. For the longest time, it seemed certain that Get On Up wasn't going to get made.
And then, through the involvement of producer Mick Jagger, the project came to fruition. The end result is a rowdy, rambunctious film about a moment in music history where everything stopped to accommodate Brown's ruthless talent and ingenuity. Recently, the Get On Up press conference was held in New York City, and it allowed journalists a chance to talk to Chadwick Boseman (who plays Brown), as well as Jill Scott, Octavia Spencer, Dan Aykroyd, producer Brian Grazer, director Tate Taylor, and the one and only Mick Jagger. Here are a dozen things we learned that day.
They Had The Rights To James Brown's Life For Twelve Years
Even before Brown's 2006 passing, Brian Grazer was intimately involved with making a film about James Brown, though it was difficult over the years to obtain an actual green light.
"I owned the rights for twelve years," he explains. "And in the twelve years, I had to continue to renew the rights with James Brown directly and hired different screenwriters and different directors. When James Brown died, I lost the rights because things became further complicated. A year later, Mick [Jagger] ended up with the rights."
Jagger, a devotee of Brown's music and stardom, apparently had his own ideas about a James Brown movie, however...
This Was Almost A Documentary About Brown
Jagger's intentions were much more modest, stating, "It was much simpler for me because I was asked by a business associate and friend, Peter Afterman, if I would make a documentary about James Brown. I said, let me think about that, and then I woke up in the morning and said, let's make a feature!" Jagger soon learned that Brian Grazer was working on another version, so the two combined their star power to make the film happen.
Mick Jagger Once Played On The Same Bill With James Brown – It Didn't Go Well: Jagger and the Rolling Stones memorably played on the same bill during the T.A.M.I. Festival in 1964, where Brown was told to forgo the closing slot in favor of the Rolling Stones. This moment exists in the film, with the young Stones watching from the wings in awe as Brown dominates the stage. What you didn't see was Jagger's attempt to smooth things over with Brown.
"It was a very exciting show," Jagger crowed. "James Brown was definitely the star of the show, but there were other people that I was really interested in meeting for the first time. I had seen James Brown before at the Apollo, and the experience was that James was a bit annoyed about not being the last on the show. As I was the only one who had met him before, out of all the people who worked on the show, I was like the fall guy. I was like 20 or something, and they were like, you go talk to him, you know him, you go chill him out. And when you're 20, you go, 'Sure, ok, I'll do it.'" Jagger smiled at the memory, which apparently got him yelled at by Brown. "Of course it didn't work!"
Viola Davis Is A BOSS: Director Tate Taylor last worked with Viola Davis on The Help, which earned Davis an Oscar nomination. Davis repaid the favor by taking on a small but pivotal role in Get On Up as Brown's estranged mother, who finally resurfaces when Brown has achieved his greatest success. Now that Davis has earned the respect and adoration of her peers, however, the rest of the production merely goes on shutdown mode in complete awe when Davis performs.
"When Viola comes to work, you notice that people in the production office happen to be on set that day," Taylor explains. "The accountants, the teamsters, it gets crowded. And then she starts to work, it's like live theater, everyone watches. She's one of the greatest actors in the world."
Boseman only has the one scene with her, and found that Davis was purposely giving him space in order to create the unique, frayed dynamic seen onscreen. "It was such an intense scene," Boseman sighs. "It felt like she had sort of set up our relationship in a way where she didn't talk to me. We talked the night before, in code, as the scene was being revamped. When we were in that meeting, Viola didn't really talk to me, she talked to Tate. I assumed that she didn't want to build a personal relationship, she wanted that distance to be there."
Everybody Loves "I'm Black And I'm Proud": When asked to name a favorite Brown song, Jill Scott spoke up. "I remember being on 22nd and Lehigh Avenue, and someone was playing 'I'm Black and I'm Proud,' I'm pretty sure I was in elementary school," she remembers. "But I remember the guy was at the stoplight and the music was blaring. And something in me stood up a little bit higher, I puffed my chest out listening to that song, that was the first James Brown feeling that I remember."
Boseman, Nelsan Ellis and Octavia Spencer also loved the song. Brian Grazer, however, gave us the priceless image of the super-producer in a low-rider car. "In high school I was in a low-rider car club," he explained to incredulous laughter. "And I'd plug in the eight track, it was the Rolling Stones, it was Little Anthony and the Imperials, and it was James Brown, 'It's A Man's Man's Man's World.'"
Jagger, meanwhile, had worn out his copy of "Live At The Apollo" long before he met Brown. "I loved every tune of it, backwards and forwards," he raved. "What was odd was that I'd never actually seen him perform, I just imagined the whole thing in my head. When we were preparing the movie, Chad and I played the very long track, 'Lost Someone,' and it brought back all those memories."
Chadwick Boseman and Dan Aykroyd Are Now BFF
There was a serious mutual appreciation society going on between Boseman and Dan Aykroyd, who plays Brown's business mentor Ben Bart, aka Pop.
"Dan Aykroyd is a legend, and it was just a pleasure to have him on this movie because of the enthusiasm he brought to it, and also because he knew James Brown," Boseman cheered. "It was an interesting relationship that James Brown had with Ben Bart, Pop. I remember reading, he calls this white man Pop? I was like, really? And the more I read about it, the more I understood the friendship. There was a friendship, there was a mentorship, they taught each other. It was easy to do that with Dan because he gave so much."
Aykroyd returned the compliment with grace. "You get on a set and you're in it together," Aykroyd explains. "You face yourself and you're there with the director in the common environment of creativity. You do the work. But it's not hard to love Chad. He's just an enormously likable and extremely talented man. My affection in real life for him translates into the movie. I think you can see it. Because Pop really loved James Brown. They had a great friendship."
James Brown Didn't Read Music: There are several musical sequences where Brown practices with the band, but no actual music writing is being done. That's because Brown may have not even been able to read music. "When we met with his daughters for the film, they said, 'Daddy didn't talk music. He didn't read music, I don't think he ever tried to'" Taylor said of Brown. "He spoke about music in terms of what feels good. That's what made his music genius, it came from his heart."
Get On Up Is A Rock Star Cautionary Tale From The Biggest Rock Star In The World: Jagger and Brown were peers, but at a producer, he made sure the film didn't skimp on its treatment of Brown as a single-minded careerist who used and abused friendships and trust. "It tells the story of being single-minded and how he's almost obsessed with making it and making himself out of somebody from nothing," Jagger said. "There's always one a price to pay for that one single-minded drive, and I think this movie shows the price you pay for that. It could have been a fictional story."
Chadwick Boseman And James Brown Shared A Birthplace: Boseman and Brown both hailed from South Carolina, so when Boseman visited Brown's hometown, it wasn't too surprising. But it was still its own beast.
"A lot of people will say, well, you're from South Carolina, but he's from the low country South Carolina, it's different," Boseman laughed. "We went to Augusta to meet the family, and I stayed down there a little bit longer, drove around, saw family, and soaked up as much of it as I could.
This trip helped Boseman turn Brown into a real person, which was crucial given that Brown lives on in terrible impersonations and mimicry these days. "Sixty percent of my fear was from my dancing," he said. "And thirty percent was the caricatures, getting past what people know."
Dan Aykroyd Was Close With James Brown: While everyone had a favorite James Brown story, Aykroyd actually knew the man. But years before he worked with Brown on The Blues Brothers, he was just a young man eager to see him in concert. "1968. Montreal, Canada," Aykroyd set the stage. "The building is gone now, it was called the Esquire Show Bar. You sat at the bar and the performers would dance along the bar. So when Danny Ray came out and they dropped the cape on James Brown and he did 'Please, Please, Please,' that was a seminal moment for myself and my six friends who'd squeezed into our friend's mother's Mustang and came down from Ottawa to see this show. And there was James Brown and his Bolero heels this far from our beers."
If You Don't Know James Brown, You're Not A Real Musician
Part of why Jagger made this film was to re-emphasize that James Brown is part of the canon of rock music, and not enough artists and bands knew this. "People from different backgrounds, all different age groups, they all know him," Jagger said. "His actual recordings are still loved and played on the dance floor in various forms or another. I've been on tours, and we've played a James Brown song. Other rock bands, you'd think they wouldn't relate to James Brown. But they all know that music, they can play those numbers. It's all part of your musical history. So if you want to be a musician, this is part of the canon, you have to know this, if you don't know this you aren't complete."
Chadwick Boseman Will Never Shed James Brown's Influence: Boseman eventually couldn't shake Brown's swagger, hoping that it would only aid him in future roles. It was important to Boseman that his Brown was like the real thing, which meant always being dressed and tweaked to perform. "He wanted you to have that experience of seeing him in all of his glory, no matter what,"
Boseman said, "There is a connection that you should want to make with people. I had to try to get rid of James Brown after we shot the movie, and I found that there were some things that I would have to keep. There's definitely that responsibility to yourself, to be the best that you can be, and the responsibility to the people that become your fans or follow you, there's a certain quality where, you have to pay to see him, If you were seeing his show, he would get his hair done before you saw him again, He didn't put a cap on like we do today to make sure people wouldn't catch you, He wanted people to see him in all his glory, It's not just you performing on stage and onscreen, it's a connection you make with people,"
Jagger concurred, "The thing about him that impressed me was how to interact with an audience. James was all about interacting with the audience. It's not just your performance, it's about their performance too and how they react to you."
Get On Up opens August 1st.
Your Daily Blend of Entertainment News
Your Daily Blend of Entertainment News
Thank you for signing up to CinemaBlend. You will receive a verification email shortly.
There was a problem. Please refresh the page and try again.