12 Years A Slave Leads Gotham Independent Film Award Nominees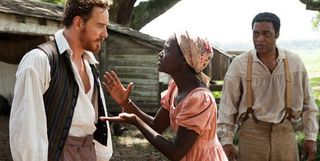 Hold on to your hats-- awards season has started already. We're still months away from Oscar nominations and Golden Globes and all that, but the nominees for the first major awards show of the season were announced today, with 12 Years A Slave walking away as the big winner.
The Gotham Independent Film Awards, which will be handed out on December 2, routinely honor some of the most adventurous and low-profile independent films of the year, but this year they went in for some star power as well-- 12 Years A Slave is a Fox Searchlight release starring Michael Fassbender and Brad Pitt among others, and the Best Feature nominees also included the Coen Brothers' Inside Llewyn Davis, the Richard Linklater threequel Before Midnight and the Rooney Mara-Casey Affleck-starring Ain't Them Bodies Saints. Rounding out the Best Feature category is Upstream Color, from indie wonder Shane Carruth-- like Midnight and Saints, it was a sensation at Sundance earlier this year.
Adding Best Actress and Best Actor categories for the first time this year, the Gothams singled out several Oscar hopefuls-- Cate Blanchett, Chiwetel Ejiofor, Matthew McConaughey and Robert Redford can all expect many more nominations from here out-- but also some surprises, including a nod for Isaiah Washington in the grim indie Blue Caprice and for Scarlett Johansson's bawdy work in Don Jon. The Breakthrough Actor category, which includes both genders, included a range of familiar faces (comic actress Kathryn Hahn, who turned lead with Afternoon Delight, and future Amazing Spider-Man 2 star Dane DeHaan) along with newcomers, like 12 Years A Slave's breakthrough star Lupita Nyong'o, who made her screen debut in the film.
Below you can see a list of the full nominees, and look for the complete results of the Gotham Awards come December 2.
Best Feature
12 Years a Slave
Ain't Them Bodies Saints
Before Midnight
Inside Llewyn Davis
Upstream Color
Best Documentary
The Act of Killing
The Crash Reel
First Cousin Once Removed
Let the Fire Burn
Our Nixon
Bingham Ray Breakthrough Director Award
Ryan Coogler for Fruitvale Station (The Weinstein Company)
Adam Leon for Gimme the Loot (Sundance Selects)
Alexandre Moors for Blue Caprice (Sundance Selects)
Stacie Passon for Concussion (RADiUS-TWC)
Amy Seimetz for Sun Don't Shine (Factory 25)
Best Actor
Chiwetel Ejiofor in 12 Years a Slave (Fox Searchlight Pictures)
Oscar Isaac in Inside Llewyn Davis (CBS Films)
Matthew McConaughey in Dallas Buyers Club (Focus Features)
Robert Redford in All Is Lost (Lionsgate and Roadside Attractions)
Isaiah Washington in Blue Caprice (Sundance Selects)
Best Actress
Cate Blanchett in Blue Jasmine (Sony Pictures Classics)
Scarlett Johansson in Don Jon (Relativity Media)
Brie Larson in Short Term 12 (Cinedigm)
Amy Seimetz in Upstream Color (erbp)
Shailene Woodley in The Spectacular Now (A24)
Breakthrough Actor
Dane DeHaan in Kill Your Darlings (Sony Pictures Classics)
Kathryn Hahn in Afternoon Delight (The Film Arcade and Cinedigm)
Michael B. Jordan in Fruitvale Station (The Weinstein Company)
Lupita Nyong'o in 12 Years a Slave (Fox Searchlight Pictures)
Robin Weigert in Concussion (RADiUS-TWC)
Staff Writer at CinemaBlend
Your Daily Blend of Entertainment News
Thank you for signing up to CinemaBlend. You will receive a verification email shortly.
There was a problem. Please refresh the page and try again.