20th Century Fox 2013 Comic-Con Live Blog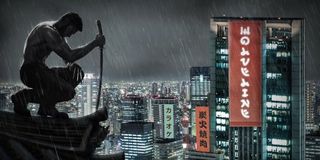 The 20th Century Fox panel is one of the few true mysteries at Comic-Con this year. Though the studio revealed plans to bring James Mangold's The Wolverine (which opens in theaters next week) and Matt Reeves' Dawn of the Planet of the Apes, speculation ran rampant about what the "surprise" panels promised by the studio could be. Would there be X-Men: Days of Future Past footage? Has a new Fantastic Four been cast?
Great questions. Twitter has been exploding about Fox's big surprise. What will it be? Let's find out, now that the Fox panel is about to begin in Hall H:
4:22 There are a TON of water bottles on the panel stage for the Fox presentation. Full X-Men: Days of Future Past cast, perhaps? That'd be a lot of mutants.
4:25 Everyone in Hall H has been given 3D glasses. For The Wolverine footage? Or maybe Bryan Singer has 3D X-Men footage? Here we go!
4:27 Panel moderator says that they'll be doing something in Hall H that has never been done before. Crowdzilla is going to photograph the entire Hall H crowd, and we'll be able to go online and "tag" ourselves to prove that we were really here … because people aren't going to believe what's about to happen. They point out that this IS the first panel to do 3D. Is that right?
I think we're getting Apes first. Here we go. Dawn director Matt Reeves is on stage! Talks about how he connected to Caesar in the last Apes movie, and wants to make a Caesar-specific movie that starts in the world of the apes. "We want to make you all apes," Reeves says. That was the challenge, building on what Andy Serkis did, but to build a story that connects to us emotionally.
Here comes the cast! Jason Clarke, Keri Russell and Andy Serkis are on stage! Crowd goes NUTS for Serkis!
4:32 Serkis gives an in-depth description of the challenges he faced coming back to Caesar. There's a lot of talk about how much development they are going to do with the ape characters in this movie. Humans almost sound secondary to this story, as a lot of the plot is going go into the relationships in the ape community.
Russell says that she's in this cast because of Matt Reeves. She loves him as a filmmaker. Clarke opens up about the action in the movie. "To Matt and Fox's credit, they've gone and hired Cirque du Solei and parkour guys. … I tell you, it's extraordinary to watch every single day. In the end, we all just want to find out inner ape. "
Footage coming! BRB!
4:37 "We could not miss this. This is the greatest thing in the world. All we want to show you is apes and apes and apes. But it takes a long time to create apes with WETA, and so the footage might look rough," Reeves warns. "I could show you shots of Andy in an Apes suit. That might be cool?" Reeves says. Here comes the footage.
4:40 Holy shit, the Apes footage is stellar. But James Mangold's now on stage, and we're getting right into The Wolverine. "This is a tough-guy film," Mangold says. He's about to show footage, right after Mangold tells us how awesome Logan is. And he says we'll finally get into the hero's anger and his rage. Footage to come.
4:43 Mangold compares Hugh Jackman as Wolverine to Clint Eastwood and Sean Connery as The Man With No Name and James Bond. Talk about raising the bar! Wolverine footage runs. It's INCREDIBLY bas ass. It's so intense. They run it twice! The crowd devours it. Then ... Hugh Jackman walks on stage. Hall H explodes!
4:51 "Hello Hall H!" Jackman yells before thanking the crowd over and over. His message is that this is a movie that's completely fresh and different, and something they really did for the fans. He says he read the Miller-Claremont graphic novel 13 years ago in his trailer for the first X-Men movie, and knew back then this is the story he wanted to tell.
4:53 Mangold says that Logan's invulnerability is the key to the character he most wanted to explore, the dark nature of that forever existence. That was where they wanted to start, when Logan has lost everybody … most notable Jean Grey.
4:55 They are talking about the women in the film, and the hint at romance. "Sometimes I felt like we were making a Fellini film," Mangold says. "With hardcore action. Chill out!" Best quote in Hall H so far.
4:58 Mangold and Jackman think Mangold and Jackman are awesome. And they might be. The footage was intense, aided by the sound system in Hall H. Mangold teases a scene between "long blade, short blade and claw" that he says will blow fans' minds. We start talking about how Jackman has played Wolverine for more times than any actor has played any other superhero, and Hall H gives him a warm applause. Jackman then calls the Marvel writer Len Wein to the stage, and thanks him for creating Wolverine. Awesome Comic-Con moment!
5:00 "I've just got one little thing to add," says Jackman before leaving the stage of Hall H. And with that, he pulls out Bryan Singer! They officially announce Days of Future Past. They still have a month of shooting to go, but he has cut together a little piece of 3D footage.
5:05 Holy shit. The X-Men footage is INCREDIBLE. It connects a future world, with an old Xavier (Patrick Stewart) and Magneto (Ian McKellen) sending old Wolverine (Jackman) back to the First Class era to help convince Xavier (James McAvoy) to "hope again." It looks TREMENDOUS. More in a bit. The entire DOFP cast is here and Hall H is losing its shit.
5:08 "I was here when The Avengers lined up, and this is bigger," says host Geoff Bouecher. The cast is being announced, with who they play. The Hall H crowd LOVES Peter Dinklage. I don't know how to tell you who is here. The answer is EVERYONE. Jennifer Lawrence, Nicolas Hoult, Michael Fassbender, James McAvoy, Patrick Stewart, Sir Ian McKellen, Anna Paquin, Ellen Page, Jackman, Halle Berry, Omar Sy. It's unreal. UNREAL!
5:12 McAvoy, wearing an old school X-Men t-shirt, geeks out about being in Comic-Con. He praises the energy of the fan base. Singer talks about the challenges of balancing such a large ensemble, but he says they're all like family. "This is an embarrassment of riches," Jackman adds, calling Days "two great movies in one."
The panel gets to McKellen and Stewart, and the crowd is blowing the roof off of the joint. "This is Nerd-vana," Boucher says. "to have Star Trek and Middle Earth in Hall H ..." Stewart says to return to this environment, and to play with this cast again, is "extraordinary.
5:17 "It's so good to be back in California now that you've gotten rid of Prop 8," McKellen says. "I'm always looking for a new husband. Nice to meet you, Michael [Fassbender]!" Now McKellen holds the trophy for best Hall H quote!
Halle Berry is wondering why Storm has no love interest. "Doesn't Storm ever get any love?" The crowd shouts, "Black Panther!" but it falls on deaf ears.
5:20 Paquin seems genuinely intimidated to be in front of all of these people. Shawn Ashmore confirms that Iceman is back. Omar Sy confirms that he's playing Bishop, a character from "the future" who is fighting to survive. "Like all of us." Time for audience questions. This should go smoothly!
5:24 I just did a head count. There are 14 mutants on screen. It's noted that there isn't much plot to talk about yet, but there's going to be a few audience questions, and then they'll run the footage again. First fan wants to know if there will be any chance of Deadpool. "Anything's possible," Singer said. "Not in this movie, but anything is possible." He says that there are endless scenarios for crossovers and standalones in the X-Men universe. "So is that a yes," Fassbender asks Singer. "I won't say anything, because then it will say, 'Bryan Singer confirms Deadpool!' Whatever that means ..."
5:28 The Q-and-A portion is ... awkward. There are just too many actors up there. Not anyone's fault. But the cast can't really hear the fans, and the fan questions ... aren't good. Thankfully, Jackman takes over and continues to charm Hall H. He tells a story about "grooving" as Wolverine in his home on a Saturday night. The ladies, as you'd guess, shriek. Then he praises both X-Men casts. Backpatting abounds!
5:30 Fans continue to ask about mashups. I guess that's what happens when you get this many mutants on the SAME stage. Someone asks about a Gambit-Rogue combination. "We're exploring all options," Singer says, diplomatically. 5:31 Singer is asked about the Quicksilver debate, given that Marvel will use the character in an Avengers movie, as well. "Quicksilver was always a part of our story. … I can't speak to the Avengers, but our character exists – Evan, you describe the character."
"He's very fast," Peters adds. Riveting!
"He's got excellent genes," Fassbender adds, and the geeks in the audience go crazy.
Jackman gets an amazing chance to own the panel. He's asked if he'll ever sing in an X-Men movie. He says fans don't want to hear Wolverine sing, but the cheering crowd changes his mind. As the cast bangs a beat on the tavble, Jackman sings, "I'm gonna slice 'em! I'm gonna dice 'em!" Hall H erupts. The Jackman tells a hysterical story. He says he dressed up this morning in all of his Wolverine gear and walked around downtown San Diego today. "Totally honest," he says. "No one recognized me." One guys looked at Jackman and said, "Eh, not bad." Another said, "Whoa, way too tall, man. Way too tall!"
5:39 The entire panel is asked which X-Man character they'd like to play other than the one they play. Most say Wolverine. Jackman says Deadpool, and the crowd goes berserk. We're going to see the footage again! But first, standing ovation for the entire DOFP cast!
5:45 And that's it! Here's what I get from the footage. There will be older versions of SInger's cast in a battered future. Old Magneto and Old Xavier, who now stand side by side, send Wolverine's conscience back to his younger body, where he must convince young Xavier (McAvoy) to correct past mistakes and prevent the brutal reality. The footage was a montage of character head shots, with some Magneto and Wolverine battle shots, some combat sequences, but a lack of Sentinels. No Sentinels. Thought that would be the big reveal. Singer did say the effects shots are nowhere near done. But in general, it was a fantastic panel, and a rare treat for rabid X-Men fans!
Sean O'Connell is a journalist and CinemaBlend's Managing Editor. He's frequently found on Twitter at @Sean_OConnell. ReelBlend cohost. A movie junkie who's Infatuated with comic-book films. Helped get the Snyder Cut released, then wrote a book about it.
Your Daily Blend of Entertainment News
Thank you for signing up to CinemaBlend. You will receive a verification email shortly.
There was a problem. Please refresh the page and try again.