3 Big Reasons The Flash Suit Will Be Upgraded For The Upcoming Movie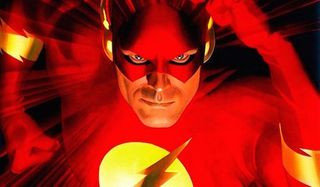 Comic book fans are starting to get a clearer picture of what 2018's The Flash is going to look like. For a year now, we've known that The Stanford Prison Experiment's Ezra Miller will be playing Barry Allen on the big screen. Then we learned earlier this year that 21 Jump Street writers Phil Lord and Chris Miller penned the treatment. Finally, it was reported on Monday that Pride and Prejudice and Zombie writer Seth Grahame-Smith is in negotiations to direct the feature. Behind the scenes, things are shaping up.
However, there's still a lot we don't know about the DC Extended Universe's interpretation of the Flash -- namely, what his costume will look like -- but we may have just gotten a few hints in the wardrobe department. Den of Geek has posted several tidbits of what The Flash movie is aiming to have the Scarlet Speedster's costume look like. While the site acknowledges that things could change over the next three years, for now here are the suit upgrades they say we can expect to see, and why they are necessary.
It Needs To Differ From The TV Show
The Flash, which began its second season on The CW earlier this week, is without a doubt one of the most popular comic book shows on television. Part of its success is its willingness to embrace many of the standard superhero tropes, including having Barry Allen wearing a costume that's adjusted, but still faithful to what his comic book counterpart wears. While movie Flash's suit undoubtedly will retain several classic elements, The Flash filmmakers are trying to avoid comparisons with the "well-received" TV costume designed by Colleen Atwood. In other words, you won't be seeing movie Flash wearing a repeat of the "burgundy leather outfit" that Grant Gustin dons each week.
It Needs To Have An Armor, Like Zack Snyder's DC Heroes
In order to distinguish itself, Ezra Miller's Flash costume is said to look more like "armor," and the suit Barry wore in the video Injustice: Gods Among Us was offered as a comparison. If true, this would line up with a previous rumor about the Flash suit having a "post-apocalyptic" look to it. It also fits in with the costumes the other DCEU heroes wear. As Den of Geek noted, Superman's Kryptonian suit has a "kevlar-like" texture, Batman is wearing both a cloth suit and bulky armor in Batman v Superman: Dawn of Justice, and Wonder Woman's outfit looks similar to armor. Let's also not forget the official still of Aquaman, where he has exchanged the orange top for a sturdy chest plate. If Flash's costume does look like armor, it makes it clearer that the DCEU wants its heroes to look more like warriors. Now we could have a better idea of what Cyborg, Green Lantern and maybe even Shazam might look like.
It Needs To Fit the Tech-Geek Portrayal Of Ezra Miller's Barry
Barry Allen's new Flash costume is also described as being "tech-based," which evidently fits with his background for this particular live-action take on the hero. The speedy protagonist will apparently be a "tech geek," which fits well with his job as a forensic scientist at the Central City Police Department. Exactly how the suit will have a tech feel is unclear, but given Barry's intellect, we don't doubt the costume will be more than just something wears to disguise his identity. Maybe we'll an updated take on the classic Flash ring that he keeps his costume stored in. On the other hand, maybe there will be extra features on the suit, whether it's a radio receiver on one of his ear pieces or some kind of advanced sensors within the suit itself.
Connoisseur of Marvel, DC, Star Wars, John Wick, MonsterVerse and Doctor Who lore. He's aware he looks like Harry Potter and Clark Kent.
Your Daily Blend of Entertainment News
Thank you for signing up to CinemaBlend. You will receive a verification email shortly.
There was a problem. Please refresh the page and try again.