3 Bold Reasons Why This Religious Group Hates Fifty Shades Of Grey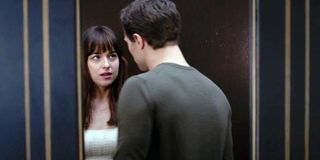 You're probably already aware of this, but Fifty Shades Of Grey has courted quite a hefty amount of controversy ahead of its impending release. That's because some religious groups and organizations have taken umbrage with the erotic drama's vast amount of sex scenes that are set to hit the big screen later this week. But what exactly is it about the feature that has them so riled up? Well, there are a few things...
In a report from Yahoo Movies, The American Family Association has outlined some strict reasons why they want theaters to consider rejectingFifty Shades Of Grey and not show it on their screens. The organization, which looks to preserve media integrity and protect families by promoting fundamentalist Christian values, has claimed that Fifty Shades Of Grey not only borders on pornography, but also glamorizes abuse through its graphic sex scenes and "promotion of BDSM." But what are their specific problems with Fifty Shades Of Grey?
The Main Character's Name Is Christian And He Doesn't Behave Like A Christian
What's in a name? Well, according to The American Family Association, everything. While it's clear that the reverse symbolism isn't lost on the group, apparently they aren't too happy that the film's male lead has a name with religious connotation. When it comes to characters named "Christian." they probably would have preferred Fifty Shades Of Grey acting like a priest rather than repeatedly banging Anastasia Steele. Tim Wildmon, who is the president of the AFA, explained, "The irony is not lost that the film's main character is named 'Christian,' while this film presents anything but a 'Christian' view of intimacy." I wonder if they would have preferred it if Christian Grey was actually called Mike Hunt instead.
"Nothing In Fifty Shades Of Grey Builds Up Society"
Wildmon is also apoplectic because he believes that Fifty Shades Of Grey doesn't do anything to help build up society. In fact, he's adamant that it does the complete opposite, and the film's glamorization of "abusive tendencies such as stalking, bondage sex, intimidation and isolation" will only promote unhealthy relationships. The least we can expect is that the people who go to see Fifty Shades Of Grey will resist the temptation to immediately engage in BDSM. Well, until they're in the privacy of their own home that is.
Nearly Every Interaction Between The Two Main Characters Can Be Categorized Within The CDC's Standards Of Emotional Abuse And Sexual Violence
Tim Wildmon wasn't done, though. Further adding to his point that Fifty Shades of Grey could result in individuals engaging in unhealthy relationships, the group president noted that, "The Centers for Disease Control's standards of emotional abuse and sexual violence include nearly every one of the interactions between the two main characters." As outlined on the CDC's official website, this includes "Humiliating the victim; controlling what the victim can and cannot do; withholding information from the victim; getting annoyed if the victim disagrees; and deliberately doing something to make the victim feel diminished."
The American Family Association is hoping that moviegoers will join them in a boycott of Fifty Shades of Grey. Despite Wildmon's best efforts, however, the buzzed-about film is expected to make an obscene amount of money when it hits cinemas on Friday, February 13th. In fact, one could argue that the protests are only helping to promote the erotic drama even further.
Your Daily Blend of Entertainment News