Dog Collars, Ball Gags Make This Fifty Shades Of Grey Spoof Hilariously Uncomfortable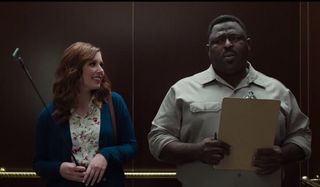 Audi is trying to get in on the Fifty Shades of Grey fun. The story of how two people found love in a hopeless place (i.e. a BDSM sex dungeon) hits theaters at the end of this week, and everything we've seen so far has been either gloriously suggestive or super duper inappropriate. For their latest commercial, the car manufacturer went with the latter.
SNL comedienne Vanessa Bayer spoofed Anastasia Steele (played by Dakota Johnson in the film) and attempted to recreate the infamous elevator scene. In the actual story, it sees this literature student and billionaire Christian Grey (Jamie Dornan) have an impromptu makeout session. Despite her best efforts, which included playfully handcuffing herself to the elevator hand supports and trying to start a threesome (or a "menage"), she could not get this end result. Perhaps she should've kept her dog collar, vibrator and talk of kegel exercises in the sex dungeon where it belongs.
Fifty Shades seemed like a natural fit for the folks at Audi. As Bayer says in the ad as she's trying to snatch a man's car keys from his hands, Anastasia gets an Audi from her BDSM lover. That's because, according to the book, they are "the safest cars on the market," and we should all know by now that, like Ms. Janet Jackson, Mr. Grey likes to be "in control."
While Audi is trying to use this kink to sell their product, it's been a major source of continuous controversy. If it's not a U.K.-based theater pulling ads for the film in light of complaints, it's the British Board of Film Classification giving it the restrictive 18 certificate, or folks in the U.S. saying how an R rating doesn't properly notify potential viewers of its sexual content. However, a recent online campaign is attempting to stop any and all potential viewers before the film even debuts. Called #50dollarsnot50shades, the movement seeks to support domestic violence victims, while bashing the film for depicting such physically abusive acts in a major movie release. Supported by such organizations as the National Center on Sexual Exploitation, Stop Porn Culture, and the London Abused Women's Centre, the campaign asks that we all donate the money we would've spent seeing the film to a shelter of domestic abuse prevention center.
Despite the best efforts of this and similar campaigns, though, a lot of people will be seeing Fifty Shades. In early ticket sales, the adaptation of the best-selling E.L. James novel has been skyrocketing, while some fans in NYC have already been able to see it at a special screening. It seems as though everyone either wants to see it because of its incredibly raunchy material, or because they want to see just how ridiculous it will be. Either way, Universal is setting the stage for more Shades of Grey in the future, so prepare yourself.
Your Daily Blend of Entertainment News