Fifty Shades Of Grey 2 And 3 Are Happening, Get The Details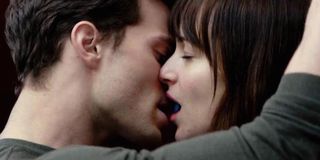 Yesterday may have been the best day of E.L. James' life, likely since she first learned her book Fifty Shades of Grey was going to be turned into a film. Actually it may even be appropriate to say it was twice as good as her best day because word is Hollywood is now officially moving forward with both Fifty Shades sequels, Fifty Shades Darker and Fifty Shades Freed.
The news that Anastasia Steele would be returning to the big screen two more times broke Friday and the response from fans was insane. According to MTV, lead cast members Dakota Johnson and Jamie Dornan, along with director Sam Taylor-Johnson and author E.L. James were at a special "Fifty Shades First" fan screening at New York's Zeigfeld Theatre when they revealed the big news, sending fans into a complete tizzy. The announcement that the second and third book of the Fifty Shades trilogy will be getting their big screen adaptations comes after news that the first film's advance ticket sales have been absolutely crushing previous expecations.
For those who've read the books (potential plot spoilers ahead), Fifty Shades of Grey follows literature student Anastasia Steele, who becomes smitten upon her first meeting with the mega-famous, ultra-rich Christian Grey. As her relationship with the billionaire deepens, she soon learns there is a much darker side to the man, involving his Escala penthouse lifestyle and a whole lot of BDSM (Bondage Discipline Sadism and Masochism). Grey, a "dominant," soon propositions Ana to become his next "submissive," an offer which she apparently can't refuse...setting forth a series of events between the two that pinnacles with Ana ending the relationship.
Fifty Shades of Grey has, not shockingly, made some controversial waves in recent months for a variety of different reasons. Back in December its poster was banned for being too risqué. The banner, posted outside of the Welwyn Garden City cinema in Hertfordshire, UK in promotion for the upcoming film led to public outcry and the ad's eventual being taken down. It featured the below steamy image of a blindfolded Ana (Johnson) in a presumptuous position from the film's trailer.
The erotic drama then received more attention after its R-rating failed to meet expectations from anti-pornography groups like Morality in Media. Boycotts of the film have also sprung up both in the U.S. and abroad. Some for obvious reasons (the sex, sex and more sex factor) and some in an attempt to raise money for battered women.
Fifty Shades of Grey hits theaters on February 13, just in time for Valentine's Day.
Your Daily Blend of Entertainment News