Fifty Shades Of Grey Has Been Banned By This Country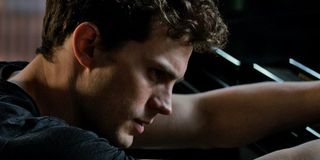 According to Malaysia, what happens in your sex dungeon should stay in your sex dungeon.
The Fifty Shades of Grey movie has been causing one helluva spider-web of controversy that keeps on spinning off into multiples. While we reported earlier that a new online campaign, called #50dollarsnot50shades, is boycotting the film in light of content they say glorifies domestic abuse, the entire country of Malaysia has banned the film from screening in their theaters.
As Variety reports, the Malaysian Film Censorship Board has denied Fifty Shades a certificate, meaning it will not be granted a release. In defending the decision, the chairman of the ratings board, Abdul Halim Abdul Jamid, cited a few specific instances, like the moments glimpsed in the trailer when Anastasia Steele (Dakota Johnson) is tied to a bed, and another when she's whipped. The board deemed moments like these as "not of a sexual nature," but Jamid had the perfect line to sum up their entire investigation: Fifty Shades is "more pornography than movie."
This will no doubt come as an insult to both director Sam Taylor-Johnson and star Jamie Dornan, who plays our BDSM billionaire Christian Grey. In order to get the film down from NC-17 to R in the U.S., Johnson significantly edited down the content, including cutting one of the more vulgar scenes. (*Cough*tampon*cough*) Dornan, on the other hand, has been very adamant about how this film is about more than just sex. Given the graphic and erotic nature of the original book by E.L. James, I'm sure there will be many other people bringing this topic up to him while he attempts to promote the film. Though, I imagine he's reaching the point of frustration.
These changes and perspectives had no effect on the Malaysian board, however. And this is not the first country to take issue with the film. The U.K., where Dornan hails from, has had multiple instances. One movie theater banned a Fifty Shades poster after complaints from patrons, while their version of the MPAA gave the film an 18 certificate, which means no persons under the age of 18 are allowed to see it. This is a stricter rating than our own, which makes us wonder if U.S. audiences are just far more comfortable with sexual displays or if the film really is that risqué. After all, we've already heard complaints that the R rating doesn't properly inform moviegoers about the content of the film.
Elsewhere, the #50dollarsnot50shades campaign continues heating up. Supporters, such as the National Center on Sexual Exploitation and Stop Porn Culture, have bashed Hollywood for trying to make money on a film that romanticizes the abuse of women. In calling for a boycott, the movement attempts to redirect the money you were going to spend on movie tickets to support charities and organizations that focus on domestic abuse prevention. It's still unclear whether any of this controversy will negatively affect the film's box-office sales, but so far a lot more people than originally expected have already reserved their tickets.
Your Daily Blend of Entertainment News