This Rotten Week: Predicting Fifty Shades Of Grey And Kingsman: The Secret Service Reviews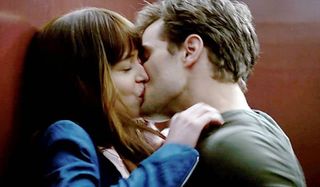 There are only two movies coming out in wide release this week, but there is most definitely plenty to talk about here. A certain subset of our culture is getting Harry Potter/Star Wars fanboy/girl-style prepare to see Julian Gray get his freak on, and others will be recruited to join a Secret Service.
Just remember, I'm not reviewing these movies, but rather predicting where they'll end up on the Tomatometer. Let's take a look at what This Rotten Week has to offer.
POSTER HERE, LINK IT TO PREVIEW PAGE
PREDICTION RATING HERE, LINK IT TO ROTTEN TOMATOES PAGE
Rotten Watch Prediction
If you want to see the definition of "polarizing," head on over the Amazon page for Fifty Shades of Grey and take a look at the reviews. With most user reviews of books you will see clusters of rankings in and around each other. Meaning if users gave the book mostly five stars, the next most popular rank for a book (typically) will be four stars. This makes sense – but it's not the case with Fifty Shades of Grey. Not by a long shot. The mode in the reviews is five stars and it's not close. But the next most popular score is one star. That paints a stark and telling picture. You either loved this book as one of the best books you've ever read, or you thought it was an epic piece of unreadable garbage. And there was very little in between. For some reason, I find this fascinating.
We'll see if the movie version of Fifty Shades of Grey does any better.
Point of disclosure: I've never read Fifty Shades of Grey, so I can't comment on the book itself (though Mrs. Rotten Week read the first ten pages before saying, "I felt like it was going to be an airport read, but turned out to be much worse."
But I suppose we aren't here to talk about the book so much as the movie – and while mass audiences have been rather split, I still think professional reviews will skew towards the one star option almost without a doubt. To begin with, I'm not exactly sure what it's about. I suppose just sex. And lots of it. By virtue, having sex in a movie doesn't make it bad, but after the sex it really doesn't appear to have any real story. Innocent girl falls for super rich, moderately depraved dude who wines and dines her, takes her gliding, removes his shirt a lot and then when things start to get comfortable between them, introduces her to his sweet S&M man cave. From there, I guess the relationship cycles down quickly (or ramps up depending on how you view that kind of thing).
Directed by Sam Taylor-Johnson (Nowhere Boy (79%), Fifty Shades of Grey looks like it's headed for the critical dumpster. While fans may enjoy the "action," it's very tough to believe critics will have the same reaction. This is where I cue up the comments section responses with tidbits like, "Fuck the critics, I can't wait to see it." That's fine. I'm not here to judge fan reaction, just the critical feedback, and when 80% or so (my guess) of professional critics think it's trash, it probably just is.
Rotten Watch Prediction
On the surface, this movie sounds more like Agent Cody Banks than an actual high-end, legit action film. Struggling London hoodlum is recruited by a secret government agency to become an elite spy and stop a madman (Samuel L. Jackson dressed like a caricature of his younger self, down to the cocked hat and track suits) from destroying the world. The premise is hokey and silly. That is until you see the trailer. And after that you realize you've got a legit action film on your hands.
Check out what I mean in the trailer for Kingsman: The Secret Service below:
Based on the comic book of the same name, Kingsman: Secret Service grounds itself in the idea (used many times) that a secret organization is out there fighting the world's unseen potential disasters in the most high-end kind of way. They are equipped with the weapons, skills and background that are purely fiction as compared to how our government actually works. These men and women are James Bond times ten with all the gadgets and smarm to get the big job done. It's ridiculous of course, but this film just looks like a ton of fun.
Directed by Matthew Vaughn (X-Men First Class - 87%, Kick-Ass - 76%), the film looks crisp and fluid with solid action scenes and enough wit and one-liners to take us all the way through. Vaughn knows a little something about adapting comic books to the big screen, and he's able to put everything together as a complete product.
This movie, from the premise, could have easily gone off the rails and turned into the aforementioned Cody Banks territory. But the R rating and (seeming) commitment to not pulling punches with the violence and graphic nature of the source material probably help counterbalance the story. As he did with Kick-Ass, Vaughn doesn't seem to want to take his foot off the gas in these kinds of stories. Critics have been very positive about this movie already, calling tons of fun and loving the play on the spy-game genre. Other filmmakers should take a tip from Vaughn here. He understands the genre and keeps putting out quality films to back it up.

This poll is no longer available.

We had a super solid week for the Rotten Watch last time around. I knocked two guesses out of the park to go with one miss.
First of all, Jupiter Ascending (Predicted: 23% Actual: 23%) further solidified that the Wachowskis might be headed for M. Night Shyamalan territory, where their best work is behind them. This movie was awful with both the critical world and audiences in general. Eric gave it two stars in his review, saying the visuals were on point but the story relied too much on another round of "the Chosen One" narrative this pair has used before. Most importantly though, my prediction was a direct hit. That's all we really care about.
Speaking of direct hits, Seventh Son (Predicted: 19% Actual: 10%) was right on the money as of yesterday and then dropped another nine points over night. I was pumped thinking I had hit it right on the money, but alas, it was even worse than expected. As I said in my write up last week, movies that are continually delayed, re-shot and struggle with are on the fast track to Sucksville (real place) and Seventh Son played out much in the way we suspected. Nick Romano gave it two and a half stars in his review, which was definitely on the high side compared to his critical brethren. By and large, critics slammed the film's story while conceding the visuals as at least watchable.
And finally, The SpongeBob Movie: Sponge Out of Water (Predicted: 42% Actual: 75%) was way better than expected. Mike Reyes gave it one star, but critics generally liked the second film adaptation of the popular show. Most would admit that it's made for kids and stoners, but if you went in with that mindset it looks like you came out pleased. My score was way off, but I'm not sure anyone would have expected this kind of response.
Next time around we run with the folks from MacFarland, meet the DUFF and slide back into the hot tub time machine. It's going to be a Rotten Week!
Your Daily Blend of Entertainment News
Doug began writing for CinemaBlend back when Terminator: The Sarah Connor Chronicles actually existed. Since then he's been writing This Rotten Week, predicting RottenTomatoes scores for movies you don't even remember for the better part of a decade. He can be found re-watching The Office for the infinity time.