3 Possible Reasons Avengers 2 Has Captain America In The Past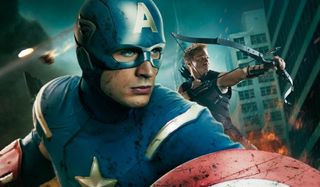 It's barely been a day since the Avengers: Age of Ultron trailer was leaked, and already fans have gone through every inch of that 2:17 video. Upon multiple viewings (I'm at my 20th, or maybe 25th...it's hard to keep track), the trailer seems to get better each time. Of course, half the fun of the trailer is also speculating on the movie itself going off these scenes. Why are Quicksilver and Scarlet Witch hanging out with Ultron? Why is Thor choking Tony? Who is Andy Serkis playing? Ironically though, one of the most intriguing questions that the trailer poses comes from a blink-and-you-miss-it scene.
At the 1:31 mark, right after Scarlet Witch shoots an energy blast, there's a brief shot of Steve Rogers walking through a crowded party. The USO banner and old-school suits and dresses suggest there will be a scene featuring Steve back in the World War II days. This will be the first time he has been seen in a 1940s setting since Captain America: The First Avenger, and since Haley Atwell will also appear in the movie, there's a good chance Steve and Peggy Carter will be interacting. However, why exactly are we seeing him in the past again? Here are several reasons.
Flashback
Captain America: The First Avenger showed audiences Captain America's origin and how he defeated the Red Skull, but many of his World War II adventures were glossed over in a montage sequence. Since arriving in the present, Cap's narrative has been rooted in the present, aside from brief film footage in Captain America: The Winter Soldier. Avengers: Age of Ultron may flashback to the 40s to a moment from Steve's life when he was fighting the forces of Hydra. Since this scene will take place at a party, there may not be any action involved, but something happening in the present may trigger a memory, either good or bad. Although if we're lucky, maybe the Red Skull will send some of his Hydra grunts to break up the shindig, and we can watch Steve kick some ass wearing formal wear.
Hallucination
If there's one thing non-comic book fans need to know about Scarlet Witch, it's that she's extremely powerful. Her original power was being able to manipulate probability, and by casting one of her "hexes," she would produce "bad luck." However, in recent years her powers have been boosted to the point where she can manipulate reality. She was responsible for the events of House of M (where she suffered a mental breakdown and created an alternate universe) and de-powered almost every mutant. Age of Ultron Scarlet Witch's powers include using magic, hypnosis and telekinesis, so she's clearly one of the more powerful mutan...sorry, "miracles" in the MCU. It's possible that in a moment of emotional pain, she unleashes her power in a way that warps reality. Steve will suddenly hallucinate where he's back in the 40s living the life he subconsciously wants to live, but something triggers his real memories and snaps him back to the present. DC Comics fans will remember a similar premise in the 1980s Superman story For the Man Who Has Everything.
Time Travel
This is the least likeliest of the possibilities, but still plausible. So far there have been three Infinity Stones in the MCU: the Tesseract, the Aether and The Orb. While these Stones are powerful in their own way, none have demonstrated time manipulation abilities. It hasn't been revealed whether an Infinity Stone will be in Avengers: Age of Ultron, but if Steve is somehow sent back in time, the Time Stone (or whatever they decide to call it) is the likely culprit. Since Steve has to make it back to the present for Captain America 3, he would likely accidentally send himself back rather than Ultron doing it, but before he returns to the twenty-first century, he can have that dance with Peggy that he promised her all those years ago. However, including time travel in a movie filled with robots, miracle twins and brawls between Hulk and an Iron Man suit might be a bit much.
Your Daily Blend of Entertainment News
Connoisseur of Marvel, DC, Star Wars, John Wick, MonsterVerse and Doctor Who lore. He's aware he looks like Harry Potter and Clark Kent.