How Marvel Used Captain America 2 To Set Up Civil War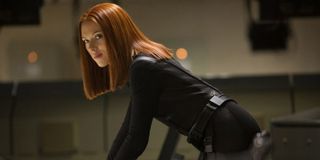 The Marvel Cinematic Universe is about to change is a massive way. As we learned earlier tonight, Robert Downey Jr. is now in negotiations to star in Joe and Anthony Russo's Captain America 3 - a film that is expected to launch big screen adaptation of the massive 2006 Marvel Comics crossover event known as Civil War. It won't be long until we start seeing heroes going to toe-to-toe in a fight for and against superhero registration, and it all kicks off in 2016. What you may not know, however, is that we have already started to see evidence of this brewing conflict in Captain America: The Winter Soldier.
This little news morsel/rumor comes to us from Badass Digest, which suggests that one of the final scenes in the Captain America sequel - specifically the one where Black Widow (Scarlett Johansson) is sitting in front of a Congressional committee - was included as a means of showing how superhero activity within the Marvel Cinematic Universe is rather unregulated at this point in time. Apparently this was a late addition to the Captain America: The Winter Soldier script, and essentially kick starts some of the bigger themes in Civil War - namely that Iron Man isn't very happy about superheroes being unregulated and wants to do something about it. This leads to him supporting the idea of a Superhero Registration Act, where all powered individuals will be forced to register with the government and become accountable for their actions. Captain America, meanwhile, who had to deal with all kinds of horrible political nonsense in his most recent adventure, isn't too keen on the idea of the a political body controlling him, and he decides to rebel against the system.
While a scene with Black Widow may have kickstarted all of this pro and anti-registration talk, however, you may not want to get too excited about the idea of her having a big role in Captain America 3. After having a very big role in Captain America: The Winter Soldier, apparently she "will not be much of a presence in Cap 3." Instead, there has been more talk about other actors getting the chance to shine. The name we've heard repeated most often is Jeremy Renner's Hawkeye, but it doesn't sound like that's official just yet. Of course, we can also expect the return of Anthony Mackie's Falcon and Sebastian Stan's Bucky Barnes/The Winter Soldier, but nothing has been 100% officially confirmed at this point.
Captain America 3, which may end up being called Captain America: The Civil War or Captain America: Fallen Son (or something along those lines) is being scripted by Christopher Markus and Stephen McFeely, with Joe and Anthony Russo back in the director's chairs. Production is scheduled to start up next Spring, and the film will be out on May 6, 2016. Are you ready?
Assistant Managing Editor
NJ native who calls LA home and lives in a Dreamatorium. A decade-plus CinemaBlend veteran who is endlessly enthusiastic about the career he's dreamt of since seventh grade.
Your Daily Blend of Entertainment News
Thank you for signing up to CinemaBlend. You will receive a verification email shortly.
There was a problem. Please refresh the page and try again.