4 Big Reasons Why Kevin Smith Should Direct The Flash Movie For DC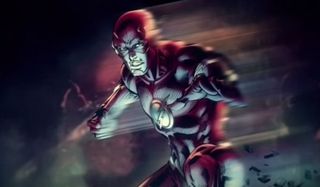 The character of The Flash is currently running on two conflicting paths, and it's strange to watch. On one hand, The Flash is toplining a successful, intricate and multi-tiered weekly television show on The CW. The series has played with several of Flash's most iconic villains, explored time travel and alternate Earths, and does it all with a powerful mix of casting chemistry, comic-book wit and pop-culture humor. Over in the film world, however, The Flash is a ship without a rudder, a movie with a release date, yet no director steering this superhero tentpole into port.
My suggestion? Let one side of the equation help the other.
Clerks director Kevin Smith recently tried his hand at directing an episode of The CW's The Flash. And not just any episode. Arriving at a pivotal moment in the show's second-season storyline, the Smith-directed "The Runaway Dinosaur" had Barry (Grant Gustin) conversing with The Speed Force, reuniting with his mother (sort of), declaring his true feelings for Iris, and getting his powers back after a multi-episode lag. A lot happened, and Smith handled it beautifully. So much so that, if he wanted it, I think this TV episode of The Flash could be Smith's audition for taking over the DC Cinematic Universe's feature-length take on The Flash. Believe it or not, I honestly believe Kevin Smith would be a great choice for this gig, or these reasons:
It Wouldn't Be His Script
Like him or not, Kevin Smith is a filmmaker with decades of experience behind the camera and in the editing room. Even though he took a self-imposed break from filmmaking to grow his podcast empire, Smith still regularly delivered lower-budget features based on his own scripts when they entertained him (see Tusk or the upcoming Yoga Hosers, as recent examples). Smith's a proficient filmmaker, and he even excels when he isn't mired in the usual dick and fart jokes that litter his screenplays… a fact that was proven, once again, by his work on "The Runaway Dinosaur." The moments, in particular, that featured either Cisco or Iris trying to reach Barry through the void reminded me of Smith's skill as a sci-fi and comic-book visualist.
Now, Smith likely had a good team in place from The CW, but he'd also have a good team in place if he were to take the reins for DC and Warner Bros.' planned The Flash. When director Seth Grahame-Smith decided to leave over creative differences, the rumor was that the script Warner had in place would remain (save for rewrites, which are par for the course). If the story is set, Smith could step in, punch up what they have, and deliver a stellar introduction to a big-screen Barry Allen, starring Ezra Miller.
He's A DC Guy, Tried And True
Kevin Smith's fans know he loves ALL comics, supporting Marvel, DC and points in between. But when pressed to choose a side, Smith's allegiance likely leans closer to DC. He hosts a regular Batman podcast, and has written numerous issues in the Batman comic mythology. He's been a staunch defender of the DC Cinematic Universe, finding ways to connect to Zack Snyder's Batman v Superman when fans were looking to bail. And when DC needed a host for its televised introduction to the sprawling plans of the DCEU, they chose Smith.
Not that being a DC fanboy automatically makes one a viable candidate to helm a DC movie. But the knock on Snyder, at the moment, is that he doesn't really understand what makes these heroes special (Superman, in particular). The DC Universe needs to start investing in storytellers who have lived and breathed these characters, and can make creative decisions that better inform the on-screen worlds. Smith knows why fans love The Flash, and I think his passion for the source material could only improve a big-screen retelling of Barry Allen's story.
He's Adept At The Buddy Comedy Formula
The current belief, based on most reports, is that DC's The Flash movie will play with the chemistry between Flash and Cyborg, who will hit it off in Justice League Part One. If this is actually the case, then I think Smith's penchant for handling duo comedies – albeit ones with an adult edge – can give him an avenue into how to structure, pace and perfect The Flash on the big screen.
Now, I'm not advocating that The Flash and Cyborg become the Jay and Silent Bob of the DCCU. At least, I don't think that's what I'm saying (because that idea might actually work). But pretty much all of Smith's movies have revolved around a duo, embarking on some low-stakes expedition. Dante and Randal. Loki and Bartleby. Zack and Miri. Heck, even Smith's foray into a studio-driven cop comedy was a buddy flick with Bruce Willis and Tracy Morgan. If The Flash needs to lean on the chemistry of two DC heroes in Flash and Cyborg – and if Ezra Miller really plays off of Ray Fisher as well as we're hearing – then Smith, again, feels like the right choice to dabble in this particular superhero sandbox.
He Could Get Ben Affleck More Involved
Kevin Smith's long-time friendship and collaboration with Ben Affleck is one of the reasons I advocated, a while back, for Smith to contribute to Batman v Superman as a co-writer. Smith understands how Affleck works, and how he speaks, and the man's knowledge of Batman is vast. Alas, it wasn't meant to be. But having Smith in the braintrust of the DCEU could mean more collaborations with Ben Affleck, who is the new hope to which Warner Bros. is pinning the weight of its expectations.
We reported a while back that Affleck is moving up to Executive Producer on Justice League Part One, and many believe he'll be helping Zack Snyder deliver a better movie than Batman v Superman. After that, fans want Affleck to turn his attentions to a solo Batman movie. But Civil War has proven how much fans love when heroes cross over into other worlds, so a Batman cameo in The Flash would be icing on an already delicious cake. Would Ben be more apt to do it if his friend, Kevin Smith, were at the helm? Possibly. Heck, Flash and Bruce Wayne already shared a scene together. Smith might be able to make even more happen. Hopefully the new scenes will make a little more sense. Is Kevin Smith right for the job? I think so. He's a veteran filmmaker who also happens to be a comic-book geek. He loves what they have been able to do on The Flash on The CW (in fact, reports have him coming back to the show to direct at least one episode in Season 3), and while the TV and film worlds have been separate playgrounds, that doesn't mean Smith couldn't cross over. Here's Smith with Geoff Johns talking all things The Flash for the Movies side:
Now take our poll on the matter.
This poll is no longer available.
Your Daily Blend of Entertainment News
Sean O'Connell is a journalist and CinemaBlend's Managing Editor. He's frequently found on Twitter at @Sean_OConnell. ReelBlend cohost. A movie junkie who's Infatuated with comic-book films. Helped get the Snyder Cut released, then wrote a book about it.
Your Daily Blend of Entertainment News
Thank you for signing up to CinemaBlend. You will receive a verification email shortly.
There was a problem. Please refresh the page and try again.