5 Fascinating Things Major Studio Heads Just Revealed At Comic-Con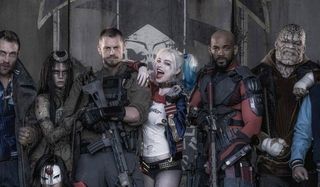 Outside of the madness of Hall H or Ballroom 20, where major movie and television properties pitch upcoming features to eager fanbases, industry folks attending San Diego Comic-Con can learn about the progress of the storytelling process – both behind the scenes and in front of the cameras – in major panels in and around the Convention Center. Venturing away from the fray of gathered fans, you really can learn valuable information about how the people creating the media you consume are approaching projects, both big and small.
One such panel took place Thursday morning at San Diego Comic-Con, where 20th Century Fox senior vice president Daria Cercek (X-Men, Spy), Warner Bros. senior vice president Drew Crevello (Dungeons & Dragons, Akira), and Lionsgate executive vice president Jim Miller (The Hunger Games, Power Rangers) opened up about "the development process, how they choose intellectual property (IPs) to adapt, how movies get green lit, how filmmakers and actors are selected, what mistakes can lead to bad movies, how they balance originality vs. faithfulness to source material, and how much they care about the opinions of fans." That's the official description, from the panel book. But here are the 5 most interesting things that we pulled from the panel, as they pertain to the major film franchises that you love.
A Franchises' Success Is Defined By 'Emotional Equity'
Hollywood doesn't have to be a numbers game. Financial success matters, of course. But Daria Cercek talked at length about "Emotional Equity" that can be earned by a film that is either launching or rebooting a franchise, and that can tell a studio that it's worth continuing down the path. Her example was Fox's X-Men: First Class, which earned less than X-Men: The Last Stand, even though creatively, Matthew Vaughn's film is considered far more successful than Brett Ratner's mutant sequel. But the "Emotional Equity" gained by movies like First Class, The Maze Runner and more often lead to sequels. Could this be the hope for this summer's Fantastic Four reboot?
Studio Heads Pay Close Attention To EVERY Leak On Social Media
This basically confirms what most of us could have guessed, but it is refreshing to hear a chief creative officer at a major studio admit that they are listening to every bit of online reaction to story and script leaks, casting breaks and more when it comes to their major tentpoles. David Ayer's Suicide Squad came to mind, as that movie went through numerous script leaks and character reveals as the director worked through pre-production. Even recently, as the movie filmed outdoors in Toronto, fans snapped pics and shot video of Batman confronting The Joker's car. But when asked if studios pay attention to the leaks, and the fan reaction, Drew Crevello of Warner Bros. confessed emphatically:
This also means that when actors tell you they don't read their reviews, they are lying.
Studios Plan At Least 5 Years Out On Major Film Franchises, Sometimes Longer
The Marvel and DC model is becoming the norm. When studios enter into deals with major IPs (intellectual properties) like The Hunger Games, Twilight, The Maze Runner or a superhero property, they work with talent and creative directors – from screenwriters to directors and beyond – to let them know that the plan for sequels is evident from Day One, and a five-year plan is now the norm. "That's the default strategy now," Drew Crevello of Warner Bros. said, referencing not only the DC Cinematic Universe (which is mapped out through 2020 at the moment) but also a major IP that would keep Warner Bros busy for the next few years in varying medium, from TV to film and the Web. The Dark Tower maybe?
World Building From Recognizable IPs Remains The Future Of Major Film Franchises
To that end, all three executives from the major studios admitted that the future will continue to be finding recognizable titles and properties that can be properly developed into multi-film or multi-component stories. Crevello of Warner Bros. made it clear:
But it isn't just about squeezing sequels out of successful films, or breaking one book into three movies. (Hello, Peter Jackson.) Fox's Daria Cercek said the emphasis has to be on character, and finding one character – or several characters – who audiences want to keep returning to visit. That's why I went with Katniss Everdeen in the above pic, as she appears to be the role model for finding a successful franchise torch-bearer for each major studio.
The Main Conversation In Every Franchise Is 'How Will This Get People In Theaters?'
The conversation grew serious when the three executives discussed how recent failures of major properties have instilled creative fear in their minds, and in the industry as a whole. They all recognized that the balance of power has shifted in Hollywood away from films and over to television. And Cercek admitted that when it comes down to deciding whether or not a studio should go ahead with a given project, giving audiences a reason to invest in the theatrical experience is "100% the conversation." The studio executives said that it could be something as simple as the director hired, or the actor cast. It might be the title of the IP, or the story in play. But they know that every movie, big or small, needs to register as an "event" to entice potential audience members away from their television sets and into a local theater. And that knowledge drives all of the decisions that they make on a daily basis.
Sean O'Connell is a journalist and CinemaBlend's Managing Editor. He's frequently found on Twitter at @Sean_OConnell. ReelBlend cohost. A movie junkie who's Infatuated with comic-book films. Helped get the Snyder Cut released, then wrote a book about it.
Your Daily Blend of Entertainment News
Thank you for signing up to CinemaBlend. You will receive a verification email shortly.
There was a problem. Please refresh the page and try again.