The 5 Greatest Comedies Of All-Time, According To Chris Rock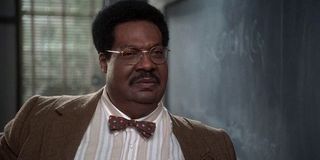 There are so many top five lists out there that it has now become easy to dismiss any further additions to this collection. But when a comedy great like Chris Rock declares what he believes are the 5 greatest comedies of all-time you can't help but stand up and listen. Especially when his first choice is Eddie Murphy's The Nutty Professor, which, I think we can all agree, is a bit of a shocker.
During an interview with Entertainment Weekly, while promoting his upcoming movie, Top FIve, the iconic comedian listed his Top 5 favorite comedies. And rather than going with the usual and revealing that either Annie Hall, Dr Strangelove or Some Like It Hot is his favorite comedy of all time, Chris Rock put his neck on the line by declaring that The Nutty Professor is number 1 in his book. This was then followed by Woody Allen's (2) Broadway Danny Rose, (3) Superbad, (4) South Park: Bigger, Longer And Uncut and (5) Borat.
Chris Rock's appreciation for The Nutty Professor is so great, he even went as far as to say that Edie Murphy had "been robbed of an Oscar" before noting that his various performances were "Peter Sellers-esque." Check out Eddie Murphy as the Nutty Professor (and some other Klumps) in the clip below...
You can't really argue with Chris Rock's assessment. Eddie Murphy really was on top form with The Nutty Professor, which was praised when it was originally released back in 1996. The former Saturday Night Live star was heaped with praise for his varied portrayals as Professor Sherman Klump, Buddy Love, Papa Cletus Klump, Mama Anna Klump, Granny Klump, Ernie Klump Sr. and Lance Perkins. Unfortunately though the likes of Nutty Professor II: The Klumps, The Adventures Of Pluto Nash and Norbit have diluted the impact that the film originally had. Chris Rock also noted, "it's like the blackest movie – a real African-American movie," which also made him enamoured with it.
Next on the list was Broadway Danny Rose, which he admitted was "kind of [his] favorite Woody Allen movie" as well as "a perfect commentary on show business, a perfect love story." This was then followed by another rather surprising addition in the shape of Superbad. While there's no denying the fact that Seth Rogen and Evan Goldberg's screenplay was delightfully directed by Greg Mottola and majestically performed by Jonah Hill and Michael Cera, it doesn't usually get mentioned in the same breath as other cinematic comedic heavyweights. But Chris Rock obviously enjoyed the film because it "literally made [him] cry the first time [he] saw it."
Chris Rock went on to round off his top five list with South Park: Bigger, Longer & Uncut and Borat. In fact he made the bold declaration with the former, "There's no movie that ever got bigger laughs than South Park. Ever. You've never laughed that hard in a movie theater." Which it's pretty hard to argue with. Meanwhile Chris Rock believes that Borat was the perfect blending of sweetness and absurdity, and he even declares that all of "heart" makes the "dopey stuff to work." Whether Chris Rock's Top Five will ever crack any other film lover's greatest ever movies list is very much up for debate. Despite the original excitement over the comedy it has been met with some pretty sub-standard reviews, which suggests that as a director Chris Rock is still someway off matching his peers.
Your Daily Blend of Entertainment News