5 Marvel Characters Al Pacino Could Play In An Upcoming Movie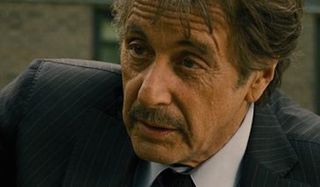 Yesterday, it was revealed that veteran actor Al Pacino has met with Marvel Studios president Kevin Feige about doing something in the future. Aside from his role as Big Boy Caprice in 1990's Dick Tracy, Pacino hasn't appeared in any comic book films, and while it may seem weird for an actor primarily known for his crime roles to join the Marvel Cinematic Universe, it would give Pacino the opportunity to contribute to a world that's growing bigger every day. If he does accept a role, he would join the ranks of fellow acting legends like Robert Redford, Anthony Hopkins and Jeff Bridges, all of whom have left their mark on the MCU. The man has already admitted he's a big fan of the studio, so why not bring him on board?
Marvel has a diverse selection of films down the line for Phase Three, and while Al Pacino may be too old to play an ass-kicking superhero, there are still plenty of characters to be introduced that the studio for which they can cast the Godfather star. Here are our top picks for who he should play in the coming years, from dangerous foes to helpful allies. Marvel, take notes!
5. The Ancient One
In the origin story of Doctor Strange, Stephen Strange is a surgeon who travels to the East to seek a cure for his damaged hands - but winds up studying the mystical arts under the tutorage of The Ancient One. Playing this part, Pacino would serve as a mentor to Benedict Cumberbatch's Strange as he learns to become the new Sorcerer Supreme. Since the elderly master doesn't have much of a role in the bigger Marvel universe, this role would likely limit Pacino just to the Doctor Strange films. However, since the Ancient One continued to advise Strange in the comics from the afterlife years after his death, Pacino could appear in sequels even if they kill him off in the first film. The legendary actor would do an amazing job as the wise character who helps the protagonist achieve his full potential. It might also be interesting to see Pacino to infuse some unique traits into the character that aren't from the comics, but nothing too out there or over-the-top. This isn't Dick Tracy.
4. The Real Mandarin
In case you haven't seen the Marvel One-Shot All Hail The King, it was revealed to faux-Mandarin Trevor Slattery (Ben Kingsley) that there's a real Mandarin out there in the Marvel Universe, and he is pissed off that his image has been tarnished by Slattery and Aldrich Killian. There aren't any plans to make an Iron Man 4, but Mandarin is a global villain, so he could present a threat against any of the MCU heroes. As the leader of a notorious terrorist organization The Ten Rings, he can unleash destruction across the globe, and the heroes can't defeat something that big in one fell swoop. Pacino would fit well as the terrorist mastermind that serves as a recurring threat to Earth's superheroes. Plus, with extraterrestrial elements now mixed into the narrative, this Mandarin could actually wield similar, alien rings like he wears in the comics. Just picture it: Pacino as Mandarin fight the Avengers with his weaponized rings, each one serving a different function. It's an exciting prospect, isn't it?
3. Dormammu
Baron Mordo may be Doctor Strange's primary nemesis, but Dormammu is the most dangerous enemy that the Sorcerer Supreme has ever faced. The supernatural entity from the Dark Dimension is extremely powerful, and although Doctor Strange has been able to defeat him many times, Dormammu just keeps coming back to try to take over our universe. Although Mordo may start out as Strange's main adversary, the film may take a Green Lantern-type approach (ideally with better execution) and have Mordo serving Dormammu in the latter half of the story. For a being this powerful and theatrical, you need a top-notch actor at the helm, and Pacino has the gravitas to make Dormammu intimidating. Plus, since it's basically impossible to kill the entity, it means Pacino could return for Doctor Strange sequels. Since Dormammu has a giant flaming face, it would mean that we probably wouldn't be able to see Pacino's, and the whole thing would probably have to be done with motion-capture, but if that didn't stop James Spader from playing Ultron, it shouldn't stop Pacino from playing this magical threat.
2. Star-Lord's Father
Several months ago, Pacino mentioned that immensely enjoyed Guardians of the Galaxy, and luckily for him, there's an important character we'll be meeting in the sequel that he could be great for: Star-Lord's father. Even though James Gunn said Star-Lord's father won't have a game-changing role in Guardians of the Galaxy 2, it's still important that the director and the production team find a top-notch actor to play Peter Quill's old man. Pacino may seem like an odd choice at first to share screen time with Chris Pratt, but I think he would be able to match Pratt's charisma and give a memorable performance. It's worth noting that Star-Lord's dad won't be the same as in the comics (J'Son of Spartax, pictured above), so Pacino will have much more freedom with how he plays the character. Also, remember that Yondu described this mystery man as an "a-hole." Yeah, Pacino shouldn't have any problems acting like that (with all due respect).
1. Mephisto
There are few individuals in the Marvel universe that are as dangerous as Thanos, but Mephisto has definitely earned a spot on that list. As a Faustian-like figure, Mephisto has antagonized nearly every hero in Marvel comics, whether it's in a direct fight or offering them a proverbial "deal with the devil." Although he's primarily associated with Ghost Rider (and there aren't plans to use him any time soon), Mephisto would make a worthy successor to Thanos as overarching villain in the MCU. The only problem is that Avengers: Infinity War Part 2 doesn't come out until 2019, and by that time Pacino will be 79, and perhaps not too keen on playing a super villain at that point. Still, Mephisto has always preferred to play mind games with mortals rather than engage them directly, so Pacino would do well as the sinister figure lurking in the shadows, whispering lies and deceit to those who are vulnerable. All you have to do is think about Al Pacino's role in The Devil's Advocate, but with a comic book spin.
Connoisseur of Marvel, DC, Star Wars, John Wick, MonsterVerse and Doctor Who lore. He's aware he looks like Harry Potter and Clark Kent.
Your Daily Blend of Entertainment News
Thank you for signing up to CinemaBlend. You will receive a verification email shortly.
There was a problem. Please refresh the page and try again.