Benedict Cumberbatch Is Finally Officially Doctor Strange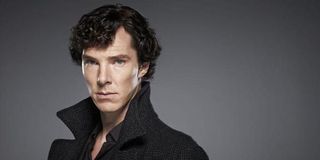 In late October, it was rumored that actor extraordinaire Benedict Cumberbatch was in final negotiations to play Doctor Strange. Marvel strangely didn't comment on the casting report at their Phase 3 movie announcement, and since then the Internet has been filled with rumors and speculation regarding whether the actor would play Strange in his titular film. After weeks of keeping the fans in suspense, Marvel has finally broken their silence by officially stating that Cumberbatch will be our live-action Sorcerer Supreme on November 4, 2016.
Marvel made the announcement earlier today, with producer Kevin Feige saying in a statement that Strange required an actor of capable of "great depth and sincerity, and that Cumberbatch will "show audiences what makes Doctor Strange such a unique and compelling character."Doctor Strange will follow the titular sorcerer as he explores the world of magic and alternate dimensions.
In the comics, Strange is a famous surgeon who initially travels to the Himalayas to get his damaged hands healed following a car accident, but is turned away by the Ancient One due to his selfishness and ego. After saving the Ancient One from an assassination attempt from his disciple Baron Mordo, Strange is taught about the mystic arts by the elderly master. Armed with his new knowledge and an assortment of magical artifacts, Strange now serves as Earth's new Sorcerer Supreme and defends Earth against various magical threats. It hasn't been confirmed, but the film is expected to feature Strange already having his magical abilities rather than being an origin story.
Naturally it's important to maintain a healthy amount of skepticism when it comes to rumored castings. Even the most reputable of sources can occasionally be wrong. However, with the few reports denying the casting and Cumberbatch poorly dodging questions about the Marvel sorcerer recently, it's been pretty clear for a while now that the Sherlock star was on board. Seriously, as an actor, you'd think Cumberbatch would be able to do a better job hiding his involvement. It's almost as though he wanted the fans to know without directly pissing off the Marvel executives. Feige said after the Phase 3 event that they would have announced Cumberbatch as Strange if it were confirmed, so these past weeks must have been spent ironing out the details of his contract.
Well, now Cumberbatch can add "superhero" to his acting repertoire, alongside other roles like "genetically enhanced human," "mathematician," "whistleblower" and "dragon." Strange will almost certainly be included in other Marvel movies in Phase 3 and beyond, whether it's Doctor Strange sequels or team-up movies, so we'll be seeing plenty of him in the Marvel Cinematic Universe. Let's just hope this doesn't affect his being able to continue Sherlock. I want more of that snarky detective!
Your Daily Blend of Entertainment News
Connoisseur of Marvel, DC, Star Wars, John Wick, MonsterVerse and Doctor Who lore. He's aware he looks like Harry Potter and Clark Kent.