Guardians Of The Galaxy 2: How Big Of A Role Will Star-Lord's Dad Have?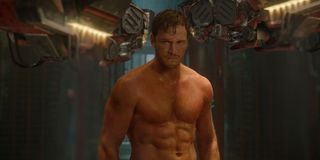 When it came to setting up for a sequel, the much adored Guardians of The Galaxy was about as subtle as Rocket Raccoon. Star-Lord's long lost father is out there. So, he must be involved in Guardians of The Galaxy 2, right? Sure. But it won't be the sequel's main plotline.
IGN reports that Guardians of The Galaxy director James Gunn is opening up a bit about Guardians of The Galaxy 2. And when it comes to Star-Lord's mysterious father, he had this to say:
We're confident James Gunn misspoke in the above, saying "black box"--a theater staging technique that relies on minimal sets--but meant "mystery box"--the infuriatingly tight-lipped way to movie market that J.J. Abrams made famous with Super 8 and Star Trek Into Darkness.
Moving past this, Guardians of The Galaxy 2 will clearly be casting Star-Lord's dad. So we'll be keeping a sharp eye out for news on that end. It's a bit of a shame, because if you take a look at Star-Lord's dad from the comics, he looks a lot like a certain Hollywood star.
Is he not the spitting image of Josh Brolin?! Too bad Brolin has already signed on to play a different part in the Marvel Cinematic Universe. We're doubtful that Gunn would have him play double-duty as bad dad/super villain Thanos as well as Star-Lord's pop.
Fans can safely assume Guardians of The Galaxy 2 will bring back Chris Pratt, Zoe Saldana, Dave Bautista, Vin Diesel and Bradley Cooper, thanks to Marvel's long-term plans and corresponding talent contracts. Beyond that, hints dropped at that Guardians of The Galaxy release event suggest we'll also see the return of Karen Gillan as Nebula and Benicio Del Toro as The Collector. And they might even go from bad guys to allies this time around.
Guardians of The Galaxy 2 won't be hitting theaters until May 5th, 2017. So, there's a long ways to wait for hearty news on what this Marvel outing will contain. But while we wait on word about Star-Lord's dad, Nebula, and The Collector, we can at least expect this sequel and its heroes to bring something good, something bad. A bit of both.
Your Daily Blend of Entertainment News
Staff writer at CinemaBlend.
Your Daily Blend of Entertainment News
Thank you for signing up to CinemaBlend. You will receive a verification email shortly.
There was a problem. Please refresh the page and try again.