5 Oscars Guardians Of The Galaxy Deserves To Win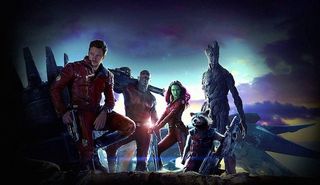 The Oscars are coming up soon, which means that every drama, historical epic and film that made its audience cry will be considered for nomination, but one genre of filmmaking that will likely get ignored again this year is the comic book film. Whether it's the idea that these stories are juvenile or that they just don't fit in with the standard Oscar fare, the people in charge of the Oscars have mostly glossed over superhero films, though there have been a few exceptions like Heath Ledger winning Best Supporting Actor for The Joker.
However, there was one film this year that appealed just enough to both comic book fans and the general audience that it may be able to escape the negative stigma and make a splash at the Oscars this year: Guardians of the Galaxy. Earning almost universally positive reviews and earning over 700 million at the box office, this film was the biggest hit of the year, so it would be wise if the Oscar officials didn't outright ignore it. There are many great superhero films, but this definitely one that deserves to get recognized. On the off chance that the Academy decides that it will consider the sci-fi epic, there are several awards that it would make a great contender for. Its chances of scoring a Best Picture nomination are next to zero, but it would be great if the film were able to win in the following categories.
5. Best Supporting Actor
This one is the least likely of all the categories, but c'mon! Of all the actors in this film, did any of us suspect that Dave Bautista, a professional wrester who hasn't starred in many projects, would give us one of the funniest characters in the film...scratch that, the entire MCU? Drax could have been reduced to the stereotypical brutish, quiet muscle of the group, but instead he was one of the most fleshed out members of the cast, and Bautista balanced both the tragic and comedic elements quite well. From misunderstanding figurative comments to drunkenly challenging Ronan to a fight to avenge his murdered family, Bautista took an already complex character and made him into one of the film's main highlights. This may sound cliched, but I can't imagine anyone other than Bautista breathing life into the tattooed warrior. \
4. Best Adapted Screenplay
Getting an Adapted Screenplay award would be tricky since Guardians of the Galaxy wasn't based off a specific story, but rather years of stories from the pages of Marvel comics. In fact, while the Guardians have been a team since 1969, this specific iteration has only existed for six years (though their popularity has increased at an exponential rate). Still, Marvel was able to take a group of D-list characters and create a story filled with witty dialogue that was not only faithful to the source material, but appealed to both hardcore comic book fans and regular viewers. That deserves to be acknowledged on an official level.
3. Best Costume Design
You can't have an intergalactic sci-fi epic without cool costumes! Among the patched jackets the Ravagers wore, Gamora's sleek battle outfit, Ronan's space armor and the Nova Corps uniforms. Not only did the costumes themselves look unique, they helped distinguish the different strata of society in this expansive universe. There's the authoritarian figures, the space pirates, the fugitives, the wannabe warlords, etc. Space movies are a great opportunity for costume designers to think outside the box since they're not confined by what "works" on Earth, but at the same time they can't make the character looks too bizarre. Thankfully, the clothes were a good blend of the familiar and unique.
2. Best Makeup And Hairstyling
There were more people wearing makeup in this film than without. Admittedly, most of it involved coloring skin, but even so, the makeup department did an excellent job getting each of the alien looks right. This movie could have easily become a CGI-fest with its extraterrestrials, but director James Gunn opted for a more practical approach. Thanks to special effects makeup designer David White, thousands of makeup applications were performed, transforming regular humans into lifeforms you won't find anywhere on Earth. There's the green-skinned Gamora, the grey tattooed Drax, the blue-skinned Yondu and Nebula, the freaky-eyed Korath, the list goes on. Thanks to the makeup team, the aliens of Guardians of the Galaxy looked great. Also, a special shout out to the actors who had to sit still for hours while having the makeup applied. That's a true test of endurance.
1. Best Visual Effects
Rocket and Groot...what more is there to say? Seriously though, these two are impressive feats of visual effects. Rocket could have easily fallen prey to looking too cartoonish, but Gunn studied real raccoons to get the feel of the character right and make sure he looked realistic. The result was an anthropomorphized rodent that may have been talking and packing firepower, but didn't look like he belonged in a Pixar film. There's also the monosyllabic walking tree Groot, who appeared in three different forms during the film. Vin Diesel may have voiced the character, but it was the stand-ins on set that helped bring life to the film's breakout star. These two may have been CGI, but they fit right in alongside the actual actors. Oh, and of course there were the space battles, action sequences and the other aliens that required CGI, but those just aren't as unique as the talking raccoon and tree...wow, I never thought I'd say those words about a comic book movie.
Your Daily Blend of Entertainment News
Connoisseur of Marvel, DC, Star Wars, John Wick, MonsterVerse and Doctor Who lore. He's aware he looks like Harry Potter and Clark Kent.
Your Daily Blend of Entertainment News
Thank you for signing up to CinemaBlend. You will receive a verification email shortly.
There was a problem. Please refresh the page and try again.