7 Actresses Reportedly In The Mix For Dwayne Johnson's Baywatch Movie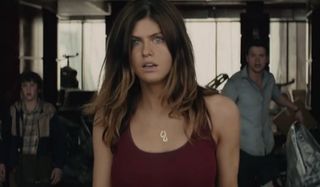 What would an updated Baywatch reboot be without a bunch of hunky dudes with six pack in shorts and attractive young women in bathing suits running in slow motion? Not Baywatch is what it would be without those things. While we know at least two of guys who will show off their muscled physiques, we haven't heard much about casting on the female side of thing, at least until now.
Paramount is reportedly ready to hit the beach, and hit it hard. According to a new report from Deadline, the studio has its eye on seven potential actresses who could join Zac Efron and Dwayne "The Rock" Johnson in the lifeguard tower for what is said to be a comedic take on the wildly popular television show. The plot as we know it revolves around the group of lifeguards taking on a wealthy industrialist to prevent environmental catastrophe on the beach. And here are the some of the young women who may help save the day.
Alexandra Daddario
Alexandra Daddario has popped up in everything from HBO's True Detective to the young adult adaptations of the popular Percy Jackson novels. She teamed up with The Rock for the mega-disaster flick San Andreas earlier this year, and as the two have a working relationship, perhaps this gives her a leg up in this race.
Ashley Benson
Pretty Little Liars, Ashley Benson has proven that she's comfortable working as part of an ensemble, which is definitely the vibe that Baywatch is putting out there. She's recently appeared in Spring Breakers, and isn't afraid to push boundaries, and in the Adam Sandler-fronted video game alien invasion comedy Pixels last summer.
Nina Dobrev
Being cast as a lifeguard who hangs out on the beach, and in the sun, all day would definitely be a different animal that what Nina Dobrev is used to in her regular gig as part of the cast of Vampire Diaries. The Bulgarian-born actress has recently shown up in indies like The Perks of Being a Wallflower, horror send up The Final Girls, and raucous comedy Let's Be Cops.
Alexandra Shipp
Alexandra Shipp has already had a big year, appearing in the hit NWA biopic Straight Outta Compton, and with a role in the upcoming X-Men: Apocalypse, her profile is only going to skyrocket. She plays Storm/Ororo Munroe in the upcoming superhero adventure, and there's probably no pressure taking over a role from Halle Berry or anything, right?
Shelly Hennig
Starting out on daytime soap opera Days of Our Lives, Shelly Hennig dove into the horror deep end recently. She has a recurring role on MTV's Teen Wolf, which is better than most of us expected it to be, had a role in Ouija, and fronted the somewhat experimental social media-themed frightener Unfriended last year. Also better than we thought. Maybe it's time to add some sun to that resume.
Bianca Santos
Another Ouija alum, Bianca Santos has had a busy last couple of years. She's had recurring roles on TV series The Fosters and Happyland, and had a notable part in this year's hit teen comedy The DUFF. She has a number of projects in the works, including the awesomely named horror joint Little Dead Rotting Hood coming next year.
Denyse Tontz
21-year-old Denyse Tontz has worked primarily in episodic television. While she's had recurring roles on everything from All My Children and Dog with a Blog, she's probably best known for her role on Big Time Rush. She's also done one-off on any number of shows, including Bones, Workaholics, Melissa & Joey, and the new Dallas.
Your Daily Blend of Entertainment News
Your Daily Blend of Entertainment News
Thank you for signing up to CinemaBlend. You will receive a verification email shortly.
There was a problem. Please refresh the page and try again.