The 7 Biggest Surprises Of The 2012 Oscar Nominations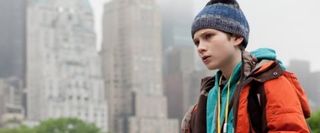 If you wanted some surprises in this year's Oscar nominee announcements, you didn't have to look long. All kinds of categories went fully against conventional wisdom, as contenders who seemed completely out of the running came roaring back, and a couple of choices that seemed like givens failed to show up at all. This was already looking like an especially wide-ranging year, with a lot of films showing enough support in precursor awards to be viable Best Picture contenders. That helps explain why there are so many surprises, but it's also an indication that the Academy, high on top of their mountain, sometimes just don't like being told what to do.
You can read the full list of this year's Oscar nominees here, and below is my analysis of the morning's biggest surprises, from Best Picture to that ever mercurial Best Original Song category. The Artist may still be widely regarded as the Best Picture frontrunner, but there are some interesting races going on elsewhere that ought to make the next month of awards watching especially fun.
Extremely Loud and Incredibly Close nominated for Best Picture. From the moment this film screened for critics and got completely eviscerated by them, it seemed like a would-be prestige picture destined to go nowhere-- even its wide release was delayed into January. But now the powerful producer Scott Rudin has come back to life with this film, which also scored a Best Supporting Actor nomination for Max von Sydow-- whose performance is genuinely lovely, it ought to be said. It likely doesn't have a shot at winning either, but it's very presence here is one of the morning's biggest surprises.
9 films nominated for Best Picture. Just two years after expanding the Best Picture field to include 9 films, the Academy changed things up again this year, allowing a sliding scale of 5-10 films to be nominated, based on the number of #1 votes they got. Nobody knew how many would make the cut, but few were predicting a nine-wide field, which left room for films that seemed like stragglers in the race, such as War Horse and The Tree of Life. It's still probably down to The Artist, Hugo and maybe Moneyball for the win, but it's nice to see so many other good films included too.
The Girl with the Dragon Tattoo: 5 nominations, but not Best Picture. This one I'll be puzzling over for a while. David Fincher's film seemed like it might even be shut out this morning, but it managed to surprise all over the place, especially with a Best Actress nomination for Rooney Mara and a Best Editing nod. So how on earth did it miss out on Best Picture? The chilly crime drama wasn't really expected to be a contender, but with so many nods elsewhere it seemed to have a surprising amount of support. Maybe the movie's violence and dark tone finally did it in for that category, though really, they can be grateful for any nominations at all today.
Demian Bichir and Gary Oldman in the Best Actor category, Leonardo DiCaprio and Michael Fassbender out. To be fair, both of these actors were very much in the hunt, with Bichir scoring a SAG Award nomination and Oldman getting a lot of goodwill both for his Tinker Tailor performance and a long career that had never been Oscar recognized. But both seemed on the bubble of this category thanks to starrier competition like DiCaprio and Fassbender, who both seemed capable of being the sole nominees from their respective films J. Edgar and Shame. Who knows why it panned out the way it did, but Bichir and Oldman are both first-time nominees-- as is The Artist's Jean Dujardin-- and that's always exciting.
Only two nominees for Best Original Song. This category can often wind up a wasteland without any notable competition, and the voters are known to actively take down competition they don't like. At least "Man or a Muppet" from The Muppets made it in, and is likely to win against the animated nominee Rio. But everyone who looks forward to the song performances at the Oscars ought to be disappointed by a fairly thin year.
Jonah Hill is an Oscar nominee, and Albert Brooks is not (well, not this year). To be fair, Hill's nomination isn't really that big of a surprise, much as it seems strange to see the guy on the Academy list so soon after the awfulness of The Sitter. But Albert Brooks was widely expected to get his second nomination here thanks to Drive, leaving the beloved indie to just one nomination in the Sound Editing category. Not a ton of people were holding out hope for Drive this morning, but one of the most passionately loved indies of the year probably deserved better anyway.
Margin Call nominated for Best Original Screenplay. I'm writing this from the Sundance Film Festival, where Margin Call premiered last year to some critical praise. It's good to see any Sundance alum nominated on Oscar morning, though this time a year ago a lot more people would have assumed that Martha Marcy May Marlene would be in there instead. But congratulations to first-time director and writer J.C. Chandor, who's now in competition with the likes of Woody Allen, Ashgar Farhadi and, well, Kristen Wiig and Annie Mumolo, who got an expected but deserving nomination for their work on Bridesmaids.
Your Daily Blend of Entertainment News
Staff Writer at CinemaBlend
Your Daily Blend of Entertainment News
Thank you for signing up to CinemaBlend. You will receive a verification email shortly.
There was a problem. Please refresh the page and try again.