75 Contenders Announced For The 2012 Oscars' Best Original Song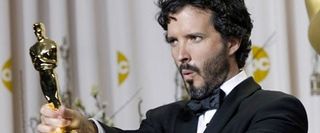 For movie lovers, complaining about the Oscars and their frustrating—if not baffling—choices is as much a part of this time of year as stressing out over the holidays or watching A Christmas Story on a 24-hour loop. The Academy of Motion Picture Arts And Sciences is well aware of this, and so often ignores public outcry over their decisions. Of course, this is one of the reasons the Oscars get dubbed elitist, or worse out of touch. But this year we've seen already seen a noticeable shift in the style of the Academy's planning for the 2013 ceremony. For one, they selected irreverent funnyman Seth MacFarlane to play host on Hollywood's biggest night. And now the Academy is eager to show some growth in the category of Best Original Song, revealing a list of more than 75 contenders for the nomination.
You might recall that last year's list of nominees for the category was laughably short. That is, there were two nominees: "Real in Rio" from Rio and "Man or Muppet" from The Muppets. While it was still a delight to see Flight of the Conchords' Bret McKenzie win an Oscar for his funny yet poignant song about identity, it certainly hurt the drama of the moment—and arguably the accomplishment—that he was only up against one other contender. Well, with the list below, it seems unlikely the Academy will make such an embarrassing gaffe again this year.
There's a wide variety on this list that features songs from Arcade Fire (Hunger Games' "Abraham's Daughter), Rick Ross (Django Unchained's "100 Black Coffins), Karen O (Frankenweenie's "Strange Love"), Owl City (Wreck-it Ralph's "When Can I See You Again") and Adele (Skyfall's "Skyfall"). But we won't know who made the cut until January 10th, but from this list who do you think should take home the golden trophy?
Staff writer at CinemaBlend.
Your Daily Blend of Entertainment News
Thank you for signing up to CinemaBlend. You will receive a verification email shortly.
There was a problem. Please refresh the page and try again.