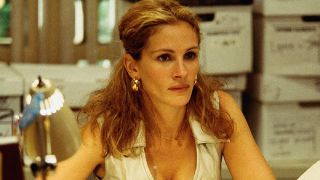 (Image credit: Universal Pictures)
Steven Soderbergh doesn't make the kind of movies where actors are overshadowed by the visual effects, or where you handle a pretty girl to stand in place instead of an actual actor to play a character. Whether he's casting a huge ensemble full of movie stars in the Ocean's Eleven movies or working with a porn star in The Girlfriend Experience, Soderbergh puts actors front and center, often bringing out performances from certain actors who never seemed capable of it, or bringing out a side of mega-famous people we never saw coming.
Picking a favorite Soderbergh performance is like picking a favorite Soderbergh movie-- it's almost impossible, and your decision might change at a moment's notice. But we've picked out eight that, for whatever reason, stand out to us right now-- including one performance in his newest movie, Haywire, which comes out this weekend. Check out our choices, let us know what we might have missed in the comments, and join the conversation about one of our favorite directors and the great performances he's helped create over the last few years.
Haywire
Top-ranked MMA fighter turned actress Gina Carano is a newcomer to the world of movies, but shoulders Haywire with a self-assurance rarely seen in female action stars. Rather than the lithe and frightfully thin eye candy that usually leads female-fronted espionage thrillers, Carano is a woman with evident brawn. From her first fight scene against muscle-bound Channing Tatum, she exhibits a heft and athletic prowess that makes her a believable force to be reckoned with. Yet there's more to Carano than seriously stellar stunt skills. In Haywire she shares screentime with stars like Michael Douglas, Antonio Banderas, Ewan McGregor and Michael Fassbender, and holds her own in each instance. Some line-readings are a bit flat, but after a while it starts to seem intentional, showing her character in a Marine-like state of perpetual awareness and calm. Most impressively, she's never forced to show the kind of clichéd vulnerability that seems hardwired into every other movie spy with ovaries. There's no husband to save, no parents or lover to avenge and yet Carano's charisma, confidence and masterful survival skills make her a protagonist to root for. It's a part many actresses would kill to have, and Carano makes it her own in a landmark effort.
Terrence Stamp
The Limey
Soderbergh's a master at casting against type, whether it's imagining regal Julia Roberts as a white-trashy activist, Matt Damon as a delusional, nebbish whistleblower, or – in my favorite example – sophisticated Terence Stamp as a relentless tool of vengeance in The Limey. In 1999, Soderbergh wisely handed Stamp the role of Wilson, and the Oscar nominee best known for The Adventures of Priscilla, Queen of the Desert dialed into his latent pool of lethal intensity. With The Limey, Soderbergh gleefully reversed the tropes of the crime genre. The mysterious Wilson, for example, cloaks himself in simple black despite the fact he's supposed to be the good guy, while his target, Terry Valentine (Peter Fonda), often lounges in comfortable white duds. Yet Soderbergh figured, and Stamp helped prove, that the typical action protagonist should be atypical. Wilson embodies the adage, "You're only as old as you feel." What his younger (and brawnier) opponents don't realize is that nothing short of death will stop him from completing his mission. So while you're marveling at the feminine strengths of Haywire's Gina Carano, let's also remember it was Soderbergh and Stamp – not Sylvester Stallone – who introduced the ass-kicking senior citizen to contemporary audiences.
James Spader
sex, lies and videotape
It's become James Spader's typical kind of role, the intense, persuasive guy who is capable of getting anything he wants simply by staring long enough. But the way he deploys it in sex, lies and videotape wasn't just a landmark in Spader's career, or in Soderbergh's, but in indie film everywhere. Soderbergh's first film, and often regarded as the first true "Sundance success," sex, lies tells a simple story of complicated love stories and fidelity, but spins out from the seemingly loony premise of Spader's character Graham recording women talking about their sex lives-- as it turns out, it's the only way he can get off. As Graham builds trust with Andie McDowell's character Ann, the wife of his old college buddy, he persuades her using nothing but words, body language kept at a deliberate distance. It's a movie all about disconnecting from something even primal as sex, and everything about Spader-- his voice, his still face-- embodies it. He's the wild card thrown into this suburban life and changing everything, all while barely moving a muscle, and only Spader could make it look this easy.
Julia Roberts
Erin Brockovich
Julia Roberts earned herself an Academy Award playing the title role in Soderbergh's Erin Brockovich, delivering what may very well have been the best performance in her career. Whether or not we take into account that Erin Brockovich is based on a true story, in order for the film to work, viewers have to buy the idea of a super-woman disguised as a down-on-her-luck single mother who needs a job. The movie hinges on Roberts' performance, and she more than delivers. Roberts plays the role as a woman who makes up for with dedication, determination and personality, what she lacked in legal education and experience at the time, serving to unite a community of sick, wronged people against a huge corporation. By presenting the character as someone who is hard-working, yet compassionate, loud and opinionated, but not abrasive or unlikable, and most of all, relatable, Roberts strikes just the right balance, presenting the character in a way that makes us believe Brockovich deserves all of the credit the film gives her.
Benicio del Toro
Traffic
Benicio del Toro and Steven Soderbergh may have gone all out trying to bring the infamous Che to life but for me their collaboration on Javier Rodriguez in Traffic created a truly once-in-a-lifetime performance. Though Traffic it features a handful of other critically acclaimed actors all doing great work, del Toro forces them to elevate to his level. A performance delivered in two languages, Spanish and (hobbled) English, del Toro plays an honest Mexican cop working in the corrupt system, one of the film's few likable characters and a staggering transformation from what we had seen from the actor before. A versatile character actor known for his 'loud' performances as Fenster in The Usual Suspects or Dr. Gonzo in Fear and Loathing in Las Vegas, del Toro completely took my breath away with his Javier - a sweet, low-key, flesh and blood human being who's caught in the middle of the ongoing drug war where everyone seems to be losing. It's no coincidence that many of the film's most memorable scenes - the DEA agents in the pool, picking up Frankie Flowers and/or the final frames with children's ballgame - are all anchored by his performance as Javier, who emerges as the heart and soul of the whole film.
Jennifer Ehle
Contagion
Amongst Contagion's handful of stars of the highest profile, including several Academy Award winners, one actress stood apart from the rest. Jennifer Ehle was probably the least known member of the cast - you may recognize her from her brief role in last year's Best Picture The King's Speech or as Elizabeth Bennett in the 1995 BBC mini-series Pride and Predujice - and yet she easily delivers the most memorable performance in the film. She plays Doctor Ally Hextall who works at the Centre of Disease Control (CDC) and is the primary researcher tasked with finding a cure, or at least some line of defense, against the ever adapting pig-bat virus. However, don't mistake her character's heroics for being the reason that Ehle shines in Contagion. Her presence commands the screen and demands your full attention every time she appears. Always in the moment, you can see the scars of her character's past carefully hidden behind her optimistic and brave facade. During her final, and possibly fatal, act of heroism, I couldn't take my eyes off of her (those eyes!) and that was the image that stayed with me long after the credits rolled... credits full of upstaged A-listers.
Matt Damon
The Informant!
It's not just the weight that Matt Damon put on to star in The Informant!, or the awful way he did his hair or the hideous clothes he had to wear. That all helps, of course, and marks Damon's performance as one of the most committed of his career. But what takes this good performance to a great one is the way Damon and the film are completely in synch, Soderbergh handing large chunks of the film to narration from the point of view of Damon's character Mark Whitacre, even when the narration makes no sense at all. This movie, a dry but comedic take on the classic whistleblower story, drags us deeper and deeper into Mark's delusions, so that we're fully aware what he's doing is insane even when we can't help but root for the guy. Damon and his boyish face keep us engaged, but Damon and Soderbergh work together to bring out the weirdness, the loopy opinions Mark holds and the pitiful way he defends himself when backed into a corner. Soderbergh took Jason Bourne and turned him into a doughy, middle-American criminal-- and Damon had the guts to make it work.
Jennifer Lopez and George Clooney
Out of Sight
While this list has exclusively focused on individual performances in Steven Soderbergh films, we had to make an exception for Out of Sight as it has some of the greatest on-screen chemistry we've ever seen. Playing a not-so-reformed bank robber and a hard-nosed cop, George Clooney and Jennifer Lopez have a spark between them in the film that we rarely get the pleasure of seeing on the silver screen. From their intimate discussion of cinema in the trunk of a car to their meeting in a hotel bar over drinks, every time the two are together you can practically see the steam (and I'm not even referencing the overly-steamy bath scene). Even separately, though, they are both magic in the movie, with Clooney giving off that perfect level of charm and smarm and Lopez legitimately kicking asses and taking names. While it isn't too much of a stretch for either actor, they do it so well that you just can't help but love it. It's a perfect game of cat and mouse, not simply because of the brilliant script by Scott Frank or Soderbergh's direction, but because Clooney and Lopez are an on-screen match made in cinematic heaven.
Your Daily Blend of Entertainment News