8 Differences Between The Fault In Our Stars Book And Movie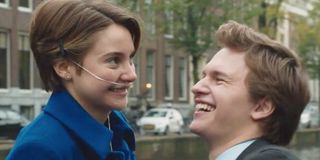 In the world of book adaptations, there are few instances when movies can truly compare to their fictional counterparts. Books are more of a time commitment, but they offer more detail and they often give audiences the chance to view the world from a character or a set of character's perspectives. There's something about reading a book that is extremely intimate whereas a movie screening is not. This become especially apparent during my opening night screening of The Fault in our Stars, where hundreds of Kleenex-clutching fanatics blubbered loudly through the third act.
The Fault in our Stars is an intimate read, but director Josh Boone does a great job of bringing author John Green's bestselling novel to the big screen. Instead of manipulating the book and making major changes to suit his own whims and purposes, Boone recognized that he had found a witty writer in Green. So, he simply trimmed the fat from the novel, cutting out some of the minor details, characterizations and backstories that would have been cumbersome for the theatrical audience catching the story for the first time. While those who have pored over the pages of Green's book since its release in 2012 might miss a few scenes, lines and sequences, Green's work is evident and largely intact on the big screen.
Following are the eight changes I noticed in my screening of The Fault in our Stars. Plenty of other details were changed, of course, and feel free to remark on any changes you feel may have been more noticeable. There are many spoilers in The Fault In Our Stars book to movie comparison. Do not delve in if you want the film to be a surprise.
Hazel never lets a little girl try her oxygen at the mall. Hazel's need to be connected to her oxygen tank at all times is made apparent in the film. However, the scene in which she is explaining her tank and what it does to a precocious kid named Jackie is cut out for time. I guess it's enough to know that Hazel's lungs are bad and the oxygen helps supplement her regular breathing.
Hazel's mom isn't obsessed about unimportant holidays. In the movie, she still shows forced energy and positivity across numerous scenes and in numerous ways, but her best quirk is her love of Half Birthdays and Arbor Days, of celebrating the little things. Laura Dern brings a lot of energy to the role of Frannie, but if she had been able to work in a Christopher Columbus Day joke, I would have loved her even more.
The Fault in our Stars movie is a little light on Isaac. One of the most amusing sequences in the book is an exchange between Isaac, Hazel and a nurse at a hospital just a few hours after he loses his second eye. The nurse tells Isaac that "he'll see" that things will get better. It probably would have weighed down the plot to build up Hazel's relationship with Isaac, but audiences may miss a few of his amusing jokes. At least we get to keep his break-up with Monica.
Caroline Mathers never comes between Gus and Hazel. While Hazel's parents are notoriously skeptical of a cancer beater getting involved with a Stage 4 girl, Hazel and Augustus' onscreen relationship is mostly filled with spunk and positivity. There's never the ghost of a long dead cancer girl polluting the finer moments.
We never learn about Gus' "existentially fraught free throws." We do know he used to be a prominent basketball player, thanks to his wall of trophies. However, his poignant story about his former basketball days and the months leading up to losing part of his leg is a key part of Green's novel, giving Augustus a little more depth.
Gus' family is less apparent. Augustus Waters, unlike Hazel, is from a larger family unit. He has two sisters who are married, a slew of nephews and two parents who play a larger part in the novel. In fact, Gus' illness is foreshadowed in a fight he has with his rents before leaving for Amsterdam. Hazel is so stoked to see her hero, she doesn't really seem to notice.
The Oranjee restaurant scene is handled differently, but with plenty of care. The champagne and risotto are still present, but Gus and Hazel eat inside a modern-day contemporary restaurant instead of the scenic and charming outdoors. He also tells her he loves her at the table, which amps up the stakes in their relationship considerably.
The time we spend with Gus' cancer is short. To spare us the horrible details of the enigmatic teen wetting his bed and dying horribly, Josh Boone's film shortens Augustus Waters' illness into a few of the book's best scenes. There's a scene at a gas station where a panicked Gus just wants to do something for himself without people fawning over him. There's a less exhilarating picnic by the skeleton sculpture and a pre-funeral where Hazel, Isaac and the audience really get to say their goodbyes. Weeks and months of time are shortened into just a few minutes, but it's still effective and affective.
Reality TV fan with a pinch of Disney fairy dust thrown in. Theme park junkie. If you've created a rom-com I've probably watched it.
Your Daily Blend of Entertainment News
Thank you for signing up to CinemaBlend. You will receive a verification email shortly.
There was a problem. Please refresh the page and try again.