8 Fascinating Things We Learned From Jerry Seinfeld's AMA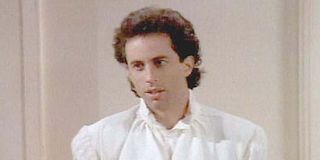 Jerry Seinfeld is one of the most likeable people in show business. Why? Because he churned out great material for an extended period of time, with a smile on his face, and then backed off before anyone turned on him. Now, he does just enough to wet our collective appetites with shows like Comedians In Cars Getting Coffee.
Today, he stopped by Reddit (yes, he actually went to Reddit headquarters) and participated in an Ask Me Anything. As anyone who reads the website on a regular basis knows, few regular Internet series vary more sharply in quality than AMAs. Those things run the gamut from fascinating to a little mediocre, but fortunately for all of his fans, Seinfeld was among the better efforts I've seen. He was open, honest, didn't dodge questions and actually gave out a fair amount of new information.
If you want to read the entire AMA, you can head here, or if you want to check out the highlights, I've gone ahead and put together a list of the 8 most fascinating bits he made public.
Jerry's favorite Seinfeld supporting character is Newman. A surprising percentage of his AMA was spent gushing about the awesomeness of Wayne Knight and the character of Newman. Specifically, Jerry raved about the improvised dance Newman does after getting his Jambalaya from the Soup Nazi. He also brought up how fun it was/ is to have a nemesis. "I mean, when I got to have a real evil nemesis like Superman would have, that was a dream come true for me. There's no superhero that doesn't have an evil nemesis, and I got to have one. And I love that nobody ever asks "Why didn't you like Newman?" No one ever asks me that, and no one ever questions it. There was no reason, but it was just fun."
Speaking of Superman, Jerry was meh on Man Of Steel. Here's the exact quote: "I was so happy that they made another Superman movie! I'm really reluctant to be critical of it in any way. But I thought the glossing over of the figuring out a secret identity and why he felt he needed one was a huge missed opportunity for that character, and one of the most interesting things about Superman is the whole secret identity. So to me it was too much action / violence and not enough character study."
Jerry has no regrets about the Seinfeld finale. Seinfeld is easily one of the most beloved, universally respected television programs ever created, but a majority of people really aren't enthralled with the finale. For Jerry, though, the last episode was less about creating some original moment of brilliance and more about saying goodbye to all of the actors who helped make the show so popular. "It was a way to thank all of the people who worked on the show over the years that we thought made the show work. I don't believe in trying to change the past but I'm very happy with it."
Jerry will not host Saturday Night Live again. He had a great time doing it. He likes SNL and would recommend it, but he doesn't consider himself good enough at it to go there again. "I didn't think that I was one of those great hosts that had all these different things that they could finally do on that show. So I think it's better when other people host it."
Jerry Walks To Work Everyday. It's a well known fact that the comedian loves cars. He has one of the biggest Porsche collections in the world but that doesn't mean he loves traffic. "If you can walk to work or take your bike on a daily basis, I think that's just about the coolest thing that there is. Every morning I listen to the traffic on the radio, and they talk about how they are jammed and I just laugh."
Jerry and Larry David are working on a secret project. Yeah. Get excited. There's some under the radar magic going on that involves bitching about "mundane" things. "We never obsess over anything that isn't mundane. Most recent was intentional mumbling. We wrote this script for this thing that you will eventually see but I can't reveal what it is at this time. All I can do is tell you is that it's big, huge, gigantic. Even bigger than that Amazon package. "
Jerry dealt with hecklers back in the day with sympathy. Most comedians deal with hecklers by making fun of them or shouting at them. Jerry, on the other hand, would sympathize with them in over the top ways to expose what a giant dick they were being. "I would say "You seem so upset, and I know that's not what you wanted to have happen tonight. Let's talk about your problem" and the audience would find it funny and it would really discombobulate the heckler too, because I wouldn't go against them, I would take their side."
We almost got a Seinfeld episode about buying a handgun. Like South Park, the show was always great with tackling controversial subjects and divisive issues in a disarming and common sense way, but after the table read for an episode about Jerry buying a handgun, everyone involved decided it would be best to bail. "A lot of other stuff happened, but trying to make that funny ended up being no fun."
Enthusiastic about Clue, case-of-the-week mysteries, the NBA and cookies at Disney World. Less enthusiastic about the pricing structure of cable, loud noises and Tuesdays.
Your Daily Blend of Entertainment News
Thank you for signing up to CinemaBlend. You will receive a verification email shortly.
There was a problem. Please refresh the page and try again.